One of the most frequently asked questions I get from teachers who want to implement guided reading instruction is "What do the other students do while you are teaching guided reading?" This post will share TEN reading centers and activities that you can easily implement in your classroom and that your students will love.
Before we dive into these ideas I would like to say that independent reading is always what you want to strive for. Students in 4th and 5th grade really need to have the stamina to read for extended periods of time. If your students can do that already (or are capable of doing that with minimal accountability and not a lot of headache), stop reading this post and have them independent read and apply the reading skills from your mini-lessons while they read and write about their reading. However, if you teach students like the ones I teach (students who are reluctant, struggling readers who need that novelty and collaboration to read), keep reading for my favorite reading centers for upper elementary.
1. Independent Reading
As I mentioned above, independent reading time is very important for students in upper elementary. They need to build their stamina and be able to read for extended periods of time. Independent reading center is a center that ALL of my students complete each day and some complete this twice a day. For independent reading, the students read books of their choice while applying the reading skills from our reading mini-lessons. To read about how I keep my students accountable for their reading, click here.
2. Reading Response Center
This reading center goes perfectly with independent reading (and is one of the ways that I keep my students accountable for their independent reading). One way that I implement reader's response is by having my students write bi-weekly letters about the book they are reading. They either write to me in their reader's notebooks or they write to a partner via our class blog. Click here to read more about the checklists I use to ensure my students' responses are rigorous, standards-based, and promote deep thinking.
In addition to the reader's response letters, I also like to mix thing up and have a variety of write about reading opportunities to keep my students engaged and challenged. To read more about these "write about reading" ideas and grab several freebies to implement in your classroom right away, click here or on the image below.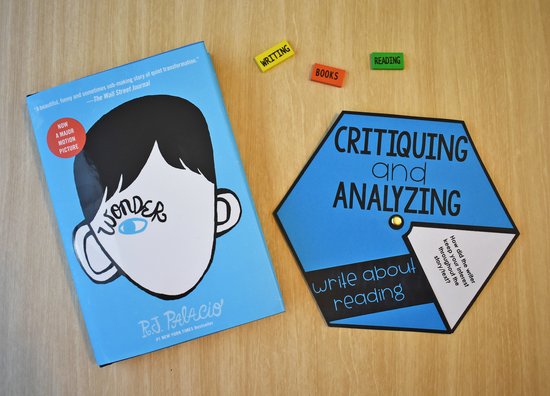 3. Reading Games
This reading center is a relatively new center option for my students. I have been using these reading game boards as a reading center for the past two years and my students (and myself) are loving them. I use one page grade level passages (helpful for building reading stamina) with an accompanying game board full of text dependent questions.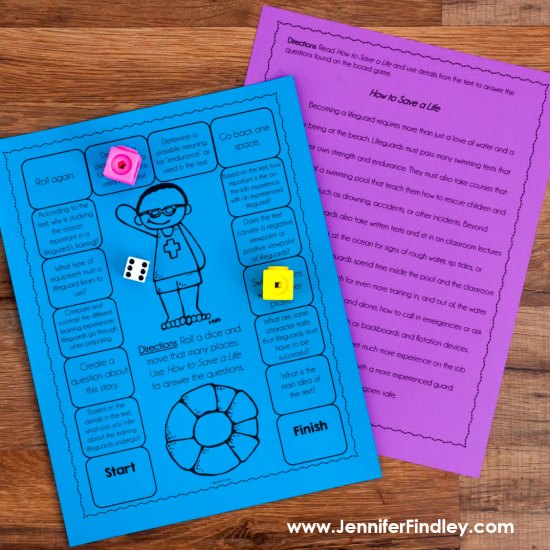 Sometimes we read the passage together as a class before centers start. Then, they spend the reading center time "playing" the game and answering the questions, which you can have them do orally or they could record them.
Want to try these reading games out in your classroom?
Another reading game that my students love are my Roll and Answer Reading Centers. These centers include a half-page passage with 11 text-dependent questions. The students roll a dice twice, find the sum, and then answer the question that matches the sum. This can be "played" with partners (and even as a version of BUMP) or independently.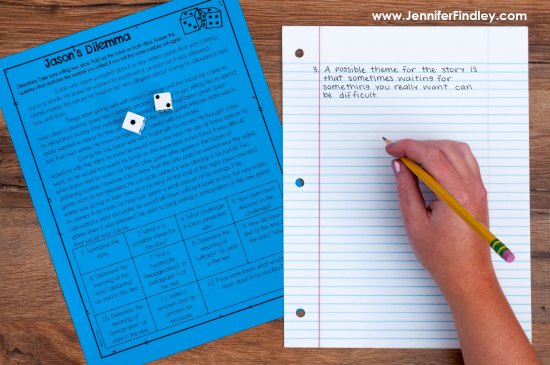 Want to try these reading games out in your classroom?
4. Informational Text Center
The informational text reading center is a very important addition to my reading center rotations. Through this reading center, I am able to expose my students to a variety of informational topics and a variety of different types of informational text. I use this center to both target my students' interests and to integrate science and social studies into reading. Over the years, I have collected a library of books that align with our science and social studies topics. When I introduce a new topic, I pull out the books that match that topic and place them in the center. I use my Roll and Answer Reading Response to have the students think about, discuss, and respond to their reading. You can read more about this reading center and grab it for FREE by clicking here.
5. Poetry Center
Similar to the informational reading center, I like to have a poetry reading center in my classroom to expose my students to a variety of poems. For this center, I place a couple of poetry collection books and sometimes printed poems that I know my students will enjoy and poetry response task cards. During the center, the students read a poem and respond to the poem using the task cards. Click here to grab the poetry task cards and response booklet I use for FREE.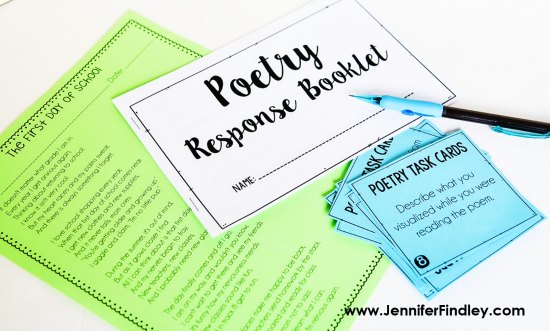 The printed poem shown in this picture can be found in my Holiday Reading Bundle which contains an informational text, fiction text, and a poem for each holiday or season represented.
For more poetry reading centers that include poems and text-dependent questions, click here to see my new Poetry Reading Centers.
6. Partner Reading
Partner reading center is one of my students' favorite reading centers. For my partner reading center, I like to mix things up and have several options. Sometimes my students simply read books together. Sometimes they read the same book and sometimes they read and discuss their own independent reading book. You can read more about how I implement partner reading and grab a freebie on this post.
Partner reading is also a great center to have the students partner read grade level passages that target specific skills. I have found that my students who read a grade level below really benefit from reading grade level text with a partner in this format. They support each other and both students are exposed to more complex text.
If you need passages that target specific reading skills, click here to see my reading units that each contain several passages written specifically to target grade level reading skills.
7. Magazine Center
Magazines are always a hit with my students. They love the full color graphics and the variety of different high interest articles in the magazine. I usually have lots of magazines on hand from past subscriptions that I have paid for or were given to me. Check with your librarian for older magazines, too. I lucked out and got several class sets of Action this year to use with my reading intervention students. Even though the magazines were two years old, they were still super relevant for the students.
The great part about many magazines is they include comprehension questions and writing tasks to go with the articles. You could easily create a choice board with tasks for the students to complete. Here is a generic choice board that I use with my students when I don't have time to create a magazine specific choice board or when the magazine I am using doesn't have a lot of comprehension questions/tasks. I just fill in the number of activities and articles required and copy it for my students. Click here to grab the magazine reading center for free.
8. Task Card Center
Another popular reading center for upper elementary students are reading task cards. The short tasks and focused question that are used in tasks cards make them very accessible to all students, especially struggling students.
9. Computer/Tablet
Since my students take their standardized tests on the computer now (with lots of typed responses), I like to get them on the computer as often as possible during reading time. The good news is there are several different free ways to do this. Click on the links to read these blog posts to learn more about online sites you can use during reading time.
10. "Hands-On" Reading Activities
One thing that I have noticed instantly increases engagement and motivation is making activities hands-on. But, this is not always easy with upper elementary skills and standards. To implement a bit of hands-on practice, I use my reading puzzles and reading spinners. Click here to read more about these hands-on reading activities and grab the ones shown for FREE!
Want more hands-on activities and reading centers?
11. Read Aloud Extension Center
I begin my reading time with a read aloud (sometimes a chapter book like Wonder and sometimes a mentor picture book). As we read the book, we do lots of discussion and even writing together. I also like to give the students questions or a response to continue during their reading center time. You can see an example of this with the book The Wall by Eve Bunting by clicking here. I read the book aloud and have a mini-lesson with my students on a specific reading skill. Then, the task cards (that are free on the linked post) would be placed in a read aloud extension center for the students to complete that week.
Interested in learning more about the different read alouds I use in 4th and 5th grade? Click here to see all of my blog posts that share the different read alouds and mentor texts for a variety of skills and even holidays.
FAQs About Reading Centers for Upper Elementary Students
Want more articles about reading and freebies?
If you are still on the fence about whether or not reading centers will work with your students, click here to check out this post for five reasons to use reading centers in upper elementary. The post also shares a free paired passage reading center.
Want even more variety in your reading centers? Click here to read a post with THREE more of my favorite reading centers (better suited for specific skill review) and access free ones to try out.
Do you love reading centers but struggle with classroom management during reading center time? Check out my tips for reading centers management by clicking here.
If you would like to read about how I teach reading, click here to read a detailed breakdown of what reading instruction looks like in my 5th grade classroom.
Do you use any of these reading centers with your upper elementary students? Do you have another reading center that you use and love? I would love to hear about it in the comments.
If you are interested in reading about math centers, click here to check out all of my blog posts about guided math instruction and math centers.