Close reading became the new buzz word in education with the coming of the common core standards and new rigorous high-stakes testing. It is an extremely effective strategy at helping students reach higher levels of text analysis, however it can also be challenging to implement (as with any strategy that promotes struggle and critical analysis).  On this post, we will take a look at some common close reading challenges faced by teachers all across the country and I will share some practical strategies and solutions to overcome them. Hopefully, this post will arm you with some new close reading strategies to effectively implement into your instruction.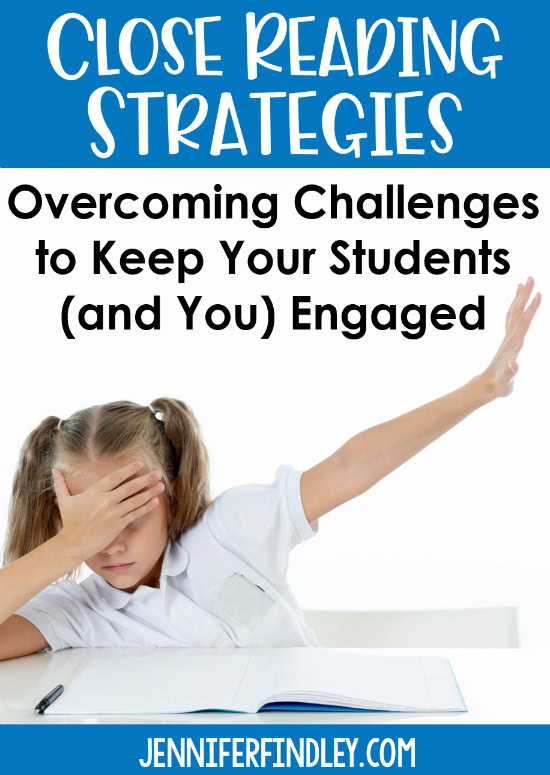 Challenge – Students are not engaged in repeated readings of the same text.
Close Reading Strategies to Implement:
1. Make the Process Hands-On – Use annotating tools such as sticky notes and highlighters to make the close reading process more hands-on to engage your students as they read.
2. Choose High-Interest Topics and Relatable Stories – Choose topics and stories that will be naturally engaging to your students. Don't be afraid to abandon a text after the first read (or combine the second and third read) if you find that it is not engaging enough for your readers.
3. Assign Specific Annotation Directions For Each Read – Have the students annotate the text each time they read with a new purpose in mind. This will keep them engaged and focused, while also improving their comprehension.
4. Move the Close Reading Instruction to a Small-Group Setting – Teaching close reading in a small group will help you ensure the students are engaged in the readings. You can use a variety of engagement strategies such as multiple opportunities to discuss the text, chunking the text, reviewing or watching multi-media related to the topic, allowing for partner discussion and work, etc to keep your students engaged as they analyze a text multiple times.
5. Don't Complete All of the Reads in One Day – Assigning multiple reads in one setting is a quick way to burn out students. If possible, space the readings out, one per day.
Challenge – Students are not completing multiple readings.
Close Reading Strategies to Implement:
1. Determine Why the Students Are Not Completing the Readings – Do an honest reflection and even ask the students why they are not reading. It could be that the texts are not engaging, that they don't see the purpose, or that they need a little more engagement. This will help you move forward with which close reading strategies to implement to ensure they are completing the multiple readings.
2. Adjust and/or Add Rigor – Sometimes our students do not want to read a text multiple times because they can answer the questions and prompts without the need to dig back into the text. In this case, adjust the rigor or add some in by modifying the prompt.
3. Add in Discussion and Reflection – Reading is very much a social process and adding in discussion and reflection before, during, and after reading can help ensure students are completing the readings and engaging in the process.
4. Color-Code the Annotations – In the previous section, I recommended having specific annotation directions for each read. Another strategy is to have the students color code those annotations depending on the read they are completing. This may help with motivation and engagment and will definitely help with accountability.
5. Remind Students of the Purpose of Close Reading – If our students don't see the purpose in a task that they perceive as difficult or tedious, they may struggle to complete it. Every now and then, I like to remind students of why they close read a text multiple times and how it benefits them.
Challenge – Students are not thinking about what they are reading as they are reading.
Close Reading Strategy to Implement:
1. Annotation Directions for Each Read – Have specific annotation directions for each read. This will scaffold the students as they are reading and help them focus and comprehend the text.
Here is an example:
1st Read – Highlight details that reveal the setting and the main characters.
2nd Read – Highlight the challenges that the main character is having throughout the story.
3rd Read – Highlight ways that the setting and characters affect and are affected by the challenge.
Challenge – Students are not able to reach deep levels of analysis with a text.
Close Reading Strategies to Implement:
1. Model and Support – This challenge is the whole premise for close reading and why it is needed. Close reading helps the students reach those deeper levels of analysis. To help students, embed support through teacher modeling and annotation directions that lead the student to higher levels.
2. Practice and Practice Some More – Throughout the year, provide regular opportunities to practice close reading in general and to practice specific close reading strategies with new texts. This will lead to greater success and confidence with close reading and with analyzing texts.
Grab a Printable If…Then…Close Reading Strategies Printable Here
Click here or on the image shown to download a printable condensed version of the close reading strategies shared on this post.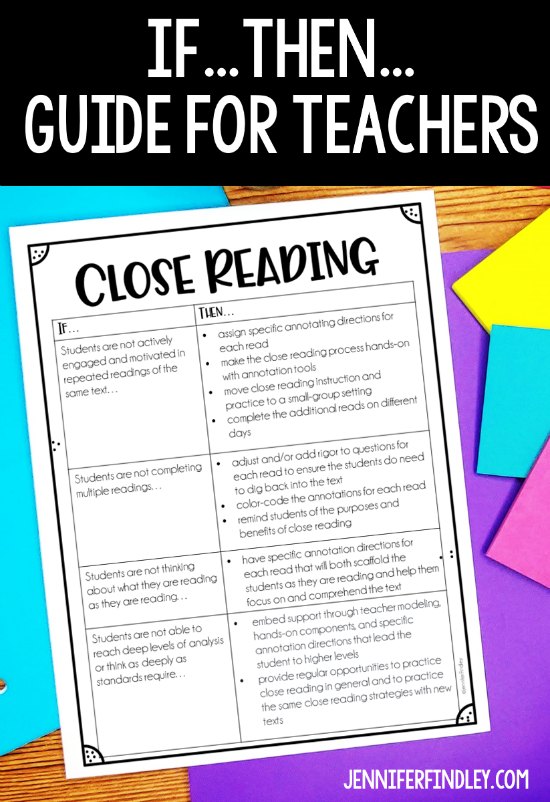 Need Close Reading Resources?