Are you looking for a meaningful collaborative digital end of year activity for your students? The end of year activity shared on this post is one of my favorites to do with my students each year. We usually do it with pieces of paper only because the copies for each student can get ridiculous. However, this is the perfect activity to use in a digital format!
The activity has each student answering the same question to create a collaborative "About Us" class book that your students can look back on for years to come. Sound like something your students will enjoy? Keep reading to read more and grab this digital end of year activity for free!
About the Digital End of Year Collaborative Class Book
This collaborative class book has the students responding to prompts asking for their favorites or to share something about themselves like traditional "About Us" books.
However, the best part about this activity is that the students all respond on the same page.
When completed, your students will be able to look at any page and see so many details and interests of their classmates. They will be able to look back at this for years to come and remember so many small details long forgotten. And you will, too!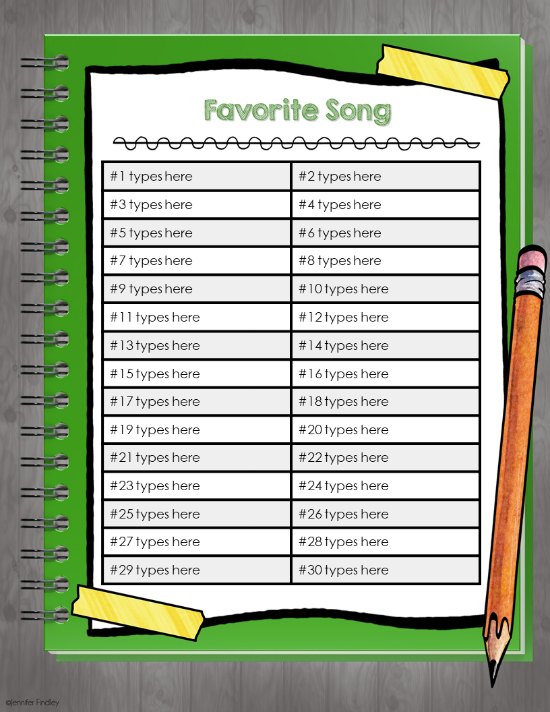 Here are some of the prompts included in the class book (feel free to delete any that you do not want to use before assigning):
Favorite Field Trip
Favorite Subject
Favorite Television Show
Favorite Song
Favorite Movie
Favorite Book
Favorite Hobby
Something Silly About Me
Something that Scares Me
Something that Makes Me Smile
Something that Makes Me Laugh
Favorite Food
Favorite Dessert
Favorite Memory of School
Favorite Part of Our Classroom
Favorite Math Topic
Favorite Science Topic
Favorite Reading Topic
Favorite Social Studies Topic
Favorite Writing Topic
Favorite Video Game
Important!!!!
I tried to only choose topics that lend themselves to short one-word or phrase answers. This is because space is limited on the table (unless you have less students and are able to adjust the table – more about this in the next section).
If too much is entered in a space, it will increase the size of that space and may cause the table to be too large to fit on the slide. If you think your students will be wordy, I recommend one (or both) of these:
Delete any pages that you think will cause your students to write more than just a word, phrase, or simple sentence.
Explicitly instruct your students to keep it short and sweet…which they usually do but you never know 😉
Completing the Digital End of Year Collaborative Class Book
Here are the student directions (included in the class book):
Find your assigned number. You will be using this number for each page.
Respond to the topic on the top of each page. Do not edit anyone else's text.
Complete each page.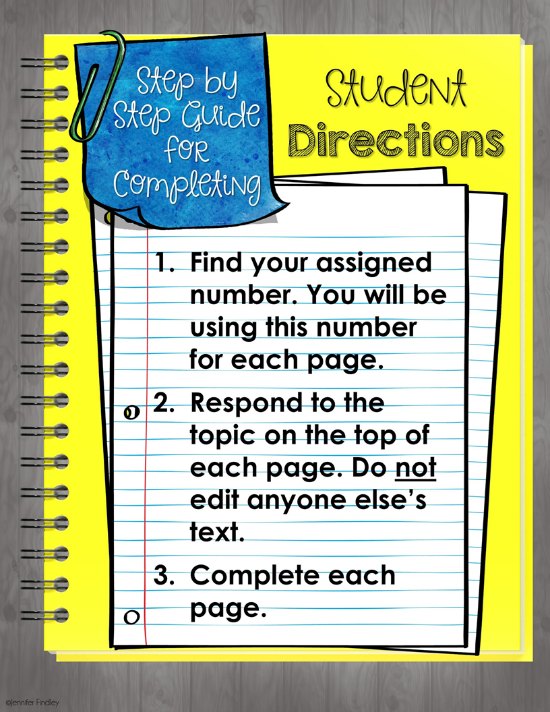 And here are the steps you will need to take:
1. Make adjustments to the table as needed for your number of students. Complete step-by-step directions included in the teacher guide with the link. For example, there is space for 30 students. If you have less than that (or more), you can adjust the tables to accommodate this.
2. Assign each student a number (I also like to assign myself a number and complete the pages, too!)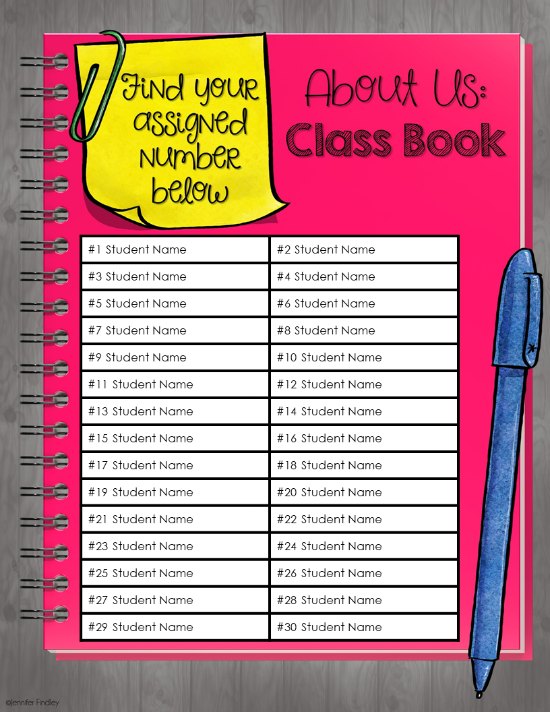 3. Assign the digital collaborative class book to your students via Google Classroom, ensuring that you choose "Students Can Edit File". This is important. You do not want to make a copy for each student for this activity. You want the students all editing and working from the same copy. Directions and a screenshot are included for this as well in the PDF download.
Get the Link for Digital End of Year Collaborative Class Book HERE
Click here on the image to download a PDF with the link to the digital class book AND a step-by-step teacher guide to help you use this free end of year activity quickly and efficiently!
Want more end of the year activities to engage your students for the remainder of the year?
These end of the year resources all have at least TEN digital end of year activities of the original printable end of year activities. Not all worked in digital format, but you should have lots of options to provide your students with meaningful and engaging academic end of year activities.
More End of the Year Freebies and Blog Posts
Click on the links below to see more end of the year activities and printables, including more freebies!
End of the Year Freebies for Grades 3-5
End of the Year Literacy Activities and Ideas
End of the Year Math Activities and Ideas
FREE End of the Year Writing Prompts —> This has a digital version!
FREE End of the Year Reflection Questions —> This has a digital version!