When you think about planning classroom holiday activities for your students, you may not automatically think of science experiments. Especially for Easter! But Easter, with all its ooey-gooey sugary treats, is the perfect holiday to introduce some science concepts to your students. They will love this fun Peeps® science experiment!
Note: We examine the Peeps and gather data over the course of an entire week. 
Want to see more Easter and spring activities and resources for other subject areas? Click here!
Dissolving Peeps Science Materials Needed: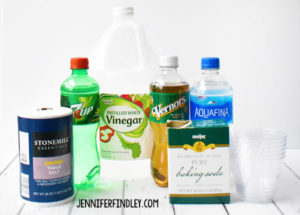 6 Peeps marshmallows
6 clear cups or bowls large enough for a Peep
Water (enough for 3 Peeps)
Vinegar (enough for 1 Peep)
Salt (1 tablespoon per 1 cup of water)
Baking soda (1 tablespoon per 1 cup of water)
Ginger ale (enough for 1 Peep)
A clear soda pop, like 7-Up® or Sprite® (enough for 1 Peep)
A timer
Printable table cards and recording booklet (at the end of this post)
Free passage and comprehension questions download (at the end of this post)
Dissolving Peeps Science Directions
Pour or mix your liquids into 6 bowls.
Baking soda water
Plain water
Salt water
Vinegar
Ginger ale
Clear soda pop
Label each liquid with its printable card.
Make your predictions. What will happen to the Peeps in each liquid?
Place one Peep into each liquid. Try to submerge your Peep and you'll see that they float!
Set your timer for 15 minutes and check on the Peeps. Check again in another 15 minutes.
Continue to monitor the Peeps throughout the week and gather and record the data.
The Science Behind the Dissolving Peeps Science Experiment
Like most sweet treats, Peeps will break apart when they're submerged in certain liquids. This is known as dissolving. Dissolving happens when a solute (such as a Peep) is placed in a solvent (such as vinegar). The solute eventually breaks up and is absorbed into the solvent. The result is known as a solution.
After the Experiment Reading Activity
I like to incorporate reading and writing into every science experiment, activity, or demonstration that we do and this is no exception.
For this activity, the students will read a short text that describes the science behind it (similar to what is explained above for the teacher reference). Then the students will use the details they learned in the text to explain what happened during the science experiment. They will also answer three comprehension questions using details from the text.
The questions your students will answer include:
First, what about science makes marshmallows like Peeps dissolve so quickly?
Next, what do you think might be two examples of solutes? What could be two examples of solvents?
Then, what factors affect the speed at which a solvent breaks down solute?
After reading the passage and answering the questions, you can invite your students to share their responses and have a classroom discussion about solutes, solvents, and solutions.
Note: We examine the Peeps and gather data over the course of an entire week. 
How Can I Get the Free Printable?
Click here or on the image below to grab the download the freebies that accompany this Easter science activity.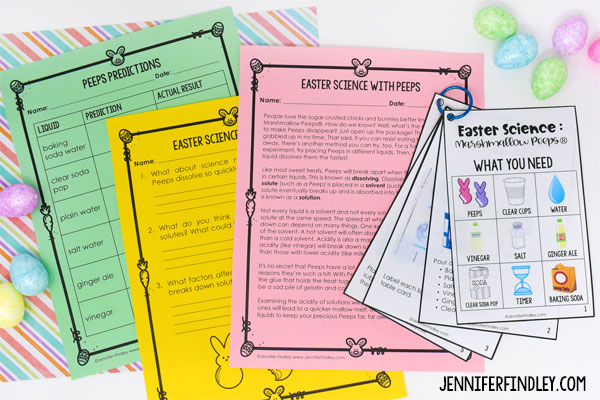 What is your favorite Easter science experience or STEM activity? Let me know in the comments! I am always looking for new science experiments that my students will love.
If you want more resources and even freebies for Easter and spring, click here to check out my recommended activities, such as math worksheets, egg hunt activities, review game ideas, printables for read alouds, engineering with jelly beans, science experiments involving flowers and seeds, and more.