Spring is in the air! Spring is such a fun time in the classroom, but it can also be a not-so-fun time. The kids (and teachers) get spring fever and are ready for Spring Break. And most state tasting falls around this time, so that makes it really difficult for teachers. I decided a long time ago to embrace the spring fever and use it to my advantage.
How do I do that? Through very purposeful and rigorous activities with a fun spring (and Easter) theme. This post will share a few of my favorite spring activities (several are free and the rest are super affordable).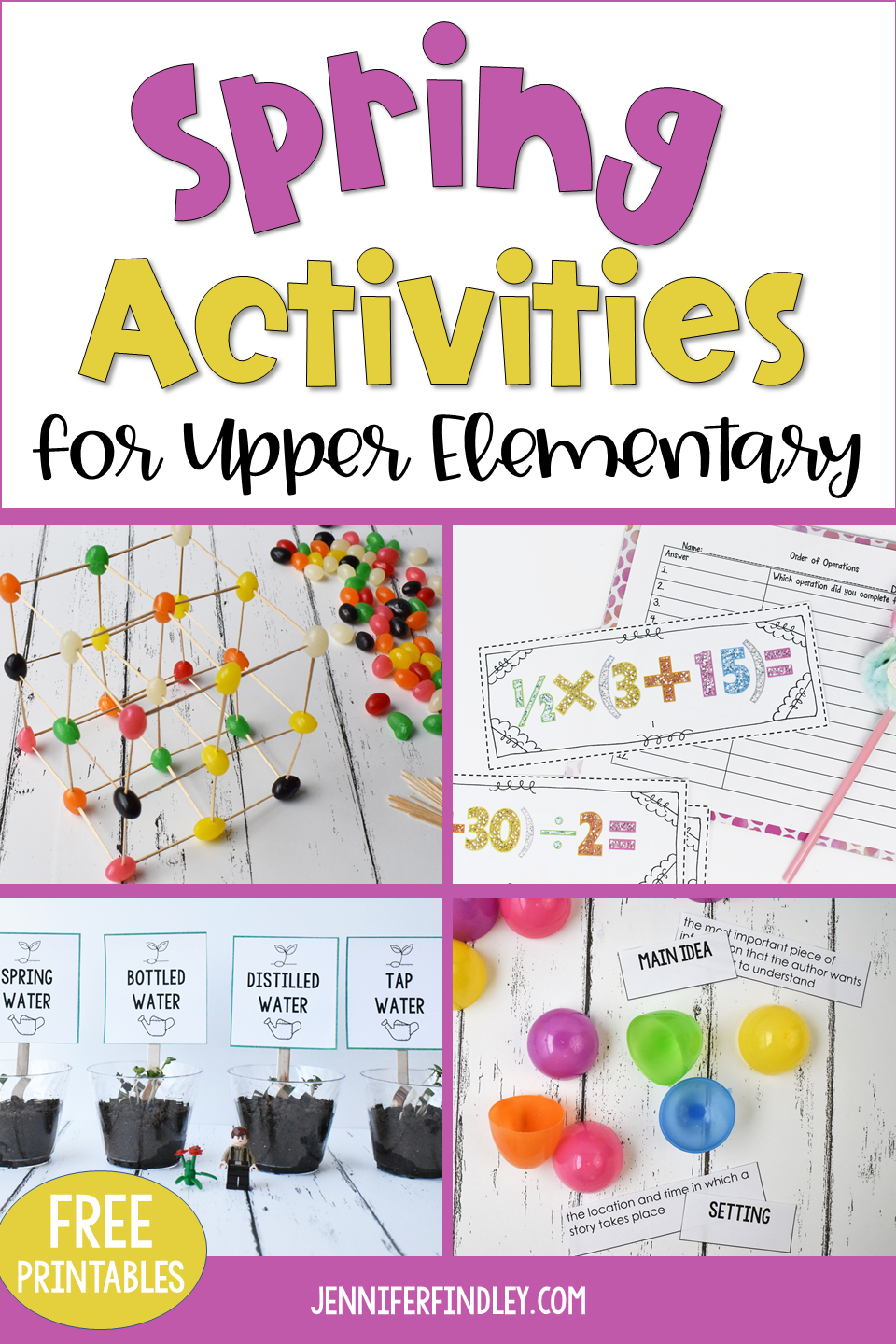 Spring Math Activities
While I LOVE math centers, I also really love themed printables for math. The prep is so easy that they are perfect for this time of the year. Let's face it, I am always wore out in March and April, so I tend to gravitate toward my engaging themed "Just Print" math activities during this time. This spring set is a particular favorite of my students because of the graphics and the topics. Here are just a few of my favorites. You can see there is a nice mix of computation and word problem (spring themed).
You can purchase the fourth grade set (reviews 19 standards) here and the fifth grade set (reviews 20 standards) here. These are also a great way to review the math skills you have taught before state assessments. The students will enjoy the themed printables so much that they won't even realize they are doing test prep!
And even though I love no prep printables, I like to use them in addition to my math centers. Spring math centers are a perfect way to spice up your math centers and mix them up a bit. While I do like to keep my math centers pretty consistent (read why I prefer consistent centers here), seasons and holidays are the perfect time to add in some new centers and keep your students engaged.
Click HERE to grab this Order of Operations center for FREE. If you would like even more Spring themed centers, click here to purchase the set that includes this center and nine other centers.
Easter Math Activities
Now let's talk a bit about Easter themed activities.  I know many schools are not able to include Easter themed activities. However, the schools I have taught at have allowed us to use the "secular" Easter activities. Here are a few of my favorites:
Egg Hunt Test Prep
One of my favorite spring activities to do each year is an egg hunt review. My fifth graders are too old for the traditional egg hunt, but never too old for a fun review activity. For this activity, I cut up test prep multiple choice worksheets (literally from a workbook-nothing fancy here!) and had a group of students who always come in early put them in the plastic eggs. I solicited help from a non-homeroom teacher to hide the eggs.
The students followed these steps:
1) Find an egg.
2) Answer the question inside the egg.
3) Replace the question and the egg.
4) Repeat.
Click HERE to read a more detailed post about this student favorite spring activity and grab a free recording sheet to use with any questions you choose to use.
Plan an Egg Hunt Math Activity
Another favorite spring and Easter activity is planning an egg hunt. My students use a two page printable to work out the math and plan their egg hunt. Click here to read more and grab the FREE printable.
Math Centers with Eggs and Bunnies
One of my favorite math center packs that I have ever created is my Easter Math Centers (with Eggs and Bunny graphics- no reference to Easter or religion). Here is one of my favorite activities from the pack (it was really hard to choose just one!).
This easy to prep and explain activity has the students using a Treat Shop Menu of Easter candy and other goodies to solve math task cards. This is a great way to practice decimal operations in a fun way! Click here to purchase the Easter Math Centers (Remember that this is a secular version of Easter with no reference to religion or use of the term Easter).
Review Games and Activities with Plastic Easter Eggs
I love using plastic Easter eggs for tons of different review games and activities, in addition to the Egg Hunt idea I shared above. For more ideas and even a couple of free printables for using Easter eggs to review, click here!
Spring Literacy Activities
Now, let's take a look at some of my go-to spring activities for reading. The best part about these resources is they are aligned my common core standards, so these activities double as test prep review (and the kids don't even realize they are reviewing for the TEST.).
Spring Read Alouds with FREE Printables
Of course, I can't have a post about my favorite spring activities without including my favorite spring read alouds (and how I use them). Weslandia and What if There Were No Bees? are two of my go-to read alouds for the month of April. Click here to read more about these spring read alouds and grab free printable activities to use with these books.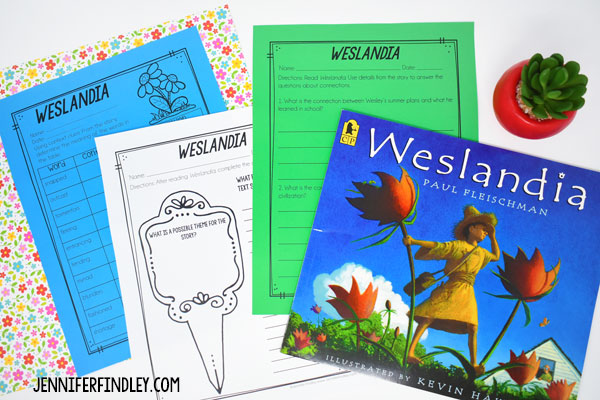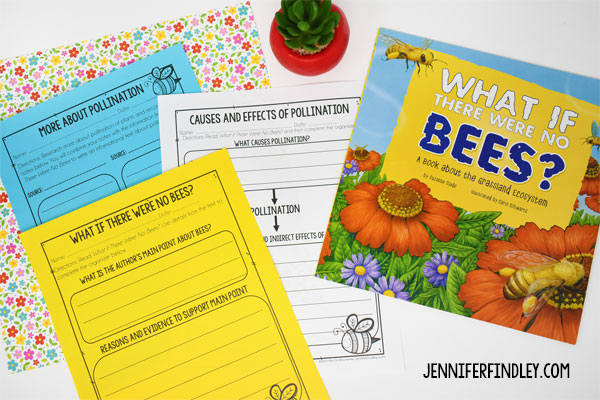 And of course, The Gardener, is a perfect read aloud for spring with its gardening theme. Also, it is the perfect book to read while you teach The Great Depression and its effects. Click here to read more and download the printables I use with this spring read aloud.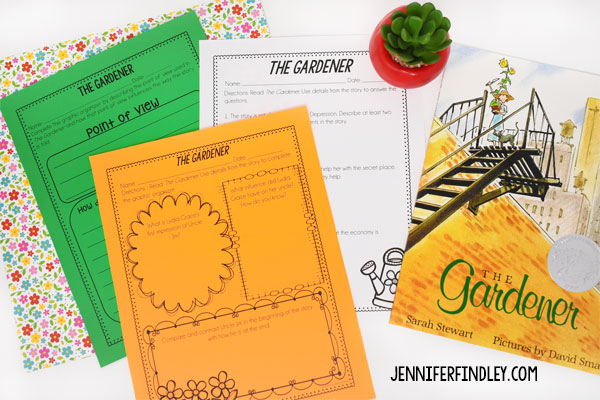 Other Spring Literacy Activities
In addition to spring read alouds, my students really enjoy spring themed reading activities. One of my favorite reading passages for this time of year is "Lift Off" which comes from my Spring Reading Comprehension Resource. This story is told from the point of view of a forgotten kite that has been left in the garage through the fall and winter. The story is not only super engaging for the students but it is perfect to review point of view. Here are some of the activities we complete with this ONE passage.
Can you see how much reading and writing can be reviewed with one passage? And that fact that the passage is engaging is just icing on the cake. Click here if you would like to purchase this spring reading resource that includes the passage shown and accompanying activities along with two other texts (informational and poem) with activities for those texts.
Spring Science and STEM Activities
Dissolving Peeps Science Experiment
One of my favorite activities that I do every spring with my 5th graders is the "Dissolving Peeps" science experiment. In my classroom, we actually complete this experiment as a class over the course of a week. The experiment is used as a springboard for the students' own "change over time" science experiments that we do for the science fair each year. This class experiment serves to walk through the students through the process that they will do on their own.
Even though we complete this as a class, this could definitely be completed in groups or even as an independent project. Basically, I choose (with the students' help) four liquids (usually water, coke, oil, and vinegar). The liquids are then measured and poured into labeled containers with lids. Then a peep is placed in each liquid. Over the course of the week, we examine the peeps and gather the data to determine which liquid dissolved the peep the most.
My students use this printable booklet to record their hypothesis, materials, procedures, data collection, conclusion, and reflection. Click here to grab a FREE copy of this booklet.
More Spring Science Experiments and Activities
Completing more science experiments during this time of the year is a great way to keep your students engaged and motivated. Click here or on the image below to learn more about three of go-to spring experiments and also grab the reading extensions and printables that I use for FREE.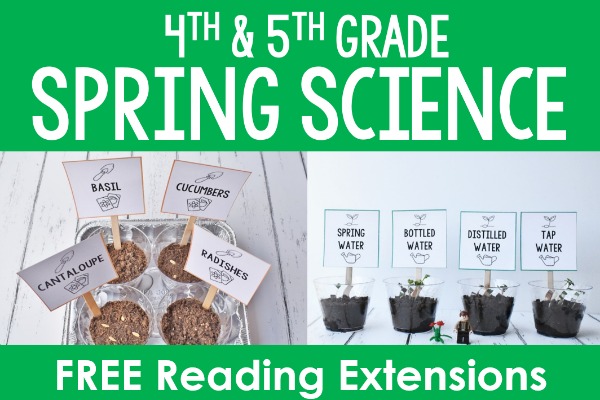 Spring STEM – Jelly Bean Engineering Activities
We love STEM activities and spring and Easter is the perfect time to incorporate some jelly bean engineering tasks! Click here or on the image below to read about two of my favorite jelly bean STEM activities (and grab free printables to implement these activities in your classroom!)
Outdoor Spring Activities
Another go-to "activity" that I use in the spring months is to take my students outside to complete work that is engaging, motivating, and allows them to get some much needed sunshine and fresh air. I love taking my students outside so much that I wrote an entire blog post with TEN of my favorite outdoor learning activities. Just click right here to head over to that post and get even more ideas to use this spring (and some free printables to use immediately).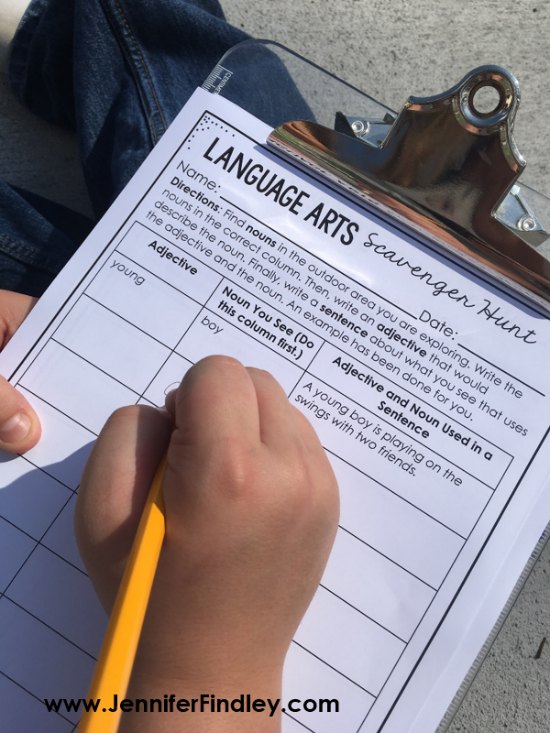 Want even more engaging spring activities for 4th and 5th grade? You can see all of the spring resources I have available by clicking here.
What are your favorite spring activities that you do every year? Let me know in the comments! I am always looking for new ideas and activities.