Each year, I give my students a printable to gauge their interests in reading. I enjoy reading their responses, and they often do give valuable insight to their reading behaviors and interests.
This past school year, I decided to change my reading interest survey activity up. By making a pretty simple change, I got more thoughtful responses and my students actually enjoyed the activity.
Need a digital option for reading interest surveys this year? Click here to check out the post that shares digital reading interest surveys and activities!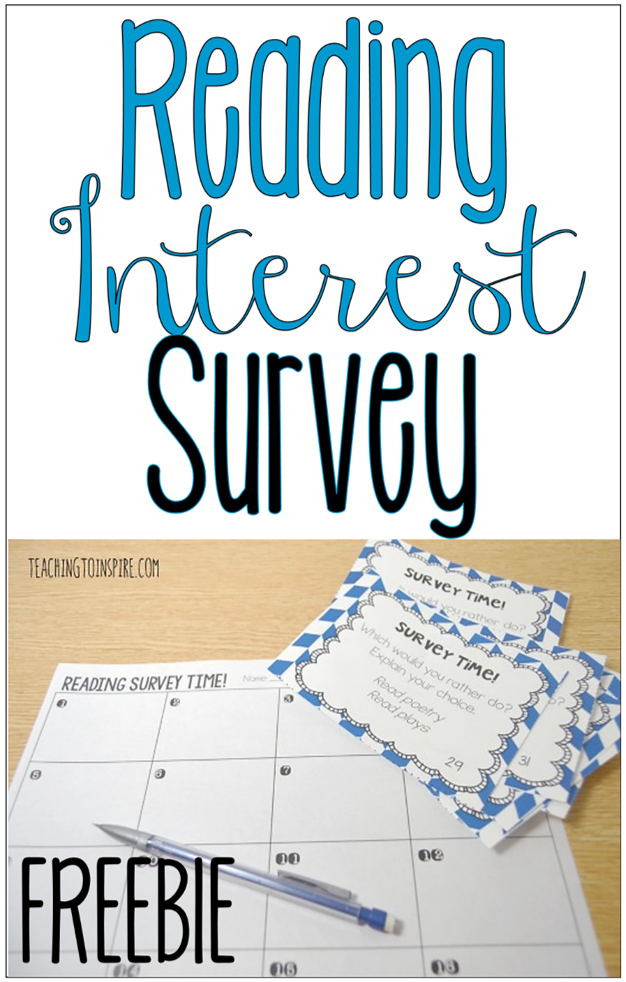 The activities that I use for the first few days of schools often encourage movement and discussion. I knew I wanted to incorporate both of these into the reading interest survey that I gave my students. So instead of my go-to printable, I typed up my questions in task card format. The questions range from their personal reading behaviors to their reading interests. I taped the task cards around the room. The students (in pairs) walked around the room to answer the questions on their recording sheet.
We did have a brief discussion beforehand about expectations. The students knew they were allowed to discuss the questions with one another, but ultimately they knew that they needed to write their own personal opinions on the recording sheet. They also knew to write their responses to the questions in complete sentences. This kept me from having to constantly check and see what the question was when I was reading over their responses.
I try to include a wide range and variety of questions so I can not only get to know my students' reading behaviors, but also some of their interests. This will better help me provide books that I know they will enjoy reading.
Another Option
Another option that you can do with the task cards (that is just as engaging and promotes movement) is to play SCOOT with the cards. Place one card on each desk and have the students scoot around to the different desks (at your signal) and answer the questions. You can read more about how we play SCOOT in the classroom (and how I use it as a type of assessment)  by clicking here.
Download the FREE Reading Interest Inventory Task Cards Here
Click here or on the image below to download the reading interest survey task cards so you can try this out with your students. There are 32 reading interest survey questions included in this file. You can pick and choose the ones you want or have the students complete all of these during the course of 2-3 days. You could also do half of the questions as a "walk around the room"  and half as a SCOOT activity.

If you are looking for more activities and resources for Back to School that work with upper elementary students, click here to see all of my Back to School themed resources.
What are your favorite activities for getting to know your students as readers? Let me know in the comments.
Save
Save
Save
Save
Save
Save
Save