Have you used Google Classroom before? While the interface may not be user friendly for organizing assignments, the ability to assign interactive assignments through Google Slides is a game changer with digital learning. This post will share a brief overview of how to assign Google Slide activities via Google Classroom with a free downloadable guide you can use as a reference.
Related Post: Click here to learn how to assign Google Forms and grab a free downloadable guide on this post.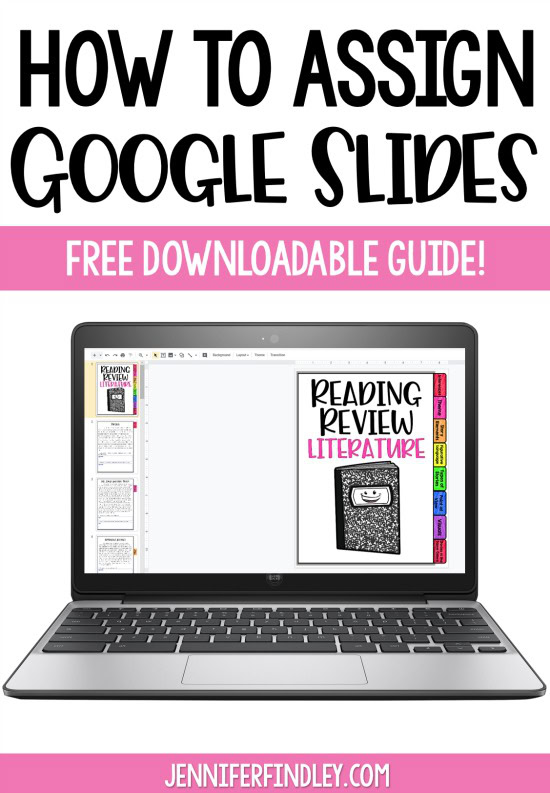 Why I Love Google Slides
I admit that I am not one who jumps on every technology bandwagon. I am a bit traditional in regards to delivering instruction and having my students practice in hands-on ways. But, I am completely sold on Google Slides after just a little under a month of diving in to it.
Here are some reasons I love it:
The auto-save feature – This is huge even for adults but a perfect feature for students.
The easy turn-it-in ability – No downloading, saving, and then uploading!
The interactive elements that you can add – I have recently really discovered ways to make Google Slide activities interactive with moveable pieces (even for reading!) and I am in love. I can't wait to dive into this more.
The ability to easily group students and differentiate assignments
How To Assign Google Slides Assignments
Are you sold yet? Now, let's dive into the steps to assigning Google Slides to your students.
This is just a general (and brief) overview of the steps and then you will find a link to a downloadable guide with screenshots and detailed directions. Print it, save it to your dive, and use it as reference as you dive into using Google Slides with your students.
1. Open Google Drive and open the file you want to assign
2. Make a Copy of the File, Rename It, and Save it
3. Modify the Copy – Delete Slides, Add Slides, Add in More Directions
4. Open Google Classroom
5. Click the Classwork Tab
6. Click Create and then Assignment
7. Name the Assignment and Add a Few Directions
8. Click Add and then Google Drive
9. Search or Locate the File in Your Google Drive and then Add It
10. Important — Change the Settings to Make a Copy For Each Student
11. Add Point Value or Due Dates and Click Assign
Free Step-By-Step Guide to Assigning Google Slides Activity
Now, I know this is a lot of steps and there are some great videos out there if you want to see this in action, but I also have a printable guide for you! The guide goes into more detailed directions and includes screenshots for each step.
Click here or on the image below to grab the downloadable guide to Assigning Google Slides in Google Classroom.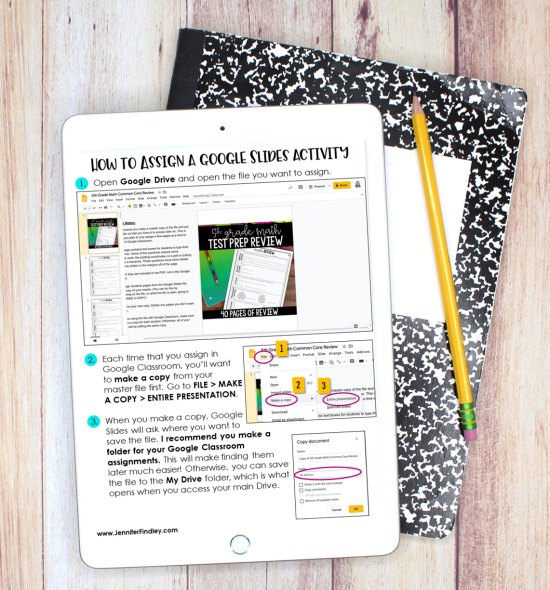 Need Google Slide Activities for 4th and 5th Grade Students?
Here are some ready-to-use Google Slide activities that you can purchase and assign your students today! Note: All of these activities also come with the printable version included.
Math Google Slide Activities
4th Grade Math Test Prep Review
5th Grade Math Test Prep Review
4th Grade Math Differentiated Skill Sheets
5th Grade Math Differentiated Skill Sheets
Math Choice Boards (Grades 3-5 Available)
Literacy Google Slide Activities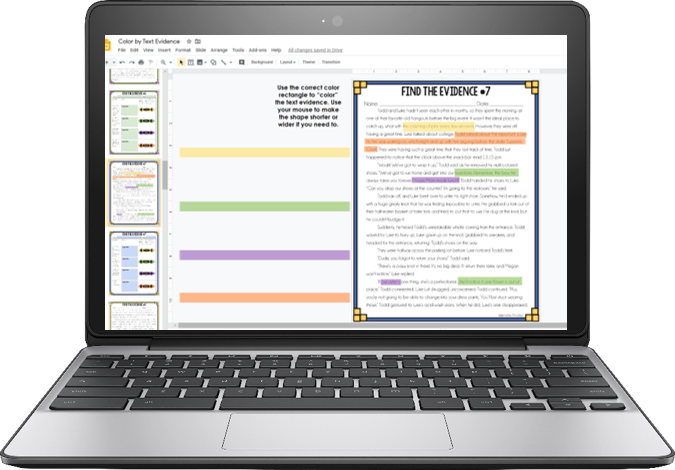 Color Coding Text Evidence Printables
Finish the Story! Engaging Narrative Writing Center
……..
This post/guide was created in collaboration with The Learning Effect.