Are you looking for digital reading activities to kick off your school year? It can be challenging to plan reading lessons when you're still getting to know your students and getting to know what they know. You don't want to bombard your students with too many skill-based reading activities before you've reviewed or taught the skills. This set of free digital reading activities designed for use at the beginning of the year is a great way to supplement your reading instruction, get to you know your students as readers, and review a few reading genres. 
About the Free Digital Reading Activities
This set of free reading digital activities includes six different texts; three fiction and three nonfiction.
The fiction texts include a mystery, a twisted fairytale, and a realistic fiction story. The nonfiction topics are emojis, snakes, and pyramids.
Each text includes comprehension questions that require the students to show their understanding of the text. The questions are:
multiple choice questions
fill-in-the-blank questions
true or false statements
The questions and activities included are strictly comprehension-based rather than skill-based. This makes it ideal for the beginning of the year, before your reading skill instruction has started.
Digital Reading Passages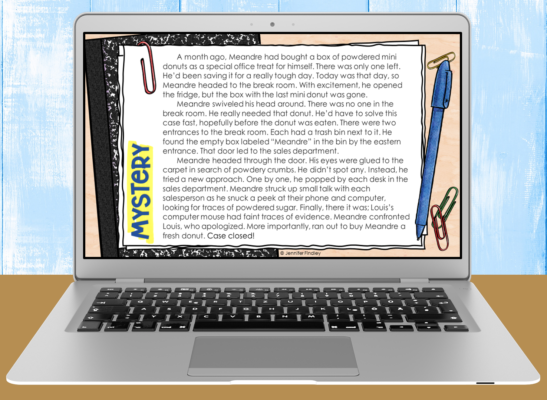 Each genre has a short text presented on one slide. The text passages are the perfect length for your students to read without being too much at once.
The texts are written at lower levels than is expected for 4th and 5th graders since this is the beginning of the school year. The levels are around a 3rd grade reading level.
The variety of genres included makes this a great way to review a few genres at the beginning of the year and get your students excited about what types of books they enjoy reading and are looking forward to reading this school year.
Multiple Choice Reading Comprehension Questions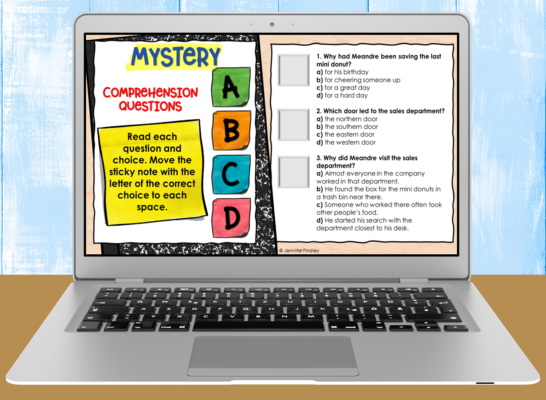 Each passage has its own set of multiple-choice questions. Your students will read the questions and the choices and then use a drag and drop element to show their answers. This makes it more engaging and interactive for your students instead of simply typing their answers in a text box.
Fill-in-the-Blank Sentences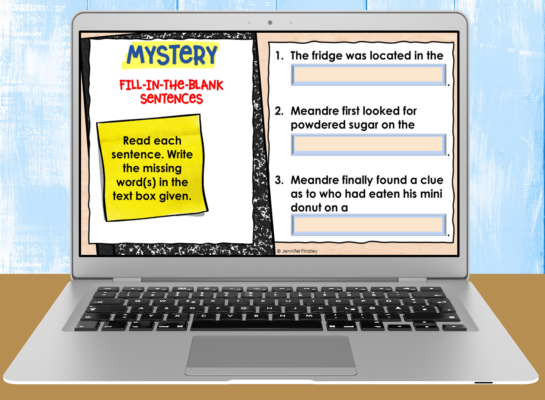 The second type of question is fill-in-the-blank. Your students will type a missing word or phrase into each text box based on what they read in the text.
Agree or Disagree Activities

Lastly, your students will read sentences that could be true or false. Each one requires your students to show whether they agree or disagree with the statement they read. If they disagree, there is a text box for your students to rewrite the sentence to make it true.
To make the activities more engaging, the drag and drop moveable pieces are related to the passage topic or theme. For example, in a story about missing donuts, your students will drag a moveable donut to a box to show they agree with each statement. If they disagree, the donut box will stay empty and they will need to rewrite the statement in the text box to make it factual.
Using the Digital Reading Activities
The best thing about these activities is that they are versatile depending on your needs. You can adapt them whether you want your students to work on them as a class, independently, in partners, or even in your small reading groups. They are easily projected on an interactive whiteboard for whole-class reading and discussion, or may be assigned independently through your virtual classroom interface.
Need help with assigning Google Slides assignments? Check out this post.
What if I don't need digital versions?
Looking for a printable version of this set? There are printable versions of each text and set of questions included in this download, too. When you click on the link below, you will receive both sets.
How do I get these free digital reading activities?
Click here or on the image below to download the digital reading activities from my TPT store for free.
Want more digital reading activities?
If you want more digital reading activities to help with online or digital reading instruction, I recommend this resource.
Each set includes BOTH printable and digital versions for digital reading instruction, face-to-face instruction, or hybrid reading instruction. Just like the free set of activities shown on this post, the digital activities are designed for use with Google Slides and digitally optimized for student engagement and optimal use.
Reading Skills Include:
Theme
Inferences
Point of View
Perspective
Fiction Summarizing
Figurative Language
Context Clues
Main Idea
Text Structure
Paired Text Structure
Multiple Accounts
Various Nonfiction Skills