This time of year quickly gets very busy quickly and stressful with testing on the horizon and end of year activities. Holidays and candy are always a fun way to relieve the stress and engage my students. It's also great for a behavior incentive (think Fun Friday activiites). This post shares a free Easter math activity that has students creating pictographs with jellybeans and solving math tasks and problems with the data they collected.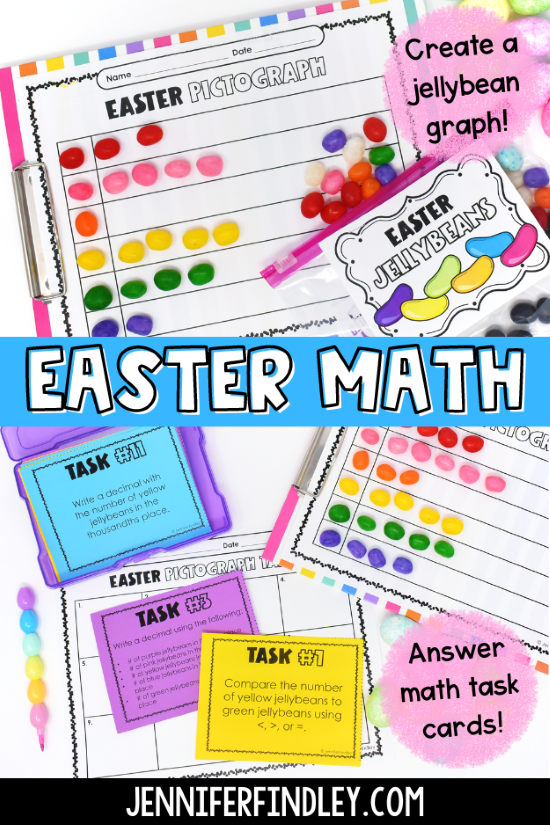 About the Free Easter Math Activity
Using a bag of jellybeans, students will create a pictograph and solve math tasks related to the data from their graphs.
There are 12 different math task cards included. The tasks cover a variety of math skills including basic math operations, number comparisons, fractions, and decimals. Each of the math tasks provides a grade-level challenge for grades 3-5. Feel free to use all of the tasks or pick and choose the ones that work for your students and grade level.
Here is a peek at some of the problems included in the task cards set…
Add the number of

purple and pink

jellybeans, then

subtract the total

from 65.

Compare the number

of yellow jellybeans to

green jellybeans using

<, >, or =.

Write the number of

purple and blue

jellybeans as a

fraction, then

compare the fraction

to ½ using <, >, or =.

Write a decimal with

the number of yellow

jellybeans in the

thousandths place.
Again, pick and choose the tasks that work best for your grade level and students.
Materials
Here are the materials you will need in order to complete this Easter math activity:
Small bags of jellybeans for each student or groups of students.
Student copies of pictograph
Math activity task cards

Optional – covers for 

zipper-seal bags (included in this free set so you can assemble 

the jellybeans ahead of time.) 

Optional – Student copies of recording sheets
Download the FREE Easter Math Activity Here!
Click here or on the image below to download the free Easter graphing activity now.
Want MORE Easter Activities?
If you want to engage your students the entire week before Easter, check out these resources from my TPT store.