Having I Can Statements prepped and ready-to-go can help make your lesson planning a little easier. This post shares ready-to-print 4th Grade Literacy I Can Statements using the common core standards, including a link to an editable version.
Want 5th Grade Literacy I Can Statements? Click here!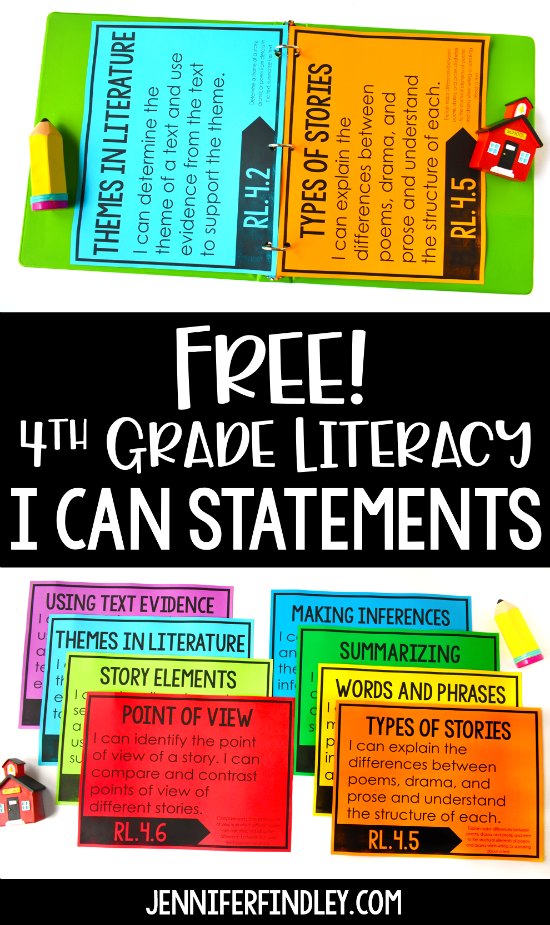 About the 4th Grade Literacy I Can Statements
There is one page for each 4th grade literacy common core standard (with a few having two pages if the standard includes more than one skill). There are statements for the reading standards (literature, informational, and foundational skills), writing standards, speaking and listening standards, and language standards.
Each I Can Statement Page Includes:
A 1-3 Word Title that "Summarizes" the Skill
The I Can Statement in Kid-Friendly Language (while still maintaining the necessary rigor of the standard)
The Standard Number and Actual Standard Language
Using the I Can Statements
Here are some ways that you can use these I Can Statements in your literacy instruction.
1. Hang the I Can Statements as Daily Objectives – I like to have a dedicated space in the classroom to hang my I Can Statements as my daily/weekly objectives. I refer to them during my lesson and some of my students really enjoy checking the board at the beginning of the week to see what skills we are learning.
2. Small Group Instruction – Use the posters to guide and focus small group instruction and help the students discuss the skill.
3. Reading Centers and Stations – Place the I Can Statements with the center materials. This will help the students know exactly what skills they are practicing in centers/stations. They will also be able to refer to the statements if an adult (ahem..admin) asks them what they are practicing. This will need to be modeled though.
4. Guide Self-Assessment – Going along with using these as daily objectives, I like to use the statements to guide self-assessment. After a lesson, review the I Can Statement and have the students self-assess and reflect on their mastery of the skill.
Storing and Organizing the I Can Statements
One way to organize and store the I Can Statements is inside page protectors in a binder. This will allow you to simply take out the page protector with the statement you need. You can then hang it up or display it however you wish, placing it back in the binder when you are finished.
Click here to grab the FREE binder covers and spines shown.
Download the FREE 4th Grade I Can Statements for Literacy Here
Click here or on the image shown to grab the 4th Grade Literacy I Can Statements for FREE!
If you would like an editable version, click here —> Editable I Can Statements. Here are the fonts used – KG Sorry Not Sorry Chubby, Champagne and Limousine and Century Gothic. Note: If you don't use the fonts that I used, you may see some issues with capital and lowercase letters since one of the fonts I used is all capital letters.
More Teaching Literacy Blog Posts
How I Teach Reading in 5th Grade (Applicable to 4th Grade)
How I Teach Writing in 5th Grade (Applicable to 4th Grade)
FREE Reading Vocabulary Posters for Grades 4-5
FREE Reading Center Starter Pack for Grades 4-5
Recommended Resource for 4th Grade Literacy