Are you picking your brain trying to find a way for students to practice idioms without making them bored stiff? These free idiom activities (printable + digital) are just the ticket.
This free idiom activity provides both a printable and digital version for students to practice and demonstrate their understanding of idioms. Using an interactive table, students will identify and match a sentence, definition, and illustration of an idiom.
About the No-Prep Printable Idiom Activities
The printable version covers a total of 39 idioms (13 worksheets with 3 idioms per page).
Students will complete the activity by cutting the cards from the bottom of each page and pasting them in the appropriate blank spaces on the table. To finish, the students will write the correct idiom on the bottom row of each table.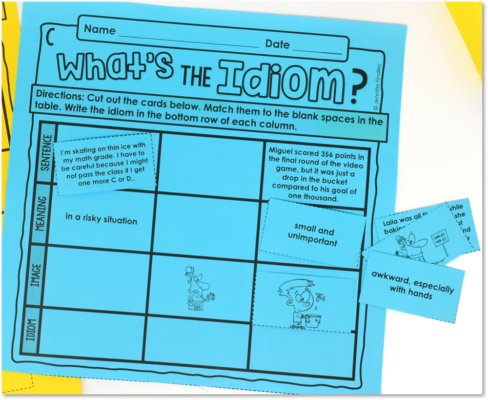 I suggest having the students sort each card and check their work before gluing them down into place.
About the Digital Idiom Activities
The content included in the printable version is also exactly the same content in the digital version. The digital version was created for use in Google Slides. It is formatted for optimal use with a variety of devices and may also be easily assigned in Google Classroom.
For a step-by-step guide to assigning Google Slides in Google Classroom, click here.
The digital version is interactive and engaging. Students will take a moveable card from the stack and drag it to the correct blank space on the table. Then the students will need to identify the idiom and type it into the bottom row of the table.
Ways to Use the Freebie
This resource can be used in a variety of ways. There are a total of 39 idioms included over 13 pages in this freebie, so you could use a few pages at a time and mix and match how you use them.
Here are some ideas for ways to use them in your classroom:
A grammar or figurative language literacy center
Small group work to practice when you are first introducing idioms
A partner activity where students check their work and have discussions to defend their answers
Independent practice to check for student understanding
Extra practice for early finishers
Get the FREE Idiom Activities Now!
To get these free Idiom Matching Activities, simply click here or on the image below. In the download, you will find a PDF containing the printable version in color and black and white. Digital access links are on page 2 of the PDF.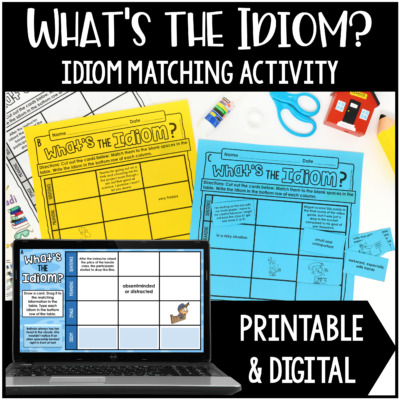 Looking for MORE ways to practice idioms?
If you like the Free Idiom Matching Activity, take a look at these other grammar products from my Teachers Pay Teachers store.
Shop This Post
5th Grade Grammar MEGA Bundle
Grammar and language instruction doesn't have to be rote and boring! Definitely not if you use language and grammar activities to help your students review and practice skills in an engaging way.