Partner games are definitely one of my favorite ways to have my students practice math skills. This post will share all the details about my favorite math partner games, a link to get 30+ free partner games, and how to get even more if you love them as much as me.
Using Math Partner Games
Partner games are perfect for practicing math skills. Because there are only two students working together, both students are working, and none are left out. There is also instant accountability as the partners (when chosen appropriately) hold each other accountable.
The partner games I use (and the ones I am sharing with you) are very consistent. This allows me to teach my students the directions and expectations for the five types of games at the beginning of the year. Then, I can use those same partner games all year long with different math content and skills, and my students immediately know what to do.
Let's take a look at those partner games.
Bump Partner Games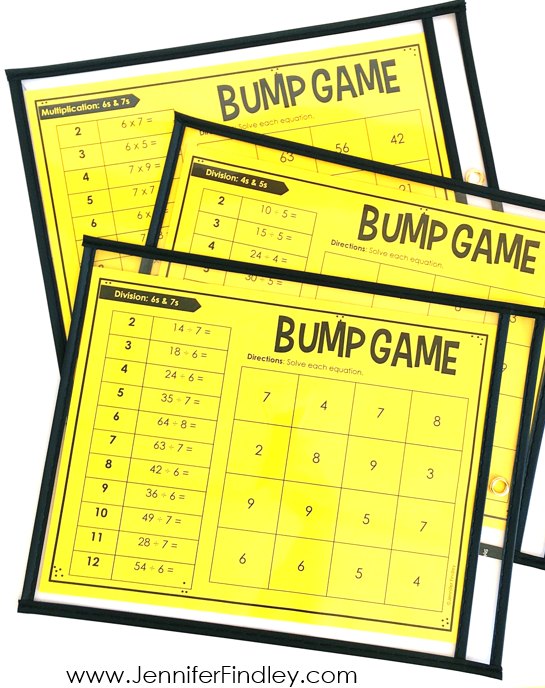 To play the game, the students need two different colored counters (or the counters that have one color on each side) and two dice. This game is SO easy to play and so much fun.
Here are the directions:
Objective: To have the most squares covered by the end of the game
Directions:
1. Roll a pair of dice, and determine the sum of the numbers rolled.
2. Find the number that matches the sum of the numbers you rolled.
3. Answer or solve the task.
4. Find the answer or solution in one of the squares.
5. Place your marker on the square.
Other Important Information:
1. If another player rolls the same sum as you and gets the answer correct, he or she may "bump" your marker and place his or her marker on the square.
2. You can protect your square by rolling the same sum again and placing another marker on top of the existing one. Two markers on the same square by the same player will protect that player from being bumped.
If you notice, there are eleven questions but sixteen squares. Some of the questions (the sums rolled most often by the two dice) have more than one answer the students can choose to put their counter on. When I introduce this game, we spend a few minutes talking about this to make sure the students don't get confused and to discuss how you have to use a little strategy to decide what to do (protect your square by putting your counter on the square where your counter already is, trying to get the other square but not having either one of them be safe, or even bumping another player instead of putting your counter on a empty square.)
Tic Tac Toe Partner Games
Tic Tac Toe is pretty self-explanatory; however, I do require both partners to solve the tasks. This keeps both students working and being held accountable. I have included an answer key, but I only instruct my students to use the answer key if they get different answers. Here are the specific directions:
Directions:
1. Choose a game to begin.
2. Decide who will be X and who will be O.
3. Take turns selecting a box and solving the task inside the box.
4. Both partners solve the task. If the player who chose the task is correct, then he or she can mark it with his or her X or O.
5. Continue until a player covers three boxes (horizontally, vertically, or diagonally) or until all of the boxes are solved.
6. Repeat steps 1-5 with a new game.
Partner Math Sort
While this one is not necessarily a "game," students still really enjoy it. For this partner activity, the students each have their own sort cards that they have to sort correctly. One thing that I did not include in the directions (for space reasons) is that I have my students initial their cards so I can use this to informally assess.
Math Game Boards
Math game boards are a staple in my math instruction, and my students never seem to tire of them. The game boards I use for partner math games are super simple and only one page. The students roll a die and move that many places. They solve the task on the place they land on. I prefer to use a special cube that is only 1-3 (included in the download) so my students move slowly across the board, thus answering more questions.
Roll and Race Math Partner Game for Review
This final partner math game that we play is "Roll and Race." This is the only one that is really new to my students, and depending on my class, I have been known to tweak the directions a bit. Here are the directions as written on the game:
Directions: Take turns rolling one die and choosing a task in the row that matches the number on the die. The first player to complete all of the tasks in a row or column wins that row or column. Continue until all tasks have been completed. If you roll a number for a row that has been completed, then you lose a turn.
Sometimes, I have my students forgo the race part and just play the game, attempting to cover as many spaces as they can. It really depends on my students that I have that year, but sometimes playing it that way (or letting them choose how they want to play it) works better.
How can I get these math partner games for FREE?
Super easy! These are exclusive free games available to my email list subscribers (and only to them – you cannot get them anywhere else!). When you sign up, I highly recommend using a personal email address (versus a school address) to ensure the email is not blocked. The games will be sent to you right away, so be sure to check your junk, spam, or promotions folder if you don't see them within a few minutes.
If you are already on my email list, they are in your exclusive freebie library. If you can't remember the details, find any email from me (Jennifer Findley) to get the details.  I always include the library login information and link at the bottom of every email for your convenience.
Where can I find MORE math partner games?
As I mentioned before, the best part about using these partner games is that they stay consistent all year. Teach the directions and expectations once, and then just change out the math skills as the year progresses. For more math partner games that cover grade level skills, click on the grade level you teach.
How do these fit into your math instruction?
Typically, we play these math partner games during whole group instruction days (after the lesson and some targeted independent practice). However, they also work well for math centers. Click here to read more about what my typical math centers look like. Another option is to have the students play theses games for review before a unit or skill assessment. I have even played these games during small group math instruction. My students love when I play against them, and I do, too. The Bump and Tic Tac Toe are my favorites to play with my students in small group.
Here is the link to get the FREE games one more time: FREE Math Partner Games for Multiplication and Division Facts
Let me know in the comments if you plan on adding these to your instruction. I know your students will love them just as much as mine!
Save