Understanding parts of speech is a skill that is beneficial to students in so many different ways. Finding parts of speech activities for your students can be challenging – especially if you're looking for engaging ones that will keep them interested while they're learning!
This post will share my favorite free parts of speech activities for 4th and 5th graders. Throughout this post, I will share a bit about the freebies and links to posts about each of them so you can read more about each and download the ones that you want to use with your students.
Parts of Speech Posters
Help students master and review the different parts of speech by displaying these posters on bulletin boards and adding them to reference tools around your room. The posters include an overview of nouns, verbs, adjectives, adverbs, pronouns, prepositions, conjunctions, and interjections, as well as individual posters for each of those parts of speech. Click here to read more about ways to use them in your classroom or to download the posters now.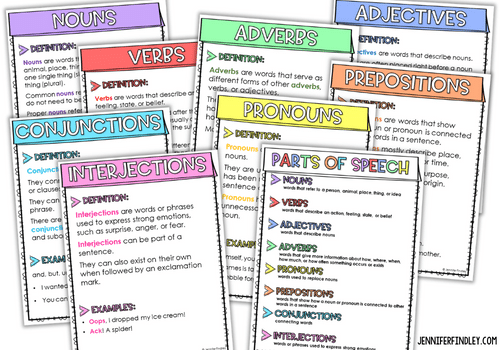 Back to School Task Cards
Mastering parts of speech can be tricky for students, but this set of back-to-school task cards in printable AND digital formats will provide them with lots of practice in a fun and engaging way. Each task card has a sentence for students to identify a particular part of speech. They are all related to the back-to-school theme, which makes them a great activity to kick off the school year with or to see what students know early in the year! Click here to read more and grab the task cards now.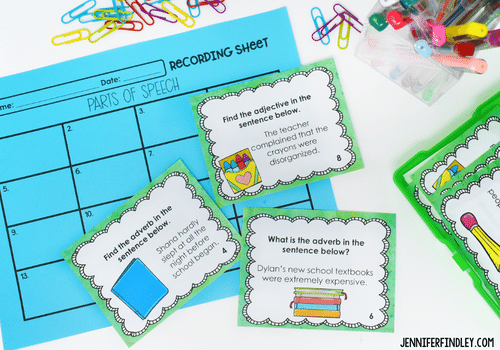 Parts of Speech Choice Boards
Want your students to truly understand the four main parts of speech before diving into the more complex ones? These free parts of speech activities give your students choices on how they would like to practice while they review nouns, verbs, adjectives, and adverbs. Giving students options when it comes to their practice can help boost engagement. Click here to check out the choice boards and download them now.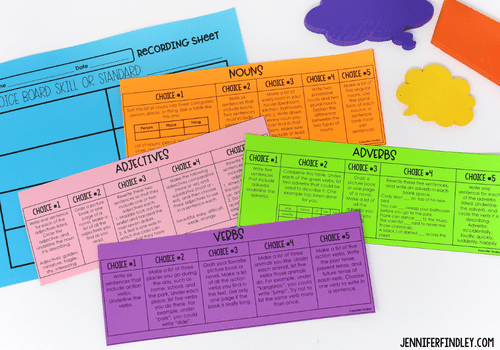 Reviewing Parts of Speech with Jenga
Looking for an even more engaging way to practice those parts of speech skills? Turn student review of parts of speech into a game by playing Jenga while they practice. Directions and free printables are included to turn this popular game into a great learning tool! Click here to read more and download the printables.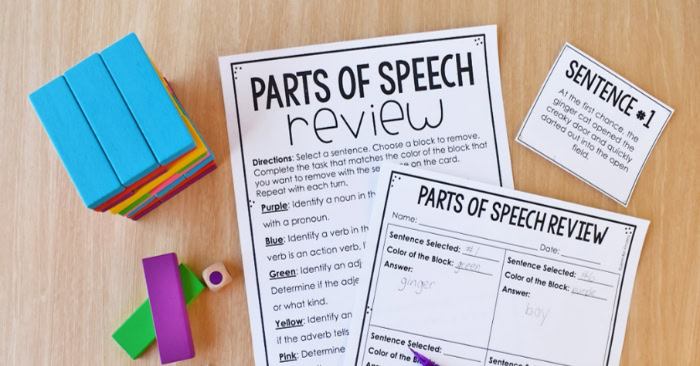 Printable and Digital Parts of Speech Activities
Help students gain a deeper understanding of the parts of speech with this free set of task cards. These task cards help students not only identify the parts of speech from a sentence, but also allow them to dig a bit deeper by defending their answers and determining how they enhance to other words in the sentence. They are available in printable and digital versions to fit your students' needs! Click here to find out more and get the free set of task cards now.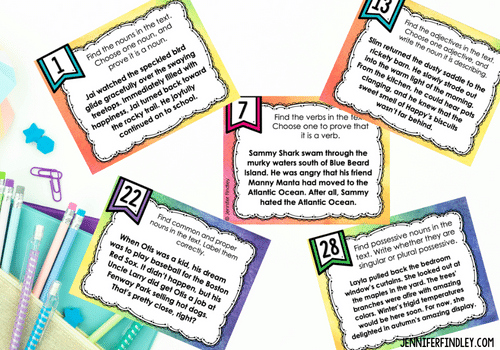 Looking for More Grammar Activities for Grades 4-5?
If you're looking for even more engaging grammar activities and resources, check out my top recommendations below.
If you want grammar task cards (with digital activities), check out these grade level grammar bundles! Each bundle includes over 20 sets of task cards/activities.
If you want grammar multiple choice worksheets for assessments or practice (with self-grading Google Forms!), check out these grade level grammar bundles!