While the country prepares to keep our families and communities safe, teachers are also continuing with teaching and learning through digital distance learning opportunities and packets for our students. On this post, I will share some free distance learning resources for 4th and 5th graders that are printable (and some now include digital versions).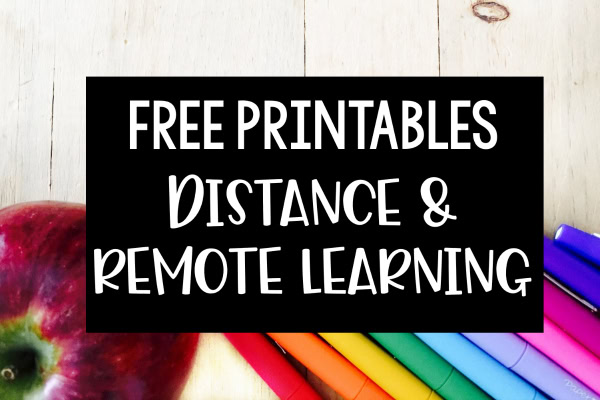 Writing Choice Boards
These writing choice boards make a great distance learning option because they are low prep, require very little copies, and offer student choice. There is also a digital version included compatible with Google Slides.
To use these, print the board or boards you want to use with your students. Tell your students how many prompts they must complete (each week or in all). And that's it!
There are writing choice boards for:
Personal Narrative
Fictional Narrative
Opinion/Persuasive
Informational
Finish it! Finishing story starters or titles in all genres.
Response to Literature
Response to Informational
Click here to grab the writing choice boards. 
Free Math Review Printables
For math activities at home, I have my Spring No Prep Math review printables for you. I chose these to offer as home learning printables for a few reasons:
The resource includes printables for so many math skills so you can definitely find several that will work for your students.
They are themed with a theme that most students will like…what student isn't ready for spring?
They are print and go. No prep and no explaining necessary.
And they now also include digital versions that are compatible with Google Slides.
Click on your grade level to grab the spring math printables!
Free Math Games
Not interested in sending home printables? Do you want some game options to send home with your students instead? I have you covered!
1. Click here to grab several low prep partner games for multiplication and division facts.
2. Click here to grab a toolkit for multiplication facts that also shares printables with a few super easy dice and card games.
3. Click here to grab some free game ideas for a deck of cards with fraction skills.
Free 2-Week Reading Plans
For reading, I didn't really have a resource ready made to share that would work well for home learning (and not require a ton of copies). So, I created this quick free resource that you may find useful.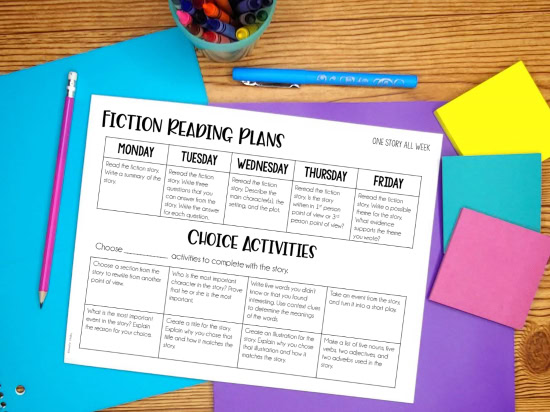 There are two weeks of reading plans included. One for fiction stories and one for nonfiction texts.
There are also two versions of each week included.
One version is for the students to use the same story/text for each assignment. This is good for students who are slower readers and need to work on fluency. This is also a good option if you don't want to send home a ton of passages to read. You only need to send home one fiction story and one nonfiction text for two weeks of learning. This option is great to pair with reading for enjoyment for a balanced reading instruction.
The second version has the students reading a different story/text each day. This is a great option for students who have access to online reading passages. You can have them read a different passage that you assign each day and then have them complete the assignment. Alternatively, you can also make copies of 5 fiction stories and 5 nonfiction texts for the students. This is a great option for students who do not have books available to read from at home and you want to ensure they are reading a variety of texts while at home.
There are also choice activities that you can assign as extensions. Simply write in the number you want the students to choose from in the sentence above the table.
You find texts online from Readwords, Newsela, or Commonlit.
***Click here to download these reading plans.
Free Reading Games
Want more of a game approach to reading? Check out these free resources. Warning: The students will need someone to "play" these with so keep that in mind when choosing what resources to send home.
1. Click here to read about and grab free reading gameboards that work with any text or story the student is reading.
2. Click here to grab free reading centers and games. These reading games come with stories and texts.
I hope these printable resources are helpful to you as you prepare your students for remote or distance learning.