Are you looking for ways to practice reading strategies within your science curriculum OR science during your reading instruction? Do you need some resources to help enhance your science lessons and activities? This post will share TWO free science activities: a set of science centers with reading passages and free graphic organizers that work with any science text or experiment.
Free Science Reading Centers
It seems like there is never enough time during the day to teach all of the science facts and details that students need (and often want) to know.
One way to help with this is to use science activities that include reading passages with additional details (or even the same details presented in different ways).
Using these types of science centers is a win-win: students are introduced to more science details and ideas while they are practicing reading comprehension strategies in the process.
To help you try this out with your students, I have a set of science reading centers with passages and text-dependent questions.
Included are five general science centers with reading passages and a set of task cards with comprehension questions related to the passages.
The science topics include:
What Is Science?
The Scientific Method
Science Lab Safety
Interesting Outdoor Science Experiments
Accidental Science Discoveries
The science centers are included in printable versions and as digital activities. Answer keys and recording sheets are also included.
Ways to Use the Science Reading Centers
These science reading centers be used in a variety of ways. Since the reading passages cover details and ideas that are often necessary for students to know early on in the school year, these are perfect to use at the beginning of the year to review general science ideas (What Is Science?, The Scientific Method, and Science Lab Safety) or to hook your students in with interesting science facts and details (Interesting Outdoor Science Experiments and Accidental Science Discoveries).
Here are a few other ideas for incorporating these science centers into your classroom:
Introduce important science concepts such as the scientific method
Incorporate into your literacy or reading centers
As an informational text or science station or center
Around the room activity – Read more about this activity by clicking here.
Science and/or reading homework
Free Science Organizers
The second free science resource is a set of generic science graphic organizers. These organizers can be used to help students organize their thoughts and questions before, during, and after a lesson or passage. This is a great way for students to learn how to effectively take notes while they are learning.
Depending on the organizer, some work best for times when the students are learning new concepts (through instruction, a passage, or even a video). Others work best during science experiments or demonstrations.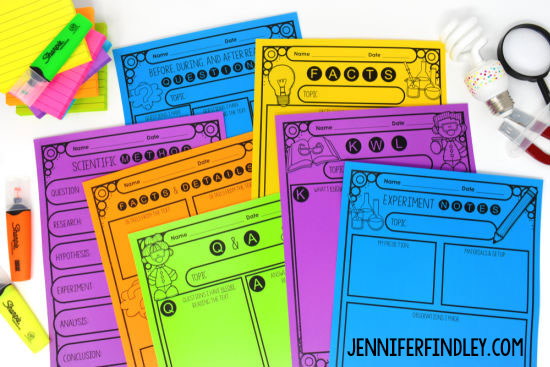 These are the 7 different types of organizers included:
KWL Chart
Before, During, and After Reading Questions
Q & A
Facts
Facts & Details
Scientific Method
Experiment Notes
Since these are included in both digital and printed format, they can used several different ways. You can even use both versions by projecting the digital graphic organizers on a whiteboard to use for whole-class notes and discussions and at the same time have printed copies for students to take their own notes. When they are finished, students can save their organizers in a binder or science notebook for future reference.
Get the FREE Science Activities Here
To get these free science activities, click on the images below. In the downloads, you will find a PDF containing the printable version. Digital access links are included in the PDFs. They are on pages 5-6 of the Science Reading Centers and page 4 of the Science Graphic Organizers.
Want more science center resources?
If you liked these free science activities (especially the reading passages) and want more, check out my Science Centers with Reading Passages Bundle.
Shop This Post
Science Centers with Reading Passages
Do you need science activities that will engage your students, provide reading comprehension practice, and increase their understanding of the science topics? This science bundle includes 63 science centers with passages and comprehension questions. The centers cover a variety of earth science, life science, and physical science topics.