Reviewing is a must in any classroom and subject area. My favorite ways to review are review activities that are low-prep, collaborative, and involve movement. Around the Room is one of my favorite ways to review that incorporates all of these characteristics. Keep reading to learn more about this low-prep engaging review activity that gets students moving and collaborating with each other (including different options and tips for differentiation).
Around the Room Directions
Get your students moving and reading by taping the questions around the room for them to answer.
For this activity, prep the problems or questions by cutting them and then taping them around the room. If you are using texts and questions that are on a separate page, tape the texts and questions right beside each other.
Place your students in pairs (recommended) or triads. If you have enough space and questions, they could even work individually. Place the students at their starting locations, and have them use the recording sheets or pieces of paper to record their work.
When placing the questions around the room, spread them out enough so that the students aren't too close to one another. Also be mindful of height levels. Here are some common places that I tape questions:
Walls
Doors
Cabinets
Marker Board/White Board
Shelves
You can have the students move around the room at their pace or at your signal. More details about these two options in the next sections.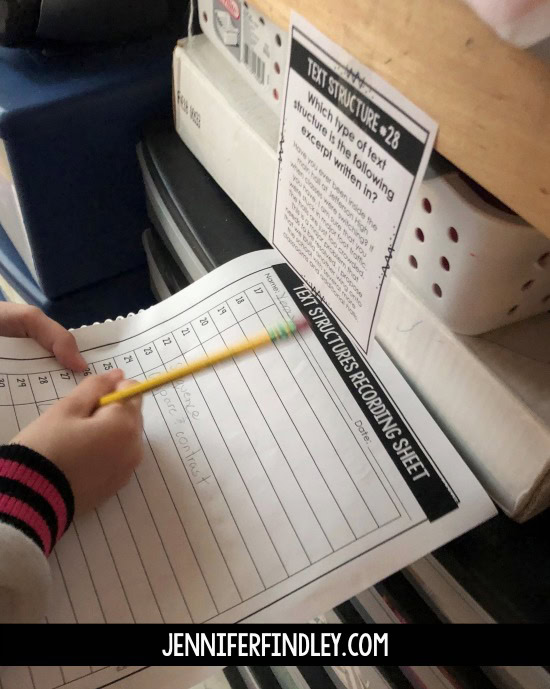 Option 1:
Pair or group your students in groups of three and have them go around the room at your signal. They will read the questions with their partner or group and discuss. Then they record their answers on a recording sheet or a piece of paper. In this option, the students are moving at your signal so I recommend the following tips:
Tape your questions in a way that it is easy to send the groups to the next question in a fluid way. I usually have mine go clockwise around the room, so I tape my questions in a way that helps with this.
Pace your timing around your average speed student.
Have an extension question or task for students who finish early. Easy extension tasks are asking the students to prove their answers, solve the question another way for math questions, or trade papers and help each other revise and edit written answers.
Give the students a 1-2 minute signal to wrap up their answers before signaling to switch.
Give a 5-second countdown when switching. For example, I may say "At zero, prepare to move to move to your next location, 5, 4, 3, 2, 1." I don't actually have them move yet until they are all stopped and prepared to move. They prepare to move by gathering their supplies and facing me.
Have one group rotate at a time (but quickly to not waste time) and then signal for the students to start.
I usually give about 5-10 minutes after the activity is finished to have students go back and finish questions they did not complete.
Option 2:
Another option for this review activity is to have the students move around at their own pace. When I do this, I usually partner them up and they go around with their partners.
Here are some tips for this option:
Have a rule that only one pair of students can be at a question at time. Or two pairs if you think your students can handle that.
Make sure you have plenty of questions. I sometimes copy double questions so I have more than enough.
Have a routine in place for students who finish early. I have them bring me their recording sheets and paper and I quickly check their work (you could also hand them the answer key to check). Any that are not correct, they go back to and correct.
When you are allowing students to move around at their own pace, you can tape the questions a bit more haphazardly around the room. For added engagement, you can even make a few really hard to find.
Around the Room Materials
One of my favorite parts of this review activity is that it is truly versatile.
These are the only materials you need:
Questions for at least the number of pairs or groups you have. You can make multiple copies. If you only have 12 questions but you have 15 pairs or groups, make two copies of the questions. Just let the students know beforehand that they may come across duplicate questions (if they are move through the questions at their own pace).
The questions can be cut up worksheet questions or task cards. This review activity works for any subject.
A place for students to record their work; this can be a specific recording sheet or simply a piece of paper.
Something for the students to bare down on, ideally clipboards but notebooks and books work fine, too.
Click here to grab a FREE set of math questions that I use at the beginning of the year to introduce Around the Room and go over the procedures and routines for this review activity.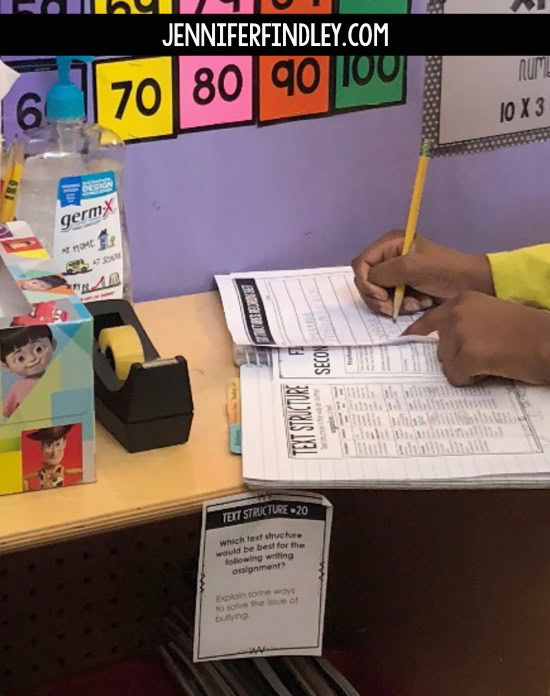 Tips for Differentiation
Here are some tips for differentiating this activity:
Partner students for peer support.
If the students are working at their own pace, circle specific questions for students who need support to answer. This works well for students who just work slower. You can also strategically circle the "easier" questions that you know they will have success answering.
Another option if you have students who just need more time is to explain to them they are to only answer X number of the questions (versus the total amount).
Use differentiated materials. For example, my differentiated reading task cards (coming soon!) are perfect for this because they are color coded. Assign the students a color and have them find their colored task cards to answer.
Resources for Around the Room Activities
The task cards shown on this post come from my Reading Resources Bundle, which includes task cards (sometimes two sets!) for most of the skills included.
Shop This Post
4th and 5th Grade Reading Resources
Everything you need to teach key reading skills for 4th and 5th grade! This is a bundle of 16 of my reading resources for 4th and 5th grade reading and literacy skills.
My other go-to resources for this type of review activity are my task cards. Click in the box to check out your grade level!
More Engaging Review Activities and Ideas
A related test prep or review activity is my Gallery Walk activity. There are quite a few similiarities but also a few differences. Click here to check out the Gallery Walk Review Activity.
Jenga Review with ANY Questions
Colored Jenga Blocks: FREE Review Games