One of the best ways to measure if a student has truly mastered  reading skills is if they can apply that reading skill over and over to new texts (including texts of their choosing). And the tricky skill of determining the theme of a story is no different. In order for students to truly master this skill, they need to be able to apply it consistently to new texts they read. On this post, I will share some free theme activities that will help your students do this and help them dig deeper with the skill.
Free Theme Bookmark
In my classroom, I try to anchor my students' learning in several places. We do this through the obvious anchor charts. I also have my students create reading notebooks using printable versions of charts. Then, I take it a step further and give my students bookmarks to both remind them of the reading skills and help them apply it to their independent reading.
The bookmark I use for teaching theme gives a definition of what theme is and how it often must be inferred. It also provides a short list of common themes (I find this helps students who don't really understand the definition yet). Finally, the bookmark includes an example organizer that the students can reproduce on their own paper to organize their thoughts while reading.
Link to download this free bookmark for theme and the other theme activities later in this post – look for the heading "Download Free Theme Activities Here".
Free Theme Activity – Theme Graphic Organizers or Work Mats
Once students understand what theme is and can identify a theme of a story, it is time dig deeper into this skill.
Here are some ways to take it a step further:
Have students to provide text evidence to support the theme
Have students generate other possible themes that may fit a story
Have students analyze how characters, setting, and plot elements contribute to the theme
Have students explore how the author developed the theme
To do this, I use these theme graphic organizers or "mats"
There are a variety of organizers included in the free download (link to download in the section titled "Download the Free Theme Activities Here") that students can use to take theme a step further than just identifying it. I have included several different varieties so you choose the ones that work best for your students or use several to differentiate (especially if you use these in reading groups).
The mats are pretty flexible and can be used with page protectors and expo markers, as traditional graphic organizers, or even with post-it-notes. In a perfect world where time is plenty and resources are available I would laminate them. Printed on colored cardstock and laminated for future use makes them perfect for use with expo markers or post-it notes.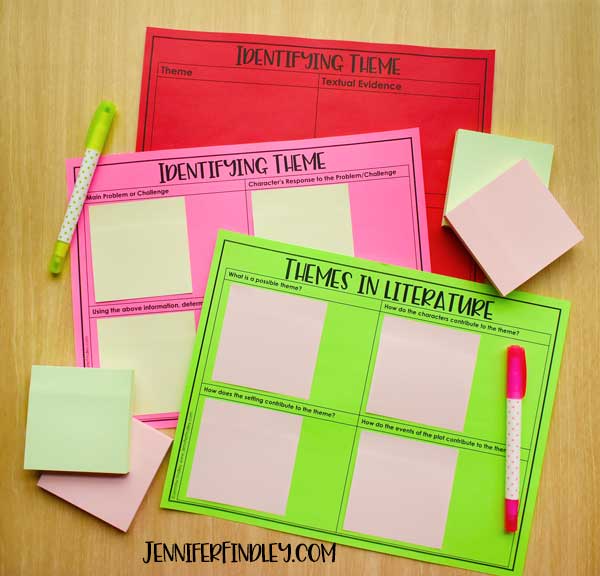 These organizers can be used with guided reading books, read alouds, students' independent books or texts specifically written for analyzing the theme.
Free Theme Activity – Tracking Themes Printable and Booklet
The next theme printables can be used with any stories or books to track and record themes.
Here are two versions included:
Printable Version
I use this version the most to track themes in guided reading and read alouds.
Booklet Version
This version is a great way to see if students can apply the skill of identifying and proving theme independently. I make these theme booklets for the students to use while they are reading. For each story they read, they complete a new page in their booklet.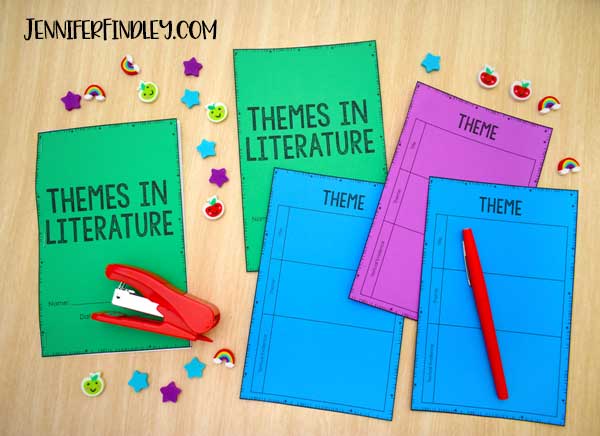 Using the booklets makes it a bit more engaging for the students.
I like to use this in a reading center. I place stories that I know have themes (I use the ones included in my Teaching Theme Resource) in the center. When the students visit the center, they read the story and complete a page in their booklets.
You can also use this theme booklet to have students record and track the theme of books they read independently or in guided reading. If you do class novels, you can use this booklet throughout the year when you finish a book.
Download the Free Theme Activities Here
Click here or on the image to download the free theme activities shown on this page!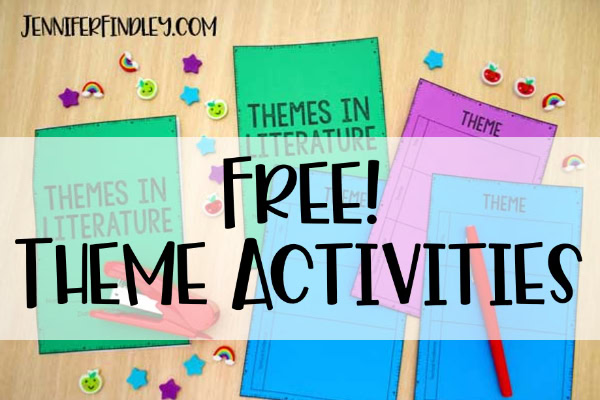 Recommended Theme Resources
If you want to make your theme instruction as easy (but meaningful and rigorous) as possible, I definitely recommend this resource.
It includes long texts, shorter length texts, paired texts, task cards, and more all for teaching theme. It is truly a one-stop resource! But a warning: There are SO many resources included that you likely won't even be able to use them all –  a good problem to have!
Click here or on the image to check out the resource in my TpT Store!
Shop This Post
Teaching Theme Activities
Everything you need to teach theme-- posters, graphic organizers, texts (short texts, long texts, paired texts), and small group activities, including task cards!
More Theme Blog Posts and Freebies
Read Alouds for Teaching Theme
Teaching Theme – This is a blog post that I wrote several years ago after teaching theme to my students for a week. This year I had a student who really struggled even understanding the concept of theme, so definitely check out this post if your students significantly struggle.
Reading Sorts – There's a free theme reading sort in this free set of reading sorts. They make a perfect re-teaching activity or reading center.