Using sorts as part of instruction or practice is one of my (and my students') favorite reading activities. I feel like you can never have enough hands-on activities and they are honestly few and far between when it comes to upper elementary reading. This post will share some FREE reading sorts for 4th and 5th grade with ideas for implementing them in your classroom, including a digital version for Google Slides!
Related: Grab some free math sorts for grades 3-5 by clicking here!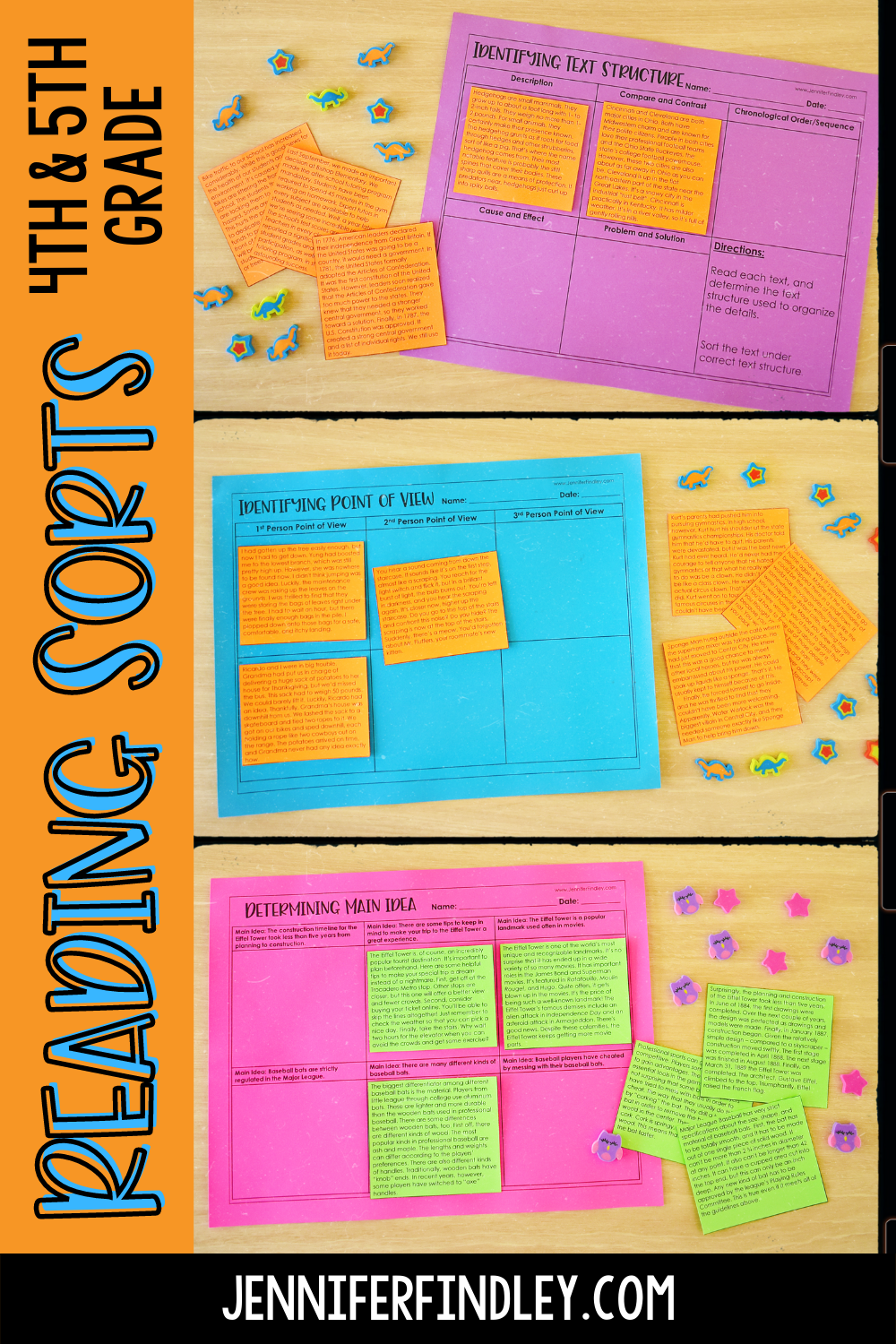 About the Sorts
These reading sorts are truly versatile and can be used a number of ways based on your instructional needs (see the next section for ideas). One reason that I love using them (besides the hands-on aspect) is because they use non-threatening short texts. The length of the text allows the students to confidently practice the reading skill without getting frustrated or losing stamina. It also allows the students to apply a reading skill to numerous texts in a short-time frame.
The reading sorts can also be stored in an interactive reading notebook to provide an anchor for students (you may need to print them at 80-90% to scale them down to fit in a notebook). The students can refer back to the completed sorts to review the different reading skills as they continue to practice.
And of course, I love the no-prep aspect of these reading activities. Each sort has two pages…one for the sorting page and one for the cards. I give both pages to the students and have them do a few quick cuts to cut out the cards. Then they sort the cards (independently, with partners, or as a class- you decide what fits your needs and the needs of your students), we check for accuracy, and then glue them down.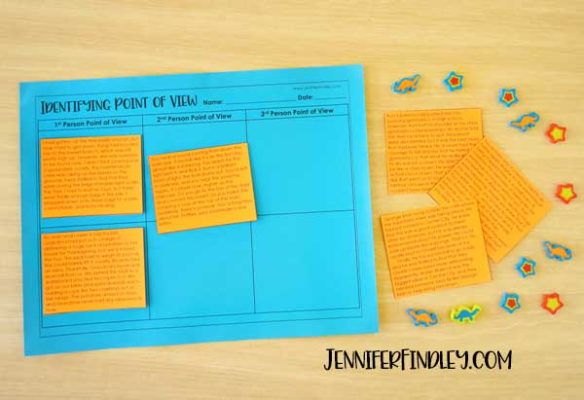 Skills included in this free reading activity:
Inferring
Identifying Theme
Point of View (1st, 2nd, and 3rd)
Main Idea
Text Structure
Types of Accounts (Firsthand and Secondhand)
New! Google Slides Version For Digital Reading Activities
I updated this free set of reading sorts to include a digital version for Google Slides! When you get the freebie (information to sign up for the freebie in the section titled "FREE Reading Sorts Sent To Your Inbox!"), you will find the details and the link to copy the Google Slides version to your drive on page 3 of the file. Then, you can easily assign the sorts as a digital reading activity or center.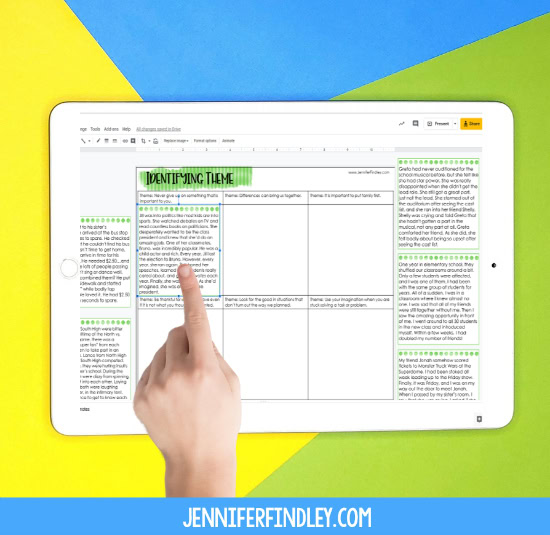 Using the Reading Sorts
1. Skill Introduction – I use read alouds to introduce reading skills to keep it authentic (and engaging) and then I follow up with longer texts and passages. These reading sorts are the perfect way to move from a read aloud and modeling of the skill to application of the skill with a grade level text. Read more about how I introduce and teach reading skills by clicking here.
2. Reading Centers or Stations – These reading sorts work perfectly as hands-on reading centers or stations. Click here for more reading center ideas for 4th and 5th grade, including free centers!
3. Small Group Reading Instruction – These sorts also make great re-teaching activities. If you have students struggling with a reading skill, you can use the sorts to provide additional instruction in a new way.
FREE Reading Sorts Sent To Your Inbox!
Enter your email to have these reading sorts sent straight to your inbox. I recommend using a personal email instead of a school email to ensure delivery. Remember to look for the digital access link on page 3.
Note: These sorts are not in the exclusive email freebie library at this time. If you already signed up for access to the library, make sure you sign up for this free resource specifically.
FREE Reading Sorts (4th/5th Grade)
Join my email list to get the FREE reading sorts for 4th and 5th grade sent straight to your inbox! If you are already on my email list, you can sign up again for this freebie without getting duplicate emails. 🙂
Want Even MORE Reading Sorts?
If you and your students love these reading sorts as much as I think they will, you will definitely want more! Click here on the image below to grab 18 more reading sorts (that are completely different texts from the ones emailed to you!) This resource includes printable sorts and digital ones:
Shop This Post
Reading Sorts | 4th and 5th Grade Reading Activities
Want more reading sorts? This resource includes 18 reading sorts covering the following skills: Inferring with Fiction, Inferring with Nonfiction, Theme, Point of View, Main Idea, Text Structure, Types of Accounts (Firsthand vs Secondhand), and Viewpoint (Positive, Negative, or Neutral).
More FREE 4th and 5th Grade Reading Activities and Resources
FREE 4th and 5th Grade Reading Posters
FREE Reading Centers Starter Pack
FREE Reading Exit Slips for 4th and 5th Grade
FREE Reading Review Mini-Booklets
FREE Guided Reading Binder Printables and Forms
Reading Centers Management with FREE Forms
Recommended Resource for 4th and 5th Grade Reading
Shop This Post
4th and 5th Grade Reading Resources
Everything you need to teach key reading skills for 4th and 5th grade! This is a bundle of 16 of my reading resources for 4th and 5th grade reading and literacy skills.