One of the most frequently asked questions I get for math instruction is: I have read your blog posts. But, how does it all fit together? On this post, I will break down how I teach math in 5th grade (easily applicable to 4th grade) and what math instruction looks like on a weekly and daily basis.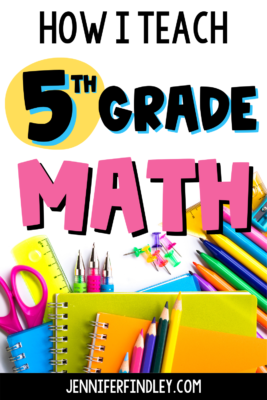 Before diving in to what the days look like, I want to make it clear that I do not do guided math centers every day. With that being said, if you do, don't think that I am telling you that what you are doing is wrong. For me and my students, we have always needed a few days of whole group instruction in addition to math center days.
We need whole group instruction days to really dig into our content and introduce a lot of math skills that are new to 5th grade.
Whole Group Math Instruction Days
We do whole group math about two times a week, typically on Mondays and Tuesdays. We start the lesson with a quick math review or number talk and then dive right into the lesson and the activities that follow the lesson. Here is a breakdown of what a whole group instruction day would look like.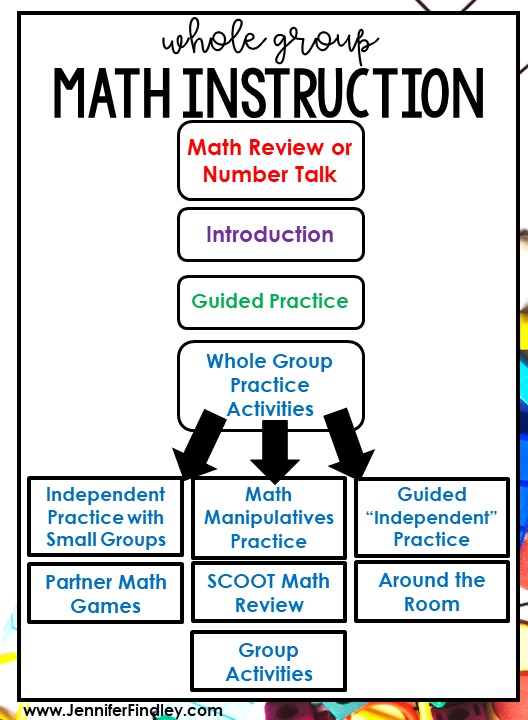 Whole Group Instruction Resources
Here are the go-to resources that I use for whole group instruction:
1.) Anchor charts that we create together (sometimes I recreate them and polish them up after a lesson)
2.) Word problems or some type of context to introduce the lesson
3.) Interactive math notebook templates for notes and practice
4.) Practice printables and teaching posters from my math supplement resource packs
Whole Group Activities
We finish the lesson with a variety of different whole group activities, which may include:
Click here to read a detailed post about these whole group activities and see examples of each.
Guided Math Workshop Days
We do guided math center days 2-3 times a week, typically on Wednesdays, Thursdays, and Fridays. Having them only half the time really helps keep the students from getting tired or disengaged. From the beginning of the year until the end of the year, I have students who literally cheer for math center time.
Here is a breakdown of a typical guided math workshop lesson:
Math review or number talk (10 Minutes)
Mini-lesson that is related to the content in math centers or to the content in my small group time (10-20 Minutes)
Three rotations of math centers (60 Minutes)
Closing (10 Minutes)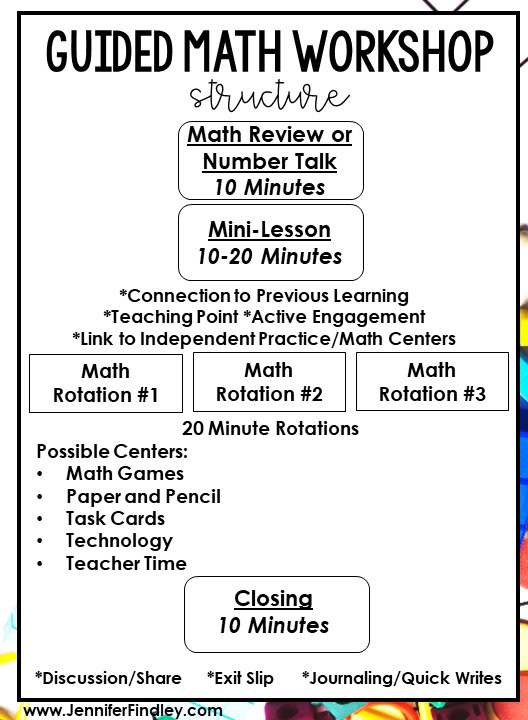 I have a wide variety of blog posts on math centers if you wanting to learn more. Click here to see all of my posts and articles related to guided math centers. Use the page numbers at the bottom to navigate through to find the topics that are of most interest to you.
Guided Math Resources
I have a variety of resources that I pull from for my math centers and small group instruction. Click here to see free samples of all of the guided math center materials that I use on a regular basis.
Example Week of Math Instruction
Now, let's take a look at what a week would look like in my 5th grade classroom.
Monday:
Introduce partial quotients division through a cupcake distribution problem. Practice several problems as a whole class and 1-2 problems independently. Circulate as the students are working and make note of progress. Grab free printables for this lesson here.
Tuesday:
Review partial quotients with a field trip problem as a whole class. Assign a similar problem for the students to complete independently. Circulate as the students complete the problem. Review the problem and assign independent practice problems or partner math games, depending on mastery level. Pull groups (based on anecdotal notes) while the students are working independently or with partners.
Wednesday:
Guided Math Centers
Center 1: Roll and Answer (Place Value Review)
Center 2: Teacher Time (Division)
Center 3: Computer Center (Self-Paced)
Center 4: Task Cards (Mixed Computation and Word Problems: Multiplication)
Center 5: Paper and Pencil (Error Analysis: Multiplication)
Thursday:
Guided Math Centers
Center 1: Roll and Answer (Place Value Review)
Center 2: Teacher Time (Division)
Center 3: Computer Center (Self-Paced)
Center 4: Task Cards (Mixed Computation and Word Problems: Multiplication)
Center 5: Paper and Pencil (Error Analysis: Multiplication)
Friday:
Complete an "around the room gallery walk" with division problems and complete a quick check assessment on division if the students are ready (based on observations during the gallery walk.)
Things to Notice about the Example Lesson:
That example would be the first week of teaching division.
None of the independent centers include division. That is intentional because they are still learning the skill, and my math centers include only review content. Multiplication would have been a skill that was recently taught, and place value would be a spiral skill that I am bringing back from earlier in the year. Math centers are the perfect way to spiral review your content.
The second week of teaching division, we would incorporate more of a variety of whole group activities after our whole group lesson. For more ideas for whole group math activities, click here.
Math Pacing
I do follow a pacing guide that I created based on years of teaching the same content. I try to stick to my pacing guide pretty closely, but I don't feel tied down to it. My motto in regards to pacing is, "Go slow to speed up." We go slow as needed to build conceptual understanding and fill any gaps that my students have. However, when I created the pacing guide, I built in time to review and reteach.
Speaking of reteaching, I typically take the time to reteach nearly all of the related 4th grade content quickly before moving on to grade level content. This allows me to see where my students are, to correct any misconceptions, and to build a conceptual foundation upon which we can then build.
Click here to download my 5th grade math pacing guide.
Suggested Math Schedules for Less Time
The way I teach math works for me mainly because I have always had 90 minutes per day to teach math. If you have less time or want some other options for how to schedule your math block, click here.
There you have it – a general overview of how I teach math in 5th grade. I hope this helps tie some of the information and tips I share together. If you have other questions, let me know in the comments.