One of my favorite parts of Reading Workshop is doing independent reading conferences. I am an avid reader, so I love getting the chance to talk with students about what they are reading. However, I do remember struggling with when and how to go about doing independent reading conferences in the busy day. I wanted to share some ideas with you about how to get started with independent reading conferences in your classroom.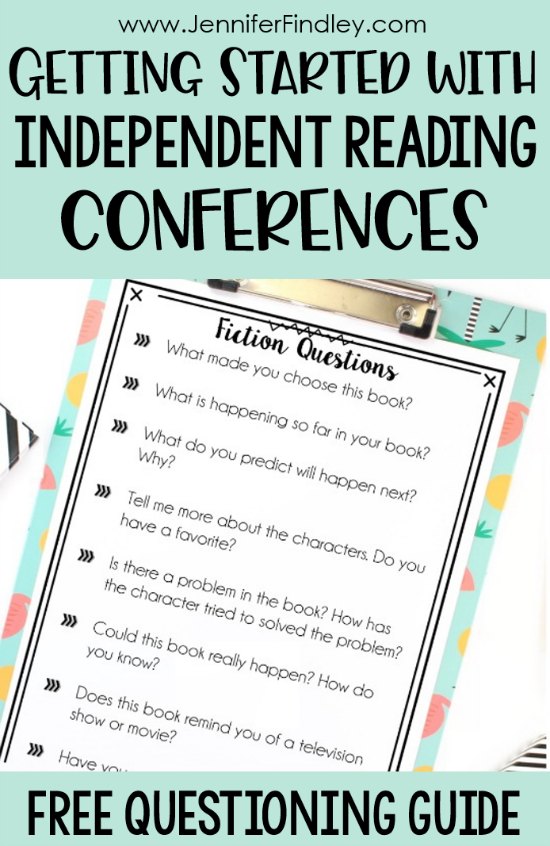 When Do You Conduct Independent Reading Conferences?
Figuring out when to do independent reading conferences is the biggest struggle teachers face and one of the reasons many teachers don't do them. I do guided reading groups so my tips are based on that. However, if you use a basal, you may find these helpful as well.
In the first few weeks of school (before guided reading groups start), I focus my energy on independent reading conferences. I use this time to get the students used to them and to get to know my students as readers. In the beginning, your conferences will take a little longer than usual, but once you and your students get used to them, you will have them fine tuned to less than 5 minutes.
Once guided reading groups start, I have my students bring their independent reading books to the guided reading table. They know to continue reading their independent book while they wait for the group to begin.
I do 1-2 reading conferences a day before we start the group. One a day is the best, but if you have a group of more than 5 kids, you have to do 2 on some days.
How Do You Conduct Independent Reading Conferences?
Now that you have some ideas about when to do independent reading conferences, let's move to the how. When I do an independent reading conference, I try to sit at the student's  level and beside him or her. This is not always practical when doing them at the guided reading table, but I try to lean in and really get on the same eye level with the students while we are discussing the book.
Then I follow these general guidelines to conduct the initial conference on a book (printable download available at the end of this post).
Ask the student if you may see the book they are reading. Glance over the front cover and maybe even skim the back of the book. This will quickly give you the gist of the book.
Based on your initial first glance at the book, make a comment about the book followed by a prompting question to start the conversation. Examples:

Oh, I have heard of this book. I have always wanted to read it.
People say _______. What do you think about it?
I read this book last year. What part are you at?
Some of my students really enjoyed this book last year. What do you think so far?
This (mention something on the cover) looks interesting. What is happening here?
I think (topic of the book) is fascinating/intriguing/interesting. What are you thinking so far?
Once you open the conference like this and the students get used to this type of dialogue about books, the conversations will start flowing naturally. However if you still have some reluctant students, I have a list of guiding questions that you can use for fiction and nonfiction. You can download these at the bottom of this post.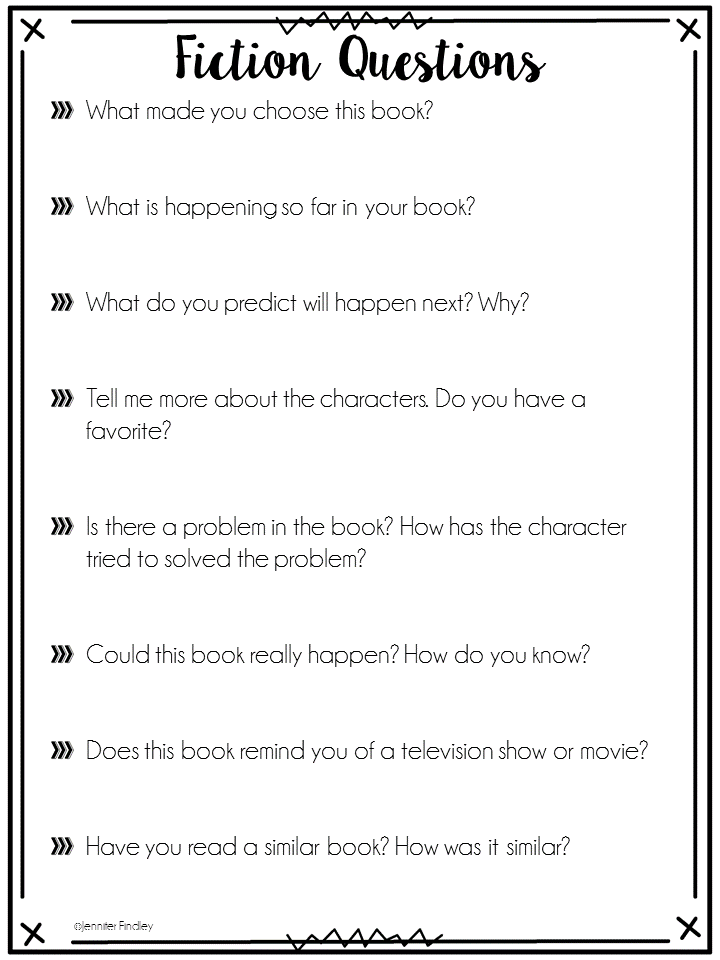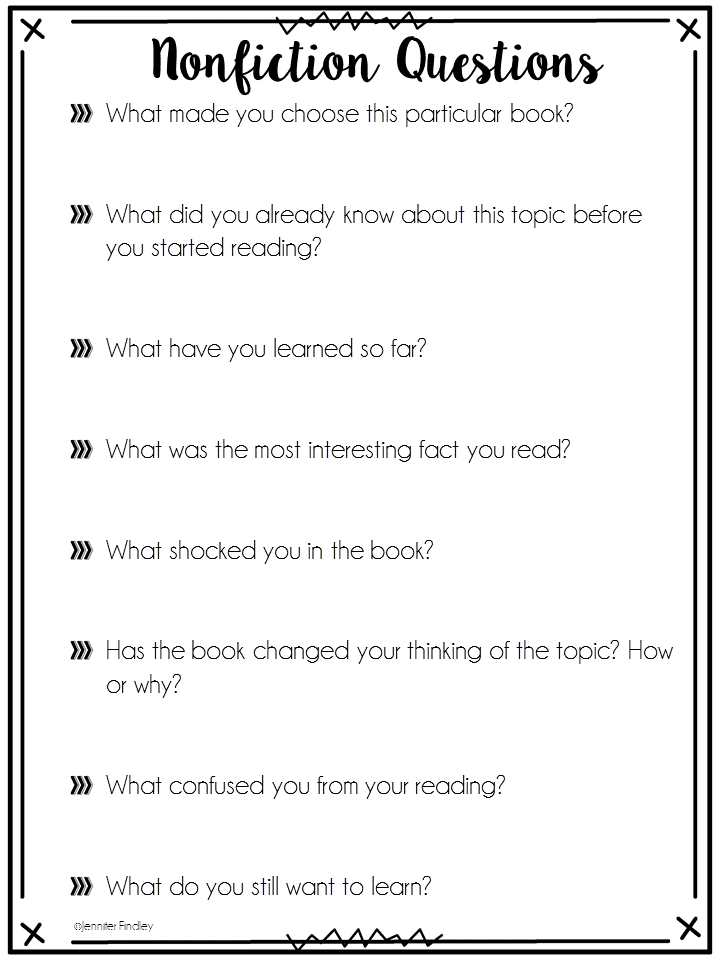 Once you do that initial conference, the following conferences on that book will be super easy. Jot yourself some notes on what you discussed with the students to help you remember. I usually ask a question like "What do you think will happen next?" for fiction stories and then quickly jot down what they said.
Then I open the conference with "So last time you said ________. Did that happen?" For nonfiction, I may ask something like "What do you still want to learn?" and then I would ask them if they learned it to open the next conference.
In regards to the form I use, I keep it very simple. I write the date, the title, the page number,  quick prompt to get me going on the next conference, the student's plan with the book and any other notes in regards to their reading behaviors or reading strategies. Here is an example.
Before I begin a conference, I turn to my form and quickly reread my last entry to know where to start the conference. This method is super efficient and really helps create a culture of readers.
Independent Reading Conferences Questions and Forms
I hope this post has provided you with some resources you needed to get independent reading conferences going in your classroom. Click here on the image below to download all the forms mentioned in this post.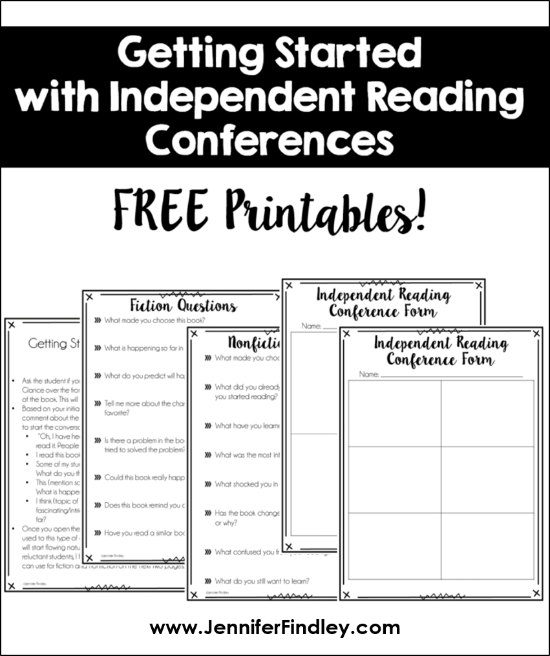 To read more about how I teach reading click on the links below:
How I Teach Reading in 5th Grade
Holding Students Accountable for Independent Reading
Reading Centers for Upper Elementary
Guided Reading Binder (FREE Forms)
Guided Reading Supplies for Upper Elementary
If you are interested in reading about the professional books that guide my reading instruction click here to see my recommendations.
Do you independent reading conferences in your room? Do you have any tips that help make them successful and time-efficient? Let me know in the comments!