Well, I don't know about your students, but every year, it seems that interpreting remainders is a struggle for my students. It is really a struggle for students who have difficulty understanding word problems or that have no conceptual understanding of what division is. This post will share some of the activities we did and a free anchor chart with sample word problems to help teach division with remainders.
Word Problem A Day
I have been posting a problem a day for about a week where the students have to consider the remainder. I post it on a piece of chart paper and the students solve the problem, while supporting their answer with LOVE (Labels, Our Thinking, Visuals, Equations). Click here to read more about the LOVE, the acronym that we use when solving word problems.  After all the students have had a good amount of time to solve the problem, we discuss the answer and how we interpreted the remainder. Here is an example from a student's math journal. (Sorry that is not very clear.)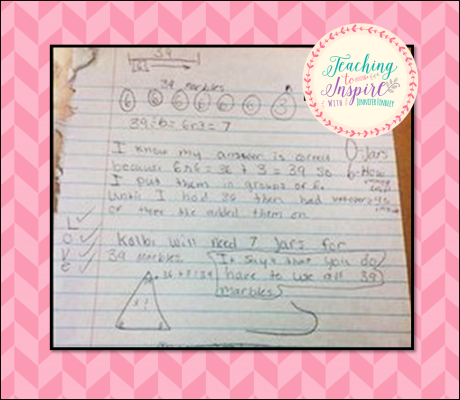 Interpreting Remainders Anchor Chart
Once the students had some experience with word problems and different contexts that required them to ignore, round up, report the remainder as a decimal/fraction, or use the remainder as their answer, they helped me create this anchor chart (which I typed up so they could have a reminder in their interactive notebook and so I could share a copy with you guys). This has really helped my students who continued to struggle with interpreting the remainder correctly. They refer to the chart on a regular basis to help them determine how to interpret the remainders when they are solving division word problems. Click here or on the image below to grab a copy of the Interpreting Remainders Chart.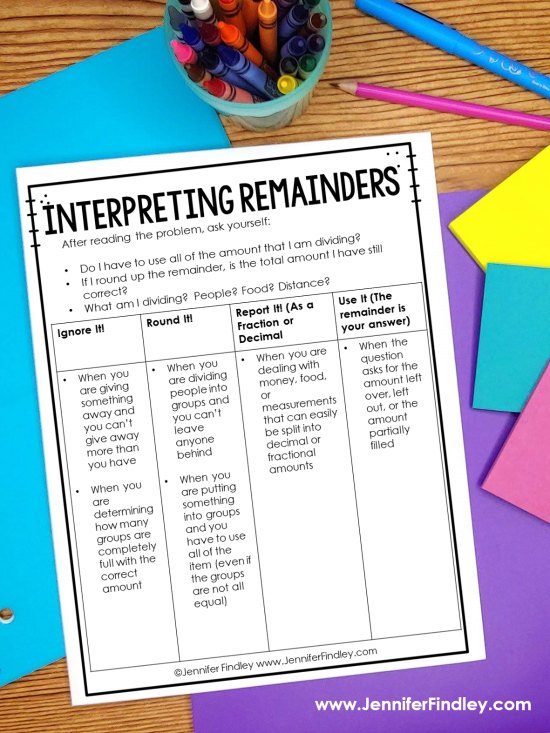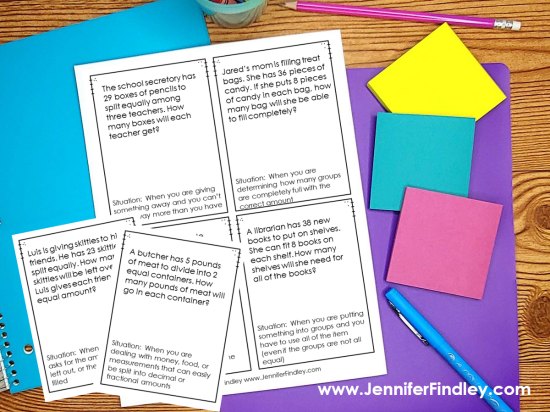 Fun Interpreting Remainders Printable
Division Math Center
The key to knowing how to interpret the remainder requires the students to conceptually understand what the problem is asking them to do and what is unknown. This has been the biggest struggle so far. The students can easily identify that the group size is unknown, but they have had little experience with number of groups unknown. So I created this fun (and also Christmas themed) math center to allow them to practice this key skill. Check it out! It is also available in my
Common Core Christmas Division Pack!
 The students had to read the word problems and sort them based on what was unknown (Group Size or Number of Groups) then solve each problem.
Note: Though this math activity is not directly related to interpreting remainders, it helps build conceptual understanding of division which is key.
Interactive Notebook Template
Last Friday, I assessed the students by giving them a few word problems. However, I wanted something more rigorous. Today, the students worked on a foldable template. The students had four flips, one flip for Ignore It, one for Round It, one for Report it as a Decimal or Fraction, and one for Use It.
The students had to create a word problem for each type of situation. The students who struggled were able to use the chart we had created for an extra scaffold. The students also had to solve the problem, showing the LOVE (of course!).
We are still working on them, but some of them are really impressing me! I hope this post has given you some helpful tips and strategies for teaching students to interpret remainders when solving division word problems.
Stock images courtesy of Coffee Beans and Children's Dreams.