After seeing Create Teach Share's post about her Close Reading Toolkits, I knew I wanted to do something similar for math tools. Math centers are a huge part of math instruction in my classroom, so I created a toolbox of math tools and hands-on math supplies that my students use on a regular basis. I have included quite a bit of stuff in my toolbox, but some of the charts will be gradually introduced as we need them. Let's take a look inside!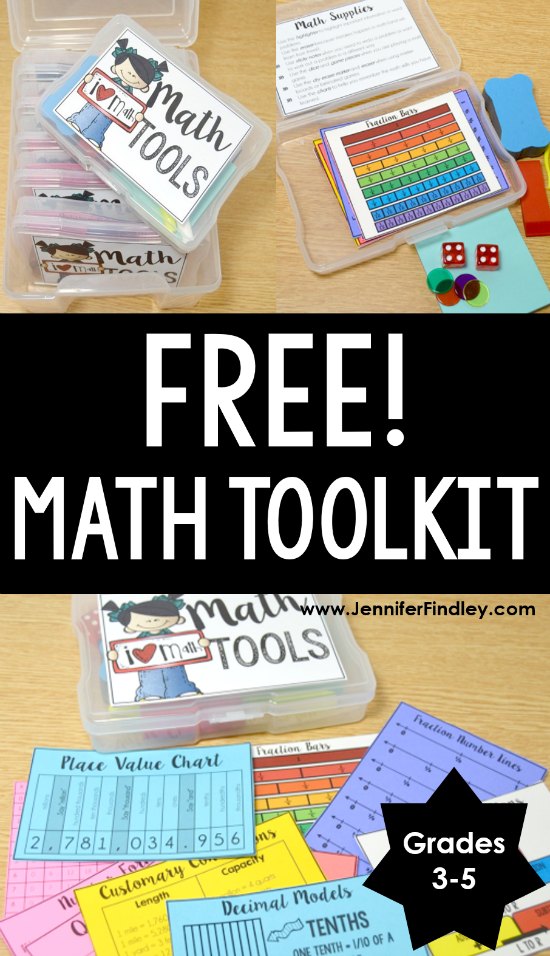 This post includes affiliate links if you wish to purchase the storage containers mentioned in this post.
Math Supplies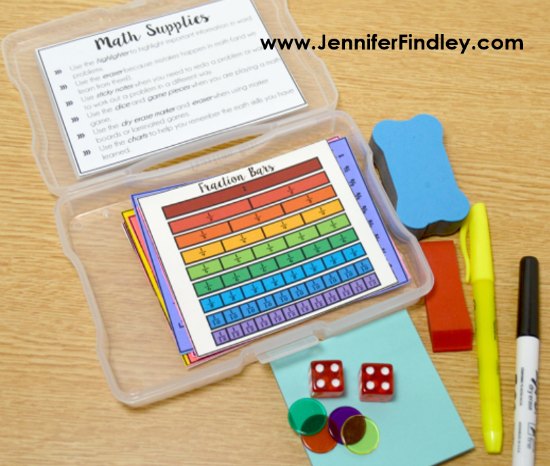 Here are the math tools and hands-on math supplies that I placed in each toolkit:
A highlighter to highlight important information in word problems.
An  eraser because mistakes happen in math (and we learn from them!).
Sticky notes for when students need to redo a problem or want to work out a problem in a different way.
A pair of dice and game pieces for when the students are playing a math game.
A dry erase marker and eraser when using marker boards or laminated games.
I used a label on the inside of the top to let the students know what each supply was to be used for. To print these labels (and the label on the front of the container), I used full-sheet labels
and then cut them.
Math Charts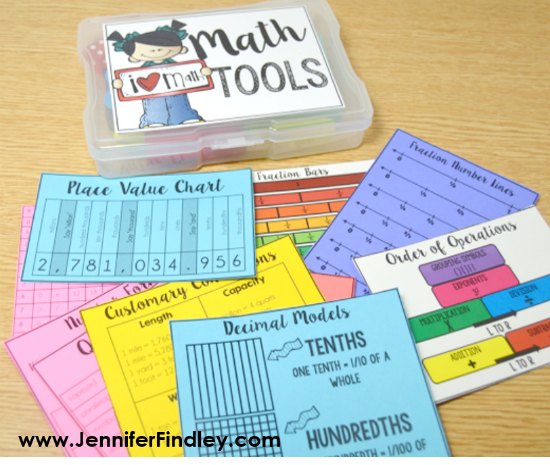 I created these charts with 5th grade math in mind, but many of these will work for 4th grade skills (Edited on 7/29/2016 to include three numbers and place value charts for 3rd grade and 8/2/2016 to include 100s charts and 120s charts). I will probably introduce the charts and put them in the math toolbox throughout the year. I may even eventually place them on rings. I created the charts because my students are constantly referring to charts and other math tools like these in our interactive notebooks.  Now, when we are working in math centers or even in another classroom (or outside), we can have our math charts in our toolkits.
These math tools fit perfectly into these photo and craft containers
I purchased from Amazon which are then stored in a larger container.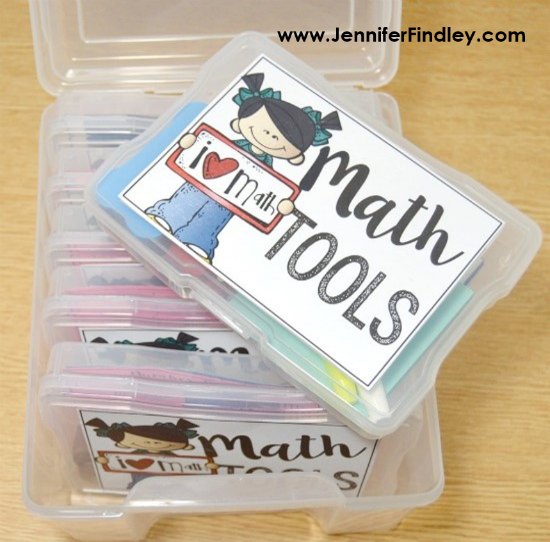 How Will I Use the Math Toolkits?
I plan to start the year with six of these toolkits (which is the number that comes in each set of the containers
), and have them easily accessible to students during their math centers. I may eventually create another six toolkits so I can have half of them for centers and half of them for my small group table.
How Do I Get The Charts and Labels?
Easy! These charts and labels are FREE to anyone who signs up to my email list. Just enter your information below and you will receive an email from me with your freebie!
Join My Email List to Grab Your Math Toolkit Freebie!
Enter your information to join my email list and your freebie will be sent right to you!
You can buy the containers
that I used to store the math tools and charts from Amazon by clicking here
. Let me know in the comments if you think you will try these out this year!
Want FREE hands-on math centers and activities for grades 3-5?
Click here to grab complete samples of favorite math centers and hands-on math activities for grades 3-5. 
Need MORE Math Centers and Activities?