When teaching fraction skills, I always try to make it as applicable and real-world as I can. I will admit that when I got ready to teach the skill of multiplying mixed numbers, I was a bit stumped about how to make this relatable.
The focus of the first few multiplying mixed numbers lessons that I teach on the computation process and the conceptual process. Because, I always start each lesson with a task or word problem to keep it real-world and provide a context for the equations, I knew I needed to stop and reflect on how to make this applicable.
I took a few minutes to brainstorm how often I (or anyone else) actually multiplies mixed numbers and I must admit it was a struggle. I knew that if I was struggling to come up with real-life applications of the skill, my students would not see the connection either. This post will a share a few free printables to help your students see the real-life connection when multiplying mixed numbers.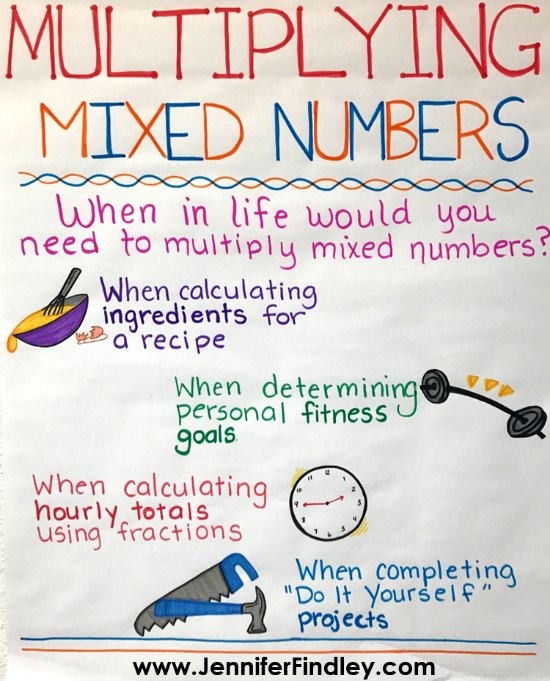 Real-World Connection When Multiplying Mixed Numbers
First,
I brainstormed a list of different situations where someone would need to multiply mixed numbers. Here is what I came up (Leave me a comment if you have more situations because these are pretty limited):
When calculating ingredients needed for multiple batches of a recipe
When determining person fitness goals
When calculating hourly totals using fractions
When completing "Do It Yourself" projects
I made the situations into a printable chart to share with my students when introducing this skills. This chart works great printed at 80% (or zoomed down on a copier) and glued to an interactive notebook for future reference.
Next, I created four word problems that matched each real life situation to help my students see the big picture and the connection between multiplying mixed numbers and real life. The tasks are full page but can easily be printed four to a page for an interactive notebook activity.
FREE Multiplying Mixed Number Printable and Tasks
If you think these printables will be useful for your students when they are learning how to multiply mixed numbers, click here or on the button below to download them.

More Fraction Resources, Freebies, and Blog Posts:
Multiplying and Dividing Fractions Word Problems: This post shares how I help my students solve word problems involving multiplication and division of fractions, including a FREE word problem sort.
Free Fraction Mats: I use these free fraction graphic organizers/mats to support my students as they add and subtract fractions with unlike denominators.
Free Fraction Pacing Guide: This post shares a student "I Can" checklist and how I pace the 5th grade fraction skills that I teach.
Free Fraction Fun with Snacks Printables: If you can use snacks in your math class, your students will love reviewing fraction operations (multiplication and division of fractions) using Twizzlers, Skittles, and brownies.
4 Ways to Teach Students to Make Common Denominators: Read about four ways that I teach my students to find common denominators (and grab a free printable).
Free Fraction Activities: This post shares some FREE fraction activities.
Free Fraction Jenga: Your students will love reviewing fraction skills with Jenga!