STEM challenges that involve few supplies and encourage lots of creativity are my favorite to incorporate into the classroom. This paper clip STEM challenge fits those characteristics perfectly! It also works well as an independent, partner, or team challenge. This post breaks down the steps for implementing this simple STEM activity into your classroom (with FREE printables including a reading passage where students learn about the history of the paper clip design).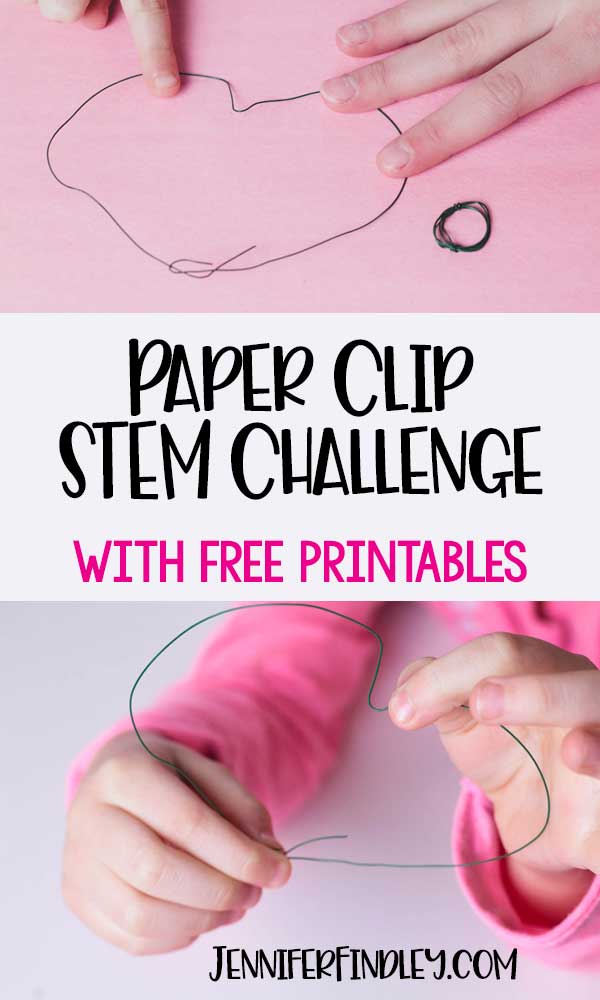 The paper clip is a tool that is used millions of time per day throughout the world. Have you ever considered how the paper clip received the design it has today? Why aren't there thousands of paper clip shapes out there? In this paper clip design STEM challenge, students will make their own paper clip designs and determine if they can improve on the classic paper clip shape.
Paper Clip STEM Materials
Narrow gauge wire
Wire cutters
Paper
Optional Free Printables
Paper Clip STEM Directions
1. Begin the activity by reading about and discussing the history of the paper clip and how the design originated. Use the free History of the Paper Clip reading text and questions to guide your discussion (available for free near the end of this post.)
2. Explain to the students that they will be making their own paper clip designs using the wire. They can come up with any possible shape, but the paperclip must be able to hold papers together and be removed and refastened easily to qualify as a paperclip.
3. Have the students brainstorm and sketch possible designs (using the free printable). Encourage the students to think outside the box as they come up with their ideas.
4. Have the students choose their top designs to create the first versions of their new paper clip designsx`.
5. Test the paper clips. While testing the paper clips, the students should be checking these points:
Can their paper clips hold paper?
How many pieces of paper can the paper clip hold?
Can the paper clips be removed and refastened easily?
Do the paper clips cause damage to the papers?
6. If time allows, revise the paper clip designs and retest.
7. Use the free printable to reflect on the paper clip designs.
Optional Discussion Questions
Why is the standard paper clip the design that it is?
Which paper clip design was the strongest?
Did any of the new paper clip designs work better than the original paper clip?
Would changing the type of wire improve paper clip strength?
FREE Paper Clip STEM Challenge Printables
Click here or on the image below to download the history of paper clip reading text and questions and printables for your students to complete before and after completing the activity.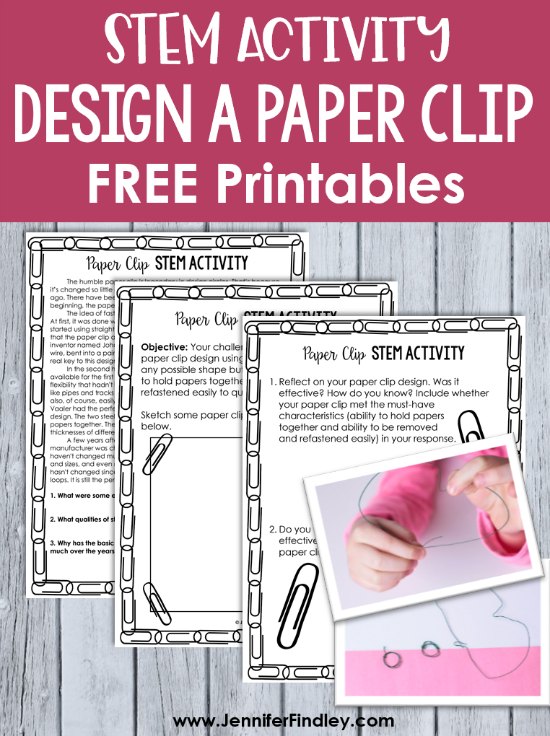 Want more STEM Activities with FREE Printables?
Click on the links below to check out more STEM activities to implement in your classroom.
Fall Engineering STEM Activities
Christmas Gum Drop STEM Challenge
Valentine's Day Cupid Bow and Arrow STEM Activity