Small group math instruction time is precious, and the resources and activities you choose can really maximize that time. In this post, I will share my top resources that I use for my small group math time.
As a reminder, this is part of a 4-part blog series all about small group math instruction. See all of the posts below!
Planning for Small Group Math Instruction <— Click to read.
Small Group Math Instruction Resources, Materials, and Activities – You are here!
Small Group Math Assessment and Data Tracking <— Click to read.
Tips for Teaching Small Groups in Math <— Click to read.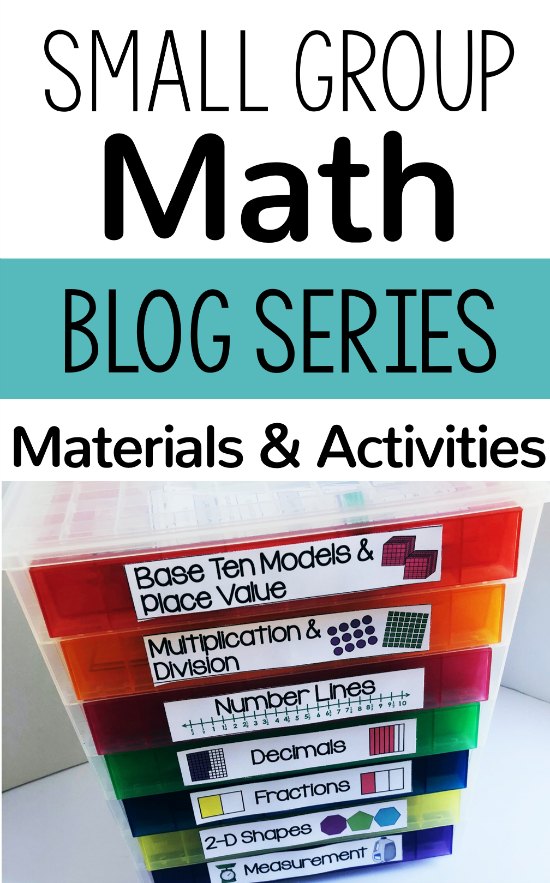 Small Group Math Materials
Here are some of my go-to materials that I keep on hand for my small group math lessons:
Manipulatives —> See my go-to math manipulatives for fifth grade here.
Printable Manipulatives —> Read more about these at the bottom of this post.
Dice
Planning Forms —> Click here to go to my post on planning for small group math instruction to grab those forms.
Dry Erase Whiteboards and Markers
Teacher Whiteboard
Extra Pencils and Erasers
Small Group Math Activities and Resources
Here are some of my go-to small group math resources:
1.) Leveled Skills Sheets
My leveled skill sheets are perfect for my small math groups because they are already leveled and ready to go. Each standard (or substandard) has three levels: approaching grade level, at grade level, and above grade level. These printables give me a perfect starting point for each of my groups.
The other benefit of using these leveled skill sheets is that each level is 100% unique from the others, so my groups can progress through the levels as their mastery increases.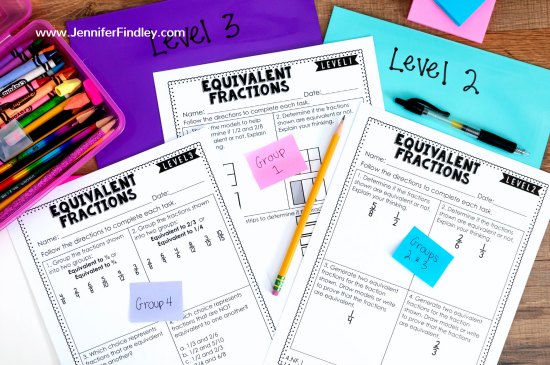 Click here to see 4th Grade Math Differentiated Skill Sheets.
Click here to see 5th Grade Math Differentiated Skill Sheets.
2.) Math Task Cards
Math task cards are perfect for small group math. The entire group can focus on one task card, or you can give each student their own specific task card to work on while you touch base and monitor each student's progress. The best part about task cards is that their non-threatening format that allows the students to focus on one problem at a time.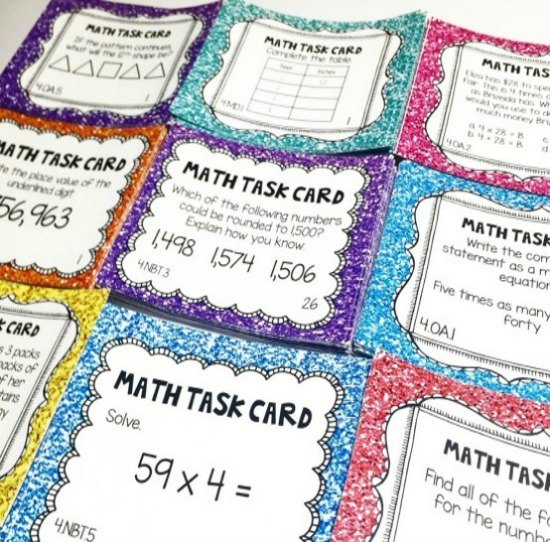 3.) Independent practice that the other students are doing
For my groups who need more support, I will sometimes help them complete the most difficult math center work (replacing that work with something else or having them finish it). To read more tips for supporting your students during math center time, click here.
4.) Practicing with manipulatives
Small group math instruction is the perfect opportunity to have students practice with concrete, hands-on manipulatives. Present a task or a problem for the students to solve using provided manipulatives. The problems you present can be word problems, computation problems, or a mix of both.
5.) Problems on whiteboards
One of the easiest and one of my favorite resources for small group math is whiteboards with dry erase markers. I present a problem or a task on my whiteboard, we discuss it together, and then we solve it together or the students solve it on their own whiteboards.
6.) Word Problems and Constructed Response Tasks
Small group instruction is the perfect time to practice word problems and constructed response math tasks. You can use this time to really dig into difficult tasks that many students struggle to comprehend in whole group. If you need constructed response math tasks, then click here for 4th grade and here for 5th grade.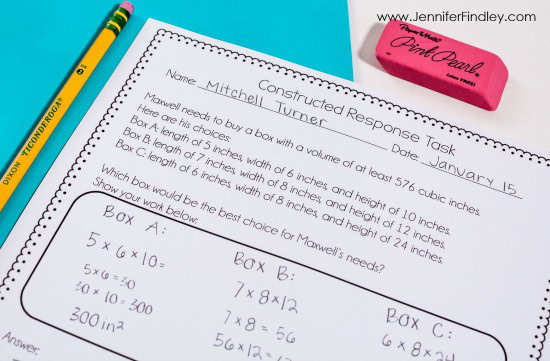 Small Group Math Printable Manipulatives
I love using manipulatives in math instruction, but sometimes lugging out sets of manipulatives isn't practical when time is limited. For this reason, I like to use printable manipulatives that I store in a small desktop container.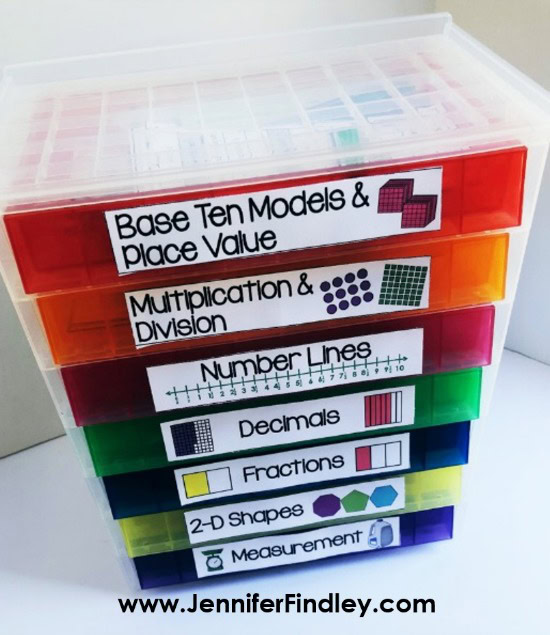 Each drawer of the container (see the container I use here) holds different manipulatives for the main skills in 4th-5th grade. I print these on colored card stock and laminate them for durability and so the students can write on them with dry erase markers.
My students and I use these for a variety of different purposes:
As scaffolds or supports when completing grade-level work
To solve specific tasks that I present
To help abstract math be more concrete
Click here or on the image to download the printable manipulatives shown. The download also includes a brief explanation of how you can use each type of printable manipulative in your small group instruction.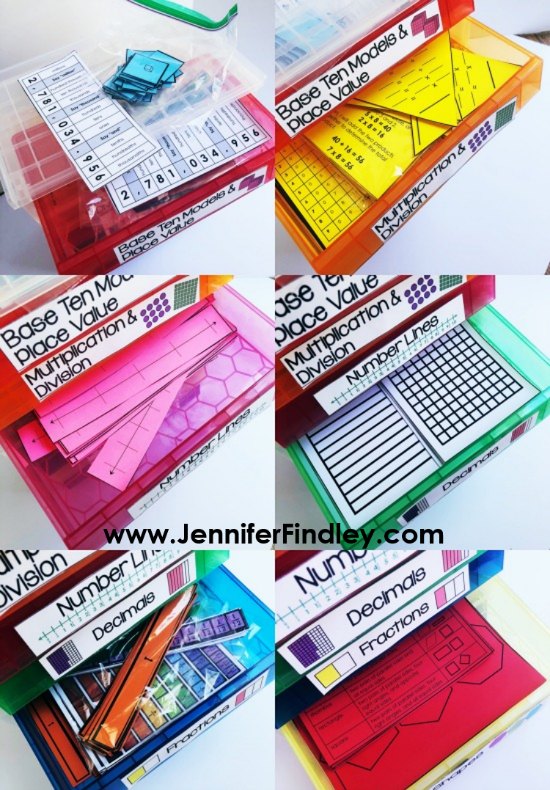 Click here to grab the labels for the container.
Want to read more about math centers, which is what the rest of the class is doing while I am pulling small groups? Click on any of the links below to check out more helpful articles.
Getting Started with Math Centers
How to Launch Guided Math Centers
FREE Math Center Starter Packs for Launching Guided Math Centers
Guided Math Procedures to Teach
Scheduling Your Math Block for Guided Math Centers
7 Ways to Support Students with Math Centers
Higher Level Math Centers for Upper Elementary