St. Patrick's Day is not a big holiday but it is one of my favorites. I love all the themes that come with this holiday: sneaky leprechauns, pots of gold, and luck galore. This makes it perfect for themed math centers and fun writing prompts. I want to share with you my favorite St. Patrick's Day activities for upper elementary students that are engaging and aligned with our content.
This post contains  Amazon affiliate links; please be aware if you decide you want to purchase any of the books mentioned in this post.
St Patrick's Day Math Activities
St. Patrick's Day Math Printables
My students always love completing St. Patrick's Day themed math printables for morning work and homework. This particular set focuses specifically on fractions since our pacing puts us knee deep in fractions around March each year. As with all of my other themed printables, my students love the the holiday theme and fun graphics of these printables. I love all the skills the students are practicing without realizing how much work they are doing. Click here to see these St. Patrick's Day math printables in my store.
St. Patrick's Themed Math Centers
For our math centers the week before and containing St. Patrick's Day, I put these fun centers into our rotation. Like the printables above, these math centers also focus specifically on fraction skills. This math center pack is perfect because it is full of word problem centers, which my students always need practice with. The more engaging I can make the centers, the more the students forget how challenging the word problems are. My students also enjoy anything with a holiday theme and these centers are no exception. You can see these St. Patrick's Day Math Centers by clicking here.
I also have this St. Patrick's Day themed area and perimeter math center (and interactive notebook template) that is a huge hit during the month of March. Click here or on the image to download this center for FREE!
St Patrick's Day Literacy Activities
St. Patrick's Read Alouds and FREE Activities
I don't have a ton of read alouds for St. Patrick's Day, but I do have two favorites that my students always enjoy. Jamie O'Rourke and the Big Potato is a cute book that students will enjoy listening to read aloud. The book focuses on a very lazy man who encounters a leprechaun and makes a rather strange wish. This book works well with a lesson on making predictions and foreshadowing.
As you are reading the book, stop periodically and ask your students to predict what they think will happen next. Also, point out the examples of foreshadowing that hint to future events. I created a printable with four questions that also require my students to go deeper with the text and use evidence to support their thinking (keep reading for the link to download the FREE printables that go with the read alouds mentioned in this post).

Fiona's Luck is another favorite St. Patrick's Day read aloud that my fifth graders enjoy. In the book, Fiona is concerned that all the luck has been taken by the leprechauns. Through a series of events that Fiona plans, she outsmarts the leprechauns and restores the luck in Ireland. This one is great for a review lesson on theme as students learn that cleverness and intelligence can be very advantageous.
Another reason I love both of these books is that they pair perfectly together. One of my favorite strategies for teaching paired passages and texts is through read alouds. You can read my four other strategies by clicking here. After reading both books and discussing them in isolation, I like to explore the two texts together. One of the activities we do involves using details and evidence from both texts to support the idea that leprechauns are wise and sneaky. Another activity involves the students answering questions that require them to use both texts.
You can download all the printables for the St. Patrick's read alouds for FREE by clicking here.

St. Patrick's Day Reading Comprehension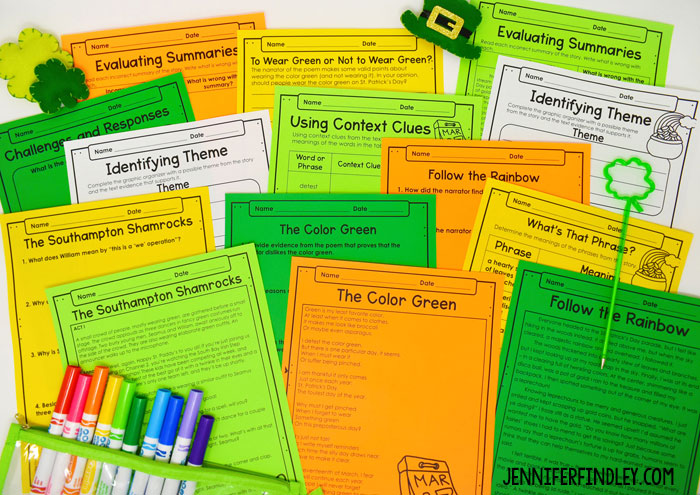 In addition to read alouds, I also use passages from my St. Patrick's Day Just Print Reading Comprehension Resource  in guided reading and for homework that week. The engaging themed passages are a welcome break from our normal weekly reading passages and guided reading books. This pack in particular has one of my students' favorite stories written from the point of view of a leprechaun.
In addition to the reading comprehension questions, each passage (the pack contains 3 – on informational, one fiction, and one poem) also has graphic organizers and printables that focus on specific skills. This one shown has a graphic organizer that reviews the skill of point of view and quires the students to use evidence.
The best part about these skill based printables is that the students enjoy them so much they don't even realize the rigor of the work they are completing. Also, I use one passage a week for their homework. Each day, the students complete a different printable using the same passage. This is a perfect way to have the students close read for homework and reread the same text to build their fluency.
You can see my St. Patrick's Day Just Print Reading Pack by clicking HERE.
St. Patrick's Day Writing Prompts
My other favorite St. Patrick's Day activities are some engaging and somewhat silly writing prompts about luck, cold coins, and all things leprechauns. I use prompts and themed planning pages from my St. Patrick's Day Writing Pack the weeks leading up to and the week of St. Patrick's Day. At this point in the year, we have learned all three types of writing so I usually pull all of the prompts out and let the students choose the genre and then the prompt they want to write about. They love it!
Want some FREE St. Patrick's Day writing prompts? Click here to grab two persuasive prompts, two narrative prompts, and matching themed planning pages for FREE.
St Patrick's Day Science Activities
St. Patrick's Science Activity with FREE Reading Extension
If you want to have a little St. Patrick's Day science fun, this "Walking Rainbow" activity is perfect. The blog post also has a free downloadable reading passage and questions to learn about the science behind the activity (and a good way to sneak in some text dependent questions for test prep). Click here to head over to the detailed post about this science demonstration and grab the free reading extension activity.
St Patrick's Day Just for Fun Activities
St. Patrick's Day Jokes for Students
A cute way to celebrate St. Patrick's Day with students and give them a small "gift" is through these cootie catchers/fortune tellers that have St. Patrick's Day jokes on them. My students love cootie catchers and get a kick out of themed jokes, even if they are a bit cheesy. 😉  Click here to download the St. Patrick's Day cootie catcher template for free!
St. Patrick's Day Coloring Page
Holiday coloring pages are a great way to let older students have holiday fun just like the younger ones.
You can use this St. Patrick's Day coloring page for:
Morning Work –

These are perfect for morning work the day of the holiday to let the students decompress and get ready for the day.

Early Finishers
Or just pass it out to the students if they want to color it at home. Depending on your students, you may surprised by how many will love it!
Click here to grab the St. Patrick's Day coloring page for free!
As you can see, I always sneak a lot of content in my holiday fun centers and activities! Do you have any favorite St. Patrick's Day activities that you complete with your students?