There are few things that catch my students' attention more than food or a celebration, so when I had the chance to add both to a math practice, I definitely took it. This post will share a free St. Patrick's Day math activity that uses cereal marshmallows while providing students with the opportunity to celebrate St. Patrick's Day.
If you can't use real food in your lessons, printable charms are also included in the free download!
Are you looking for more St. Patrick's Day-themed learning activities? Click here!
About the St. Patrick's Day Math Activity
This St. Patrick's themed math activity has students using marshmallow charms to create a pictograph. Then they solve math tasks related to the data they graphed.
This activity includes 12 different math tasks that cover skills including basic math operations, number comparisons, fractions, and decimals. You can use all of the tasks or pick and choose. Each of the math tasks provides a grade-level challenge for grades 3-5.
Here are a few examples of math tasks included:
Write the number of

unicorns and moons as

a fraction, then write 3

equivalent fractions.

Write a decimal

with the number

of hearts in

hundredths place.

Multiply the

number pots of

gold by 17.

Add the number

of horseshoes and

stars, then

subtract it from 50.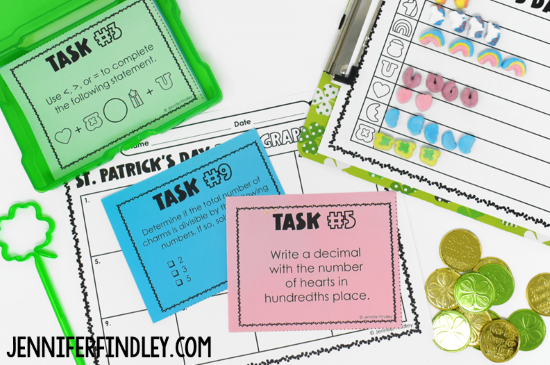 Materials Needed
To use this activity in your classroom, you will need the following materials (affiliate link provided for the online link):
Small bags of cereal marshmallows for each student or groups of students – about 30 per student or group. You can definitely leave the cereal in there or check your local store to see if they sell just the marshmallows. I purchased this set from Walmart online.
Student copies of pictograph
Math activity task cards

Optional – covers for

zipper-seal bags (included in this free set so you can assemble

the marshmallows ahead of time.) 

Optional – Student copies of recording sheets
Optional – printable charms pages (five different sets of two) if you don't want to use real food.
Download the FREE St. Patrick's Day Math Activity Here!
Click here or on the image below to download the free St. Patrick's Day graphing activity now.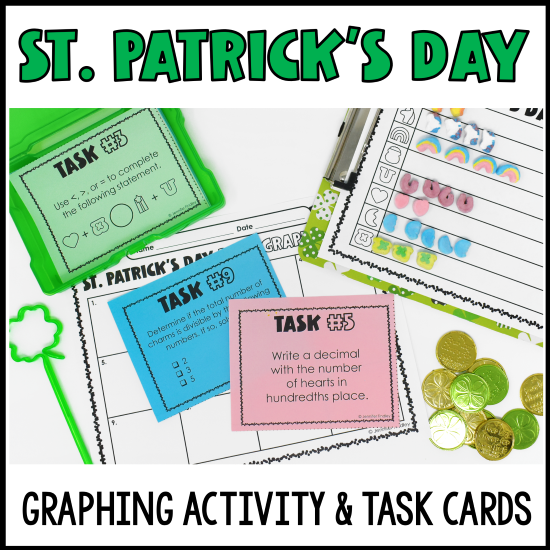 Want MORE St. Patrick's Day Activities?
If you want more to engage your students the entire week of St. Patrick's Day, check out these resources from my TPT store.