One of the most powerful ways to increase student motivation, engagement, and mastery is through choice. Many of the activities and assessments that students complete on a daily basis are mandatory and non-negotiable. Keeping this in mind, I try to offer my students choice as much as possible throughout all subjects.
Choice can be very powerful for students. For some students, it allows them to have a sense of control. This can be highly motivating for students who no longer enjoy school or find it exciting to learn. When they are allowed to choose the activities they complete, they feel like they are in control and will take more ownership of the tasks they complete.
Allowing a variety of different choices also allow students to feel more confident in their own abilities. This confidence will increase their motivation and eventually their mastery of a skill or topic. Using choice also allows the students to choose the tasks that appeal to their specific learning styles and strengths which will increase their engagement. An easy and meaningful way to offer choice is through choice boards. Let's take a look at some ways you can use choice boards in your classroom to offer student choice.
How can you effectively offer choice in your classroom?
Choice can be offered in a variety of ways, from allowing students to choose centers to allowing them to choose the books they read (highly recommend allow students to choose their reading material as much as possible; some students will resent being forced to read a book that does not engage them). My favorite way to offer choice is through choice boards. Choice boards are a great way to offer choice while still maintaining the rigor of the standards. If used correctly, they can be very effective at offering choice and helping your students reach an increased level of mastery. An added bonus is that they can be used for any skill or subject.
Let's take the skill of adding and subtracting fractions with unlike denominators. Think of all the different tasks a student can complete that would allow them to practice this skill. Here are just a few:
Choose two numbers and find a least common multiple between them.
Choose two fractions. Add them and then subtract the smaller from the larger.
Create a poster explaining the steps needed to add and subtract unlike denominators.
Explain why two fractions must have the same denominator when adding or subtracting.
Write a song with the steps needed to add and subtract fractions with unlike denominators.
Choose two fractions. Create a word problem that requires the fractions to be added. Solve the word problem.
There are several more variations of those tasks that can be created for students to choose from. All of those tasks mentioned above practice the skill at varying levels. Some students will be drawn to creating a poster if they are artistic. If they love to write, they may prefer the explanation task or writing a song task. When creating choice board activities, I like to include at least 2 tasks that are highly appealing for the students to complete while still require the students practice or show mastery in some way.
When creating choice boards, I like to offer my students at least 6 tasks, similar to the tasks shown above. If a student completes 3-4 different activities on a choice board, they will be practicing the same skill in three different ways. This will increase their understanding of the skill which will, in turn, lead to greater mastery of the skill.
How do you make time for choice boards or other choice activities?
One of the reasons I love using choice boards to offer choice is their flexibility. Choice boards do not have to be a separate activity. They can be easily be embedded in whatever activities you already do. Personally, I love using in centers, reading and math. They can also be used as an early finisher activity (with a due date to ensure students complete them). Choice boards are also a motivating type of homework that your students will actually enjoy completing. For independent reading time, I often have my students respond or write about what they are reading using their choice boards.
Where can you find FREE choice board resources?
If you are interested in trying choice board in your classroom, I have lots of FREE resources to get you started. To begin with, I created choice boards for both math and reading, and have them available in my TeacherspayTeachers store. If you would like to try them out, click here on the image below to grab some free choice boards for 3rd-5th grade. This free resource includes two choice boards per grade – one for reading and one for math. 
If you would like to purchase full grade level sets of choice boards, click here to see the ones I have available in my TpT store.
No matter which choice boards you choose to use, recording sheets are a must for keeping student work organized. I know that I personally dislike grading student work that is on notebook paper and not in an organized way. Click here or on the image below to download some free recording sheets and a folder cover.
Speaking of grading choice boards, that can be quite the task. In an effort to be more efficient, I have streamlined the process with specific direction pages and rubrics for easy scoring. I have even created a student self-assessment so they can assess their own work work before turning it in. Click here or on the image below to read more about this and download the FREE choice board scoring guide resources.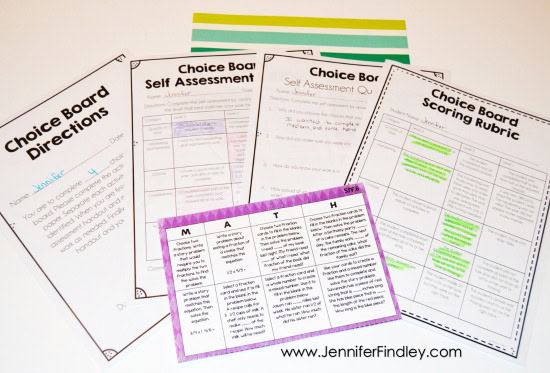 Do you use choice boards in your classroom or some other type of choice? I would love to hear what you do. Let me know in the comments.