When Valentine's Day rolls around my students (and I) only have one thing on our minds… candy. I enjoy occasionally adding a sweet treat to my lessons to engage my students. This post shares a free Valentine's Day pictograph activity that combines math and conversation candy hearts.
Can't use real candy in your lessons? Click here to check out a digital math activity with digital candy hearts.
About the Valentine's Day Math Activity
For this Valentine's themed activity, students will use candy hearts to create a pictograph.
Once the students have organized their conversation hearts on the pictograph, they will complete math tasks about their data.
The math tasks cover a variety of skills including basic math operations, number comparisons, fractions, and decimals. The math tasks are what increase the rigor and make this resource more grade-level. However, you can pick and choose the tasks you want your students to complete.
Here are a few examples of math tasks included:
Multiply the number of green hearts by 45.
Write the number of yellow hearts and pink hearts as a fraction, then write 3 equivalent fractions.

Compare the

number of pink

hearts to green

hearts using <, >, =.

Determine if the total number of hearts is divisible by the following numbers: 2, 3, and 5. If the

number is divisible by the number, solve the division equation.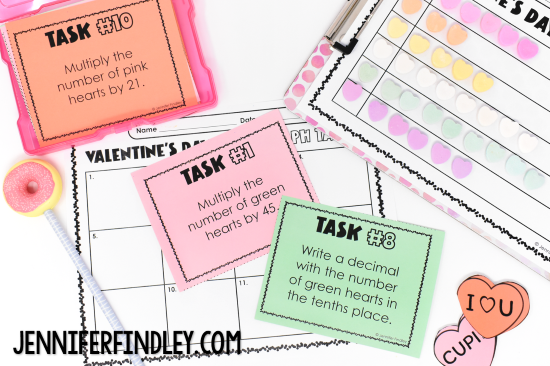 Materials Needed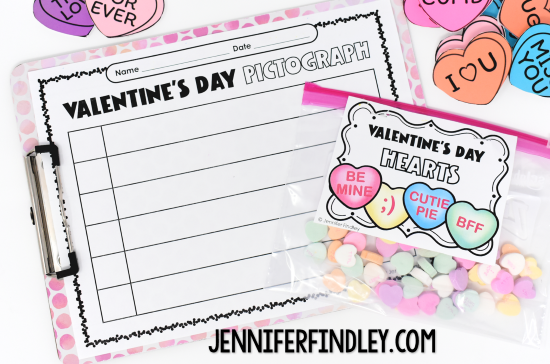 To complete this activity, you will need the following materials:
Small bags of conversation hearts for each student or groups of students (I

also included optional covers for

zipper-seal bags so you can assemble

the hearts ahead of the activity.) 

Student copies of pictograph
Math activity task cards
Student copies of recording sheets
Download the FREE Valentine's Day Math Activity Here!
Click here or on the image below to download the free Valentine's Day graphing activity now.
Want MORE Valentine's Day Activities?
If you want more to engage your students the entire week for Valentine's Day, check out these resources from my TPT store.