I love all things holiday and am always looking for ways to engage my students and keep them motivated to learn and engaged with their work during the months leading up to a major holiday. And even though my students are fifth graders, I still want them to enjoy a bit of the fun of Valentine's Day. In this post, I will share a super engaging mystery bag activity that works well for a writing activity, a behavior incentive, a Valentine's Day party activity, or a combination of all three.
Materials Needed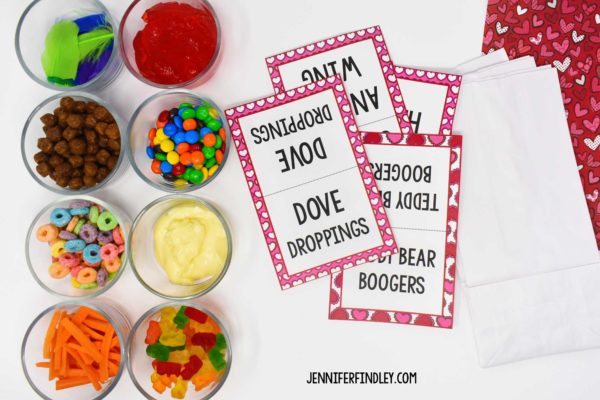 Disposable gloves for each student (to prevent the spread of germs)
Non-translucent Valentine's Day bags or paper bags decorated with Valentine stickers
Bowls small enough to fit inside the bags
Labeled table tent cards — you can download these and the writing activity at the end of this post 
Vanilla pudding (teddy bear poop)
Red Jell-O® (a heart)
Carrot sticks (Cupid's arrow)
M&M's® (Cupid's nose)
Round, chocolate cereal (dove droppings)
Feathers (angel's wings)
Ring-shaped candy or cereal, such as Froot Loops® (rings)
Gummy bears (teddy bear boogers)
Setting Up the Valentine's Day Mystery Bags
Print and cut the labeled table tent cards.
Prepare the items by putting them in the bowls. Be sure to make the "teddy bear poop" and the "heart" the night before to make sure it has a chance to solidify in the refrigerator. You can also purchase ready-made containers of pudding and Jell-O.
Carefully place each bowl into a bag and set the bags and their corresponding labels on a table.
Valentine's Day Mystery Bags in the Classroom
Here are some ideas for incorporating this Valentine's Day activity in your classroom:
Have the activity as part of a Valentine's Day party. Call the students over a few at a time to feel the items. While you are calling students over, the rest of the class can be working on other Valentine's Day activities.
Incorporate this as a seasonal writing activity. After calling all of the students over to feel the items, have them write about the activity. Writing about an experience is a great way to calm students down after a high-engagement activity. They can choose one item to describe in-depth using their five senses, choose a couple of items to compare and contrast, or write inferences about what each item is based on clues (how it smelled, what it felt like, etc.).
Use this as a Valentine's Day party activity with other holiday games and activities as part of a holiday rotation. This activity can be manned by you, another teacher, or a parent volunteer.
Download the FREE Writing Printables and Tent Cards
If you choose to use this as a writing activity, click here or on the image to grab some themed printables that work well with the three different writing activities described above.
What are your favorite Valentine's Day classroom party or writing activities? Let me know in the comments. I am always looking for new ideas that my students will love.
Want More Valentine's Day Resources and Activities?
If you want more resources and even freebies for Valentine's Day, click here to check out my recommended Valentine's Day activities.
You'll find a states of matter science activity using chocolate, free digital Valentine's Day exchanges, a dissolving candy hearts science activity, a free digital Valentine's Day fraction math activity, free math logic puzzles, a make-your-own mini Cupid's bow and arrows STEM activity, and more!