Valentine's Day is one of my favorite classroom holidays. I love promoting kindness even more than usual this month through the class party, read alouds, and discussions. In addition to promoting kindness the month of February, I love having my students complete Valentine's Day themed activities. Today I want to share some of my favorite Valentine's Day activities for upper elementary students, many of which are completely free to download.
Valentine's Day Math Activities
My students love math centers but they really love when I change out the math centers for holiday or seasonal themed ones, and Valentine's Day centers are no exception. Even the boys don't mind! These are a few of my favorite Valentine's Day themed math activities and centers.
FREE Valentine's Day Equivalent Fraction Center
This free Valentine's Day Math center is a perfect quick center for your students to complete. Equivalent fractions are always a skill that my students can use a refresher on and this center can be used all the way from 3rd grade up to 5th. Click here or on the image to download the free Valentine's Day Equivalent Fraction Center.
More Valentine's Day Math Centers and Printables
In addition to the free math center above, I also use other Valentine's Day math centers in my center rotation. They are always a hit with my students. By using the Valentine's Day math centers, I am able to easily differentiate and review several skills during the month of February.
And all of the different candy and chocolate graphics are super appealing to the students, even the boys! They are available in both print and digital math activities so I can mix and match for all of my math centers.
As much as I love using math centers, I also love some engaging (and skill based) no prep printables for homework and independent work. My Valentine's Day printables are a perfect fit for my needs; they are themed and include engaging graphics that students love to color. Click here to see 4th grade math and 5th grade math Valentine's Day math printables in my TpT store.
FREE Valentine's Day Sweethearts Math Printable
I have recently discovered my love for Sweethearts candy. I am lucky enough to be able to use candy in my classroom, so I put together this quick printable for some Sweetheart themed math practice. Give each student the printable and an individual box of sweethearts (or a handful or small baggy from a larger bag if you don't want to go the individual route) and let them practice some math skills while enjoying some sweet treats. Click here to download the Free Sweetharts Math activity.
Valentine's Day Literacy Activities
Valentine's Day Reading Comprehension Activities
My students are huge fans of themed holiday reading materials, and these Valentine's Day reading passages with activities are no exception. I use these to mix up our regular reading homework routine, and sometimes even as a literacy center or during guided reading groups. The best part about these sets is that they include three passages: one fiction text, one informational text, and one poem. Each text includes several text dependent printables, so one passage can be used over the course of an entire week with a different printable each day. This is a perfect way to sneak some more close reading practice into your reading homework. To see this Valentine's Day reading resource in my TpT store, click here.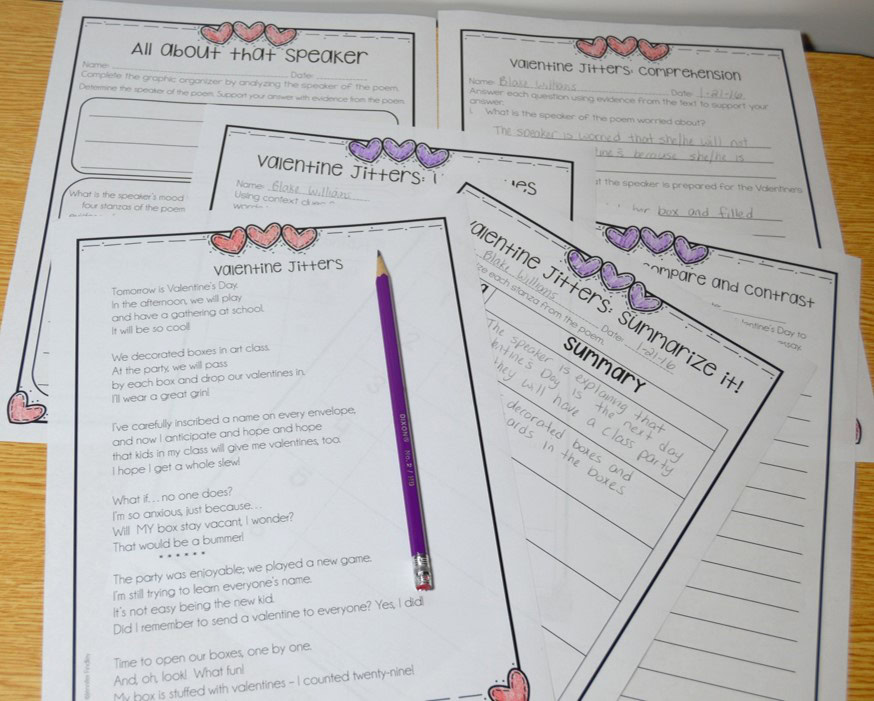 FREE Valentine's Idiom Templates
In my opinion, Valentine's Day is the prefect time to review idioms because of all the idioms about hearts in the English language. This FREE set of three interactive notebook templates is perfect for themed idiom review. The students identify, define, and use idioms in a sentence in these templates. Print these on red colored paper (or pink and purple) to make them even more themed. Grab your free set of Valentine's Day Idiom templates here or on the image below.
FREE Valentine's Day Sweethearts Writing Activities
More Sweethearts activities…can you tell I love these candies? There are two versions of this writing activity. Both versions have the students using boxes or baggies of Sweetheart candies. One of the printables has the students choosing 10 of the words or phrases from the hearts to write a story. The other printable has the students using the words/phrases in sentences. Click here or on the image below to download the Valentine's Day Sweethearts Writing Activities (begins on page 2).
Valentine's Day Science Activities with Free Printables
Valentine's Day is the perfect time for themed science and STEM activities. One of my favorites involves reading about Cupid and his bow and arrow and then having the students create their own mini bows and arrows. Click here to read more about this Valentine's Day STEM activity and grab the free printables.
Another favorite science activity involves candy hearts. For this experiment, the students read about the affects of water temperate on solutions. They create a hypothesis and then test how the temperature of water affects candy hearts. Grab the free printables for this Valentine's Day science activity here.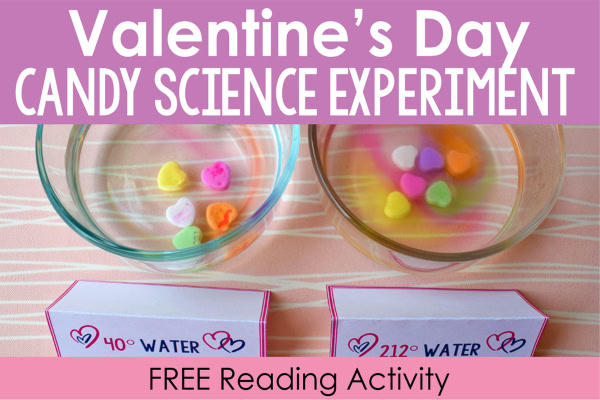 FREE Valentine's Day Party Letter and Class List
A couple of years ago, I shared a similar image to the image above on my Instagram and I got a lot of comments from people who wanted the template I used. So, I made it editable, and I am including it in this post. The fonts, graphics, and some of the text is not editable (due to copyrights and terms of use); however you can type in your class party date and your students' names. You will need powerpoint to edit this file. Grab the free Valentine's Day letter by clicking here or on the image below.
Valentine's Day Minute To Win It Games
Minute To Win It games are so much fun to incorporate into the classroom (read more ideas for using Minute It to Win it Games in the classroom here), and Valentine's Day is no exception. Here are some of my favorite games to be played during a quick Valentine's Day party or to be used as rewards for good behavior.
Click on the name of the games you are interested in to head over to the post for more details.
Put a Ring On It – In this fun Minute to Win It game students try to get heart-shaped bracelets over the top of recycled water or soda bottles. Paint the bottles pink for an extra-special touch!
Tiny Heart Chopstick Race – How many tiny conversation hearts can students pick up and place in a cup in one minute? Sounds easy, but in this Minute to Win It game they'll be using chopsticks!
Cup Stacking – Break out the red, plastic SOLO cups and turn this ordinary Minute to Win it game into a Valentine's Day party must-have!
Candy Straws – Huff and puff and blow those candies from one plate to the other in this breathtaking Minute to Win It game that's perfect for Valentine's Day!
Pom Pom Race – Can you get all of the pompoms across the line using only a straw and your breath? This Minute to Win It game tests students' sense of direction and lung strength!
Heart Stack – How many hearts can you stack in one minute without them toppling over? This fun Minute to Win It game could also be used for great graphing data!
Those are just a few of my favorite Valentine's Day activities that are perfect for upper elementary students. What are your favorite activities for Valentine's Day?