Science experiments are such an important part of students' learning. However, sometimes I felt that my science standards didn't lend themselves to the kind of experiments that my students really needed.
Implementing seasonal themed science experiments was a great way to incorporate engaging science experiments that I felt really benefited my students. This post shares a science experiment with free science reading activity that is perfect for a fall science experiment. This experiment is also great for using text evidence and existing science to support predictions and make conclusions about the results.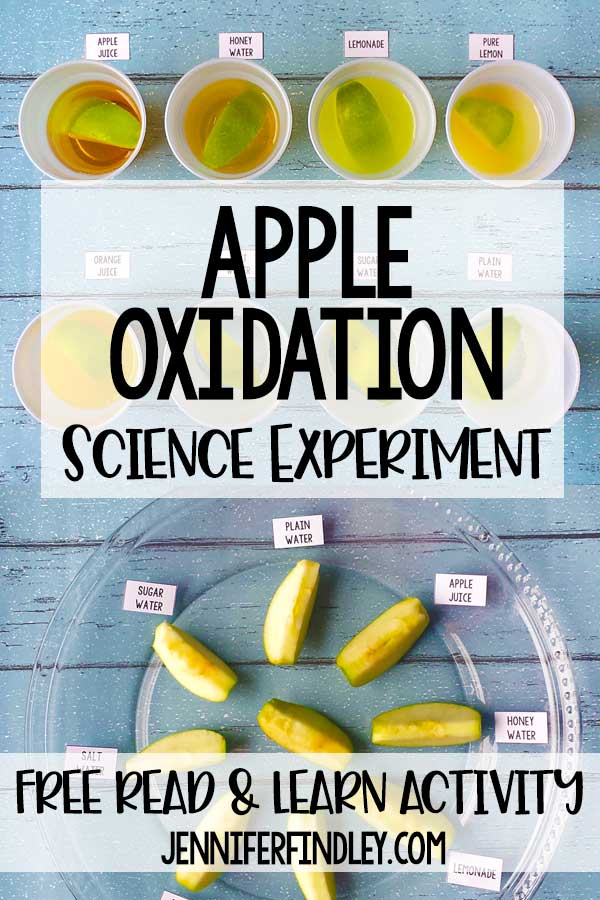 This experiment follows these steps ( can be done in one day or split into two with steps 1-3 done prior to the science experiment):
Step 1: Read the text about apple oxidation with the "Apple Browning" passage.
Step 2: Using the information from the passage, plan an experiment to test liquids for ascorbic acid OR use the directions page with materials and steps provided.
Step 3: Select a variety of liquids. Examples:
plain water
salt water (1/8 tsp of salt, 1 cup of water)
sugared water (1 tbsp of sugar, 1 cup of water)
honey water (1 tbsp of honey, 1 cup of water)
pure lemon juice
lemonade
apple juice
orange juice
Step 4: Students will write down predictions about how each liquid will affect the oxidation process of the apple (using the information they read in Step 1 to support their predictions).
Step 5: Prepare and pour each liquid into its own bowl, cup, or baggie. Be sure to label the liquids and use the same amount of each.
Step 6: Slice an apple into small pieces.
Step 7: Immediately place one apple piece into each liquid. Make sure the liquid is covering the white part of the apple. Leave one piece of apple out of the liquid as the control variable.
Step 8: After 3 minutes, remove the apples from the liquid and place them on a platter. Record observations using the printable chart in the free download.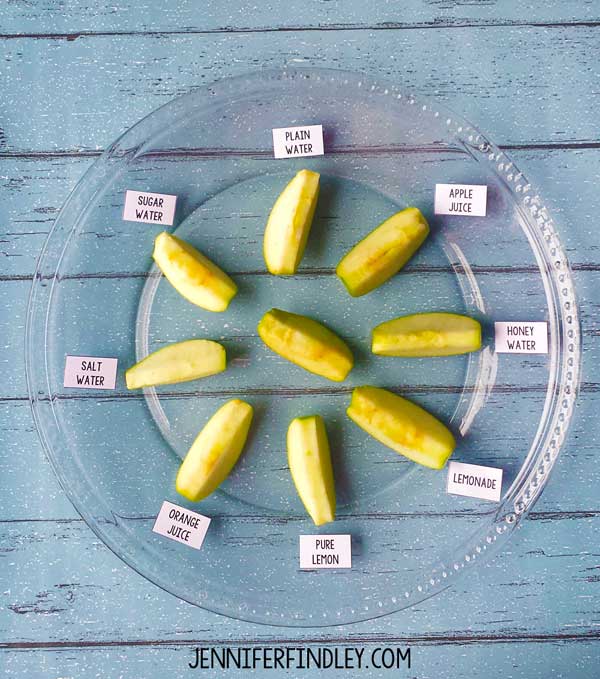 Step 9: After 6 minutes, observe the apples again and record any new observations.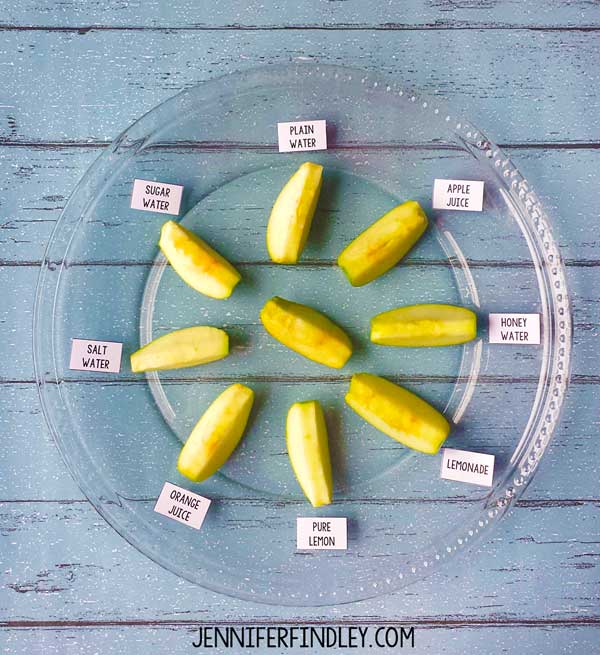 Step 10: Check predictions and complete the reflection printable. The students will use both the details from the text and their own observations to make their conclusions.
Download FREE Apple Oxidation Printables
Click here or on the image below to download the free directions and science reading activity for this science experiment.
This activity can be done whole class, during a small group science rotation,  or even in small groups. If you do it in small groups, you (or a parent volunteer or support teacher) would need to go around to each group to cut the apple into slices.
More Science Experiments and Demonstrations
Solar Oven Project with Free Printables
Ice Cream in a Bag with Free Printables
Making a Paper Clip STEM with Free Printables
STEM Activities with Pencils (Free Printables)
Spring Science Experiments with Free Reading Activities
Spring Engineering Activities with Jelly Beans
Want More Fall Activities?
Want more fall activities and ideas? Click on the links below to see more posts.
Fall Activities for Upper Elementary
Thanksgiving Science with Cranberries
Then, click the links below to check out my favorite Fall math and reading resources.
This post was created in collaboration with A Stults.
Save
Save
Save
Save
Save
Save