I love all things candy corn, so of course I love incorporating candy corn activities into my classroom during the fall and around Halloween time. It is a perfect way to channel the students' excitement about the holiday into something academically based. I wanted to share some of my favorite FREE candy corn activities with you today!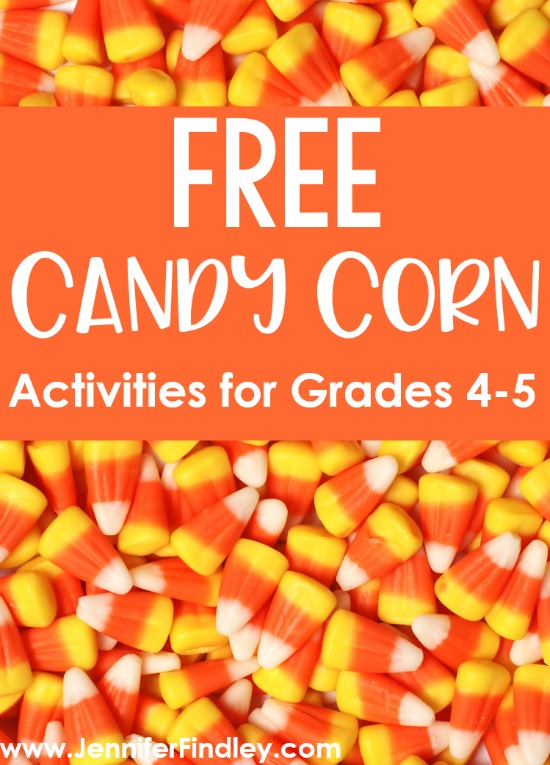 Candy Corn Math Activities
FREE Candy Corn Comparison Printable
First up, is a comparing numbers printable with candy corn. The students need candy corn and dice to complete this activity. The students roll a dice to create different numbers to compare using the candy corn.
You may have to make sure you tell the students how to use the candy corn as inequality symbols and even model this a few times. If you don't, the students may try to use the candy corn as an arrow and point to the larger number.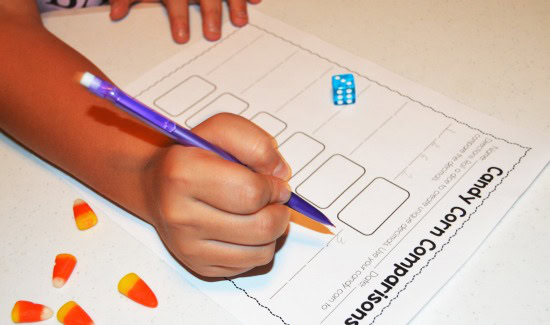 Click here to grab the candy corn decimal printable for FREE. I have included several options with the numbers the students create: decimals and whole numbers.
Free Candy Corn Math Center
Each year, I always have students who struggle with reading larger whole numbers so this candy corn math center is a perfect review. The activity requires the students to match three representations of the same whole number. Click here or on the image below to grab this candy corn math activity for free!
If you want more candy corn math centers (including those with decimal skills), click here to check out my Halloween math centers. It includes lots of themed math activities that your students will love!

Candy Corn STEM Activity
In addition to the candy corn math activities, I love this STEM activity involving candy corn. It requires the students to create a workable catapult to launch the candy corn. For this activity, the students can use lots of different household items to create a catapult.
Here is one example using pencils, rubber bands, and a spoon: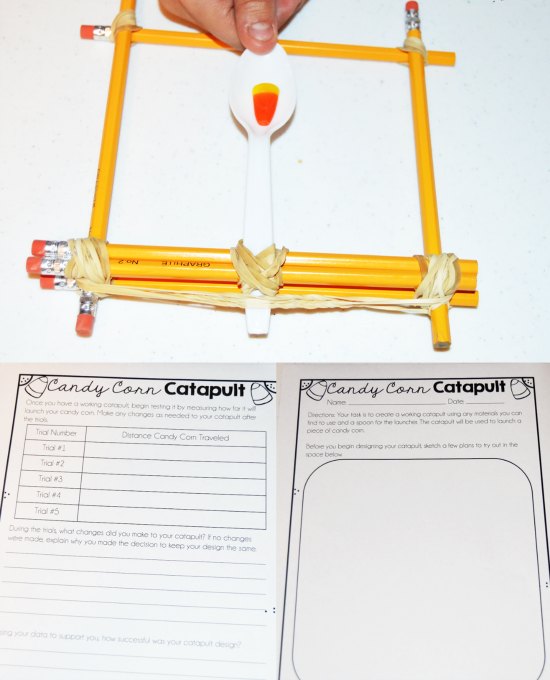 This candy corn stem activity can be done in school or even as a fun at home project. I made recording sheets that walk the students through the process so it would make a great at home project. The students can complete the project at home and then bring them in on the assigned due date. On that date, the students can try out their catapults and even have a "race" to see whose launches the candy corn the furthest.
Click here to grab the printables for the Candy Corn Catapult Activity for FREE!
Your students will definitely love having a candy corn themed day in math and science with these candy corn themed activities.
MORE Fall and Halloween Activities
Fall Activities for Grades 4-5
Halloween Activities for Grades 4-5
Want More Halloween Activities?
Click the links below to check out my favorite Halloween math and reading activities.
Save
Save
Save