Fall is one of my favorite times of the year! I love bringing fall into the classroom with fall-themed activities. I wanted to share with you my favorite fall activities for upper elementary students.
Fall Math Activities
I always love incorporating seasonal math activities into my guided math classroom. You can read more about my guided math centers by clicking here.
These math centers shown are from my Fall Math Centers for fifth grade. I found these cute leaf and acorn containers at the Dollar Tree to hold the different centerpieces. I love using seasonal containers to add a little more fun to the fall-themed activity. These centers cover skills such as multiplying and dividing whole numbers, writing numbers, order of operations, expressions, and more! Check the fall math activities and centers out using this link.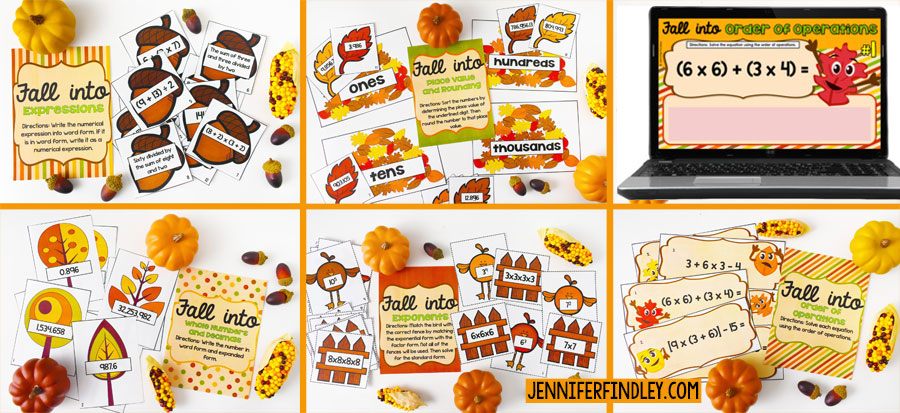 FREE Fall Math Printable
This next fall math activity is a free printable that is perfect for homework, morning work, or to place in a review math center. This fall activity has the students practicing place value from the thousandths to the ten millions.  The students identify the place value of the underlined digit to answer a fall-themed riddle. Click here to grab this FREE fall-themed math printable from my TeacherspayTeachers store.
More Fall Math Printables
I also love mixing up my homework and my morning work printables with seasonal-themed practice sheets. These just print practice pages from my Fall and Thanksgiving Math Sets are perfect for review. The students always love the different themes and graphics. Click here to see the 4th and 5th grade fall math printables in my store.
I also sneak some differentiation and rigor into my fall math activities with these themed math tasks. These tasks are differentiated at two levels and are perfect for 4th and 5th-grade students. Check these fall math tasks out in my store by clicking here!
Fall Science Activities
Fall STEM Engineering Activity
Let your students build different structures with common fall items with these fall-themed stem activities. There are two versions included: one for using common "fall" food items and one for fall items found in nature. Click here or on the image to read more about these fall-themed stem activities.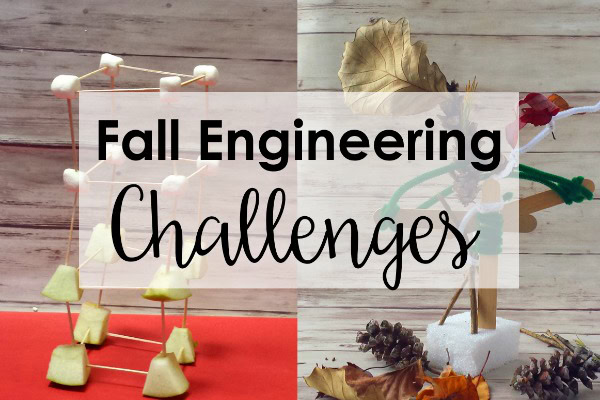 Apple Oxidation Fall Science
Another common fall item is apples! This apple science experiment allows you to bring in some apple fun in your upper elementary classroom, along with reading and science. Click here or on the image to read more about this fall science experiment.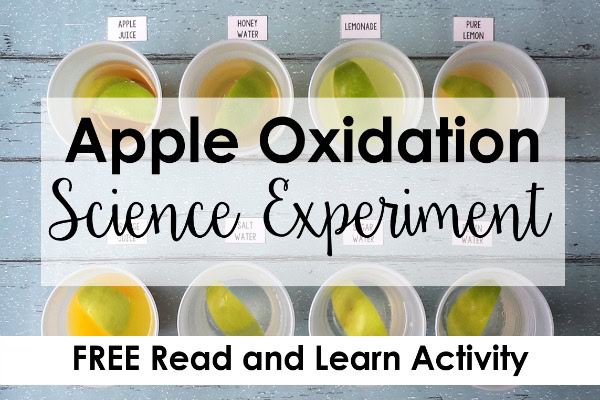 How Leaves Change Color Science Activity
This is a fun and informative fall science experiment that has a great content focus. This experiment explores how leaves change color in the fall.  The purpose of the experiment is to get the students to understand that chlorophyll (which gives leaves the green color) masks the other colors in the leaves.
Leaf Salt Crystal Science Experiment
If you are looking for a great science activity to do with your upper elementary students this fall, this salt crystal experiment with leaves is one you don't want to miss. Keep reading for a full list of materials and FREE printables to go along with the experiment!
Fall Literacy Activities
Fall Read Alouds
(Amazon affiliate links for the read-alouds recommended)
I love this nonfiction book because it ties right into our leaf experiment. The page shown is one that I specifically read after the experiment to understand a little more about the science of leaves changing color.
This next book…I absolutely love! I just found this book this year, and I am in love with it already. It does feature a jack-o-lantern, which is typically Halloween. However, the book focuses on what happens to the pumpkin when it starts to rot. Reading this book in November is perfect.
I love this book for several reasons. First, the pictures are so interesting. Second, it's an interesting take on point of view as each organism explains its role in the pumpkin rotting. Finally, the book is great for teaching RI.5.3, the standard dealing with connections and relationships in scientific text. All the organisms in the book interact with the pumpkin. Also, some of the organisms do things that "help" another organism.
These two example pages from the book show all three of my favorite features. I mean, look at those pictures! The students will love them.

Fall Reading Activities
I am loving these "around the room" reading comprehension activities. This set from my Fall and Thanksgiving resource is perfect to get your students up and moving. You can tape the texts and questions around the room, place your students in groups of two or three, and have them go around the room with their notebooks. Check out the fall set here or the entire set of holidays and seasons here.
FREE Fall Bookmarks
I always love giving my students themed bookmarks. These can be printed on colored card stock or white paper for the students to color. Click here to download the bookmarks for free.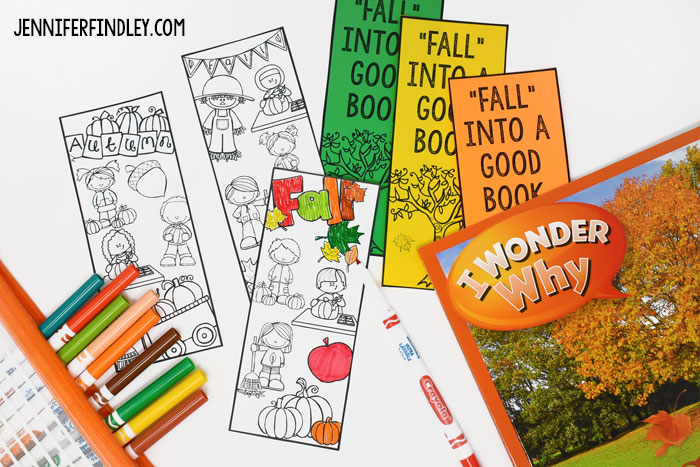 Fall Figurative Language Sort
Finally, I have these super fun figurative language sorts in my store. The students will sort leaves to the correct children playing in the leaves based on what figurative language (similes, metaphors, personification, and hyperbole) is being described or used in the sentence.
More FREE Fall Activities: Exclusive Email Freebies
If you want even more fall activities for math and literacy (including a reading review mini-booklet, no prep printables, and math puzzles), make sure you join my email and get access to the freebie library. Click here or on the image to get all the details and sign up today!
Those are my favorite fall activities for upper elementary students. Click here to read about my favorite Halloween ideas and activities. Do you have any favorite fall activities? Let me know in the comments!
Want More Fall Activities?
Click the links below to check out my favorite fall math and reading activities.