When I first started teaching fifth grade, I was seriously bummed about the lack of seasonal activities and centers for upper elementary. It was pretty much limited to writing prompts and crossword puzzles/word searches. Upper elementary students can definitely have just as much (if not more!) Halloween fun as the younger students. Here are some of my favorite Halloween activities and student treats for the Halloween season.
Halloween Math Activities
Halloween Math Centers
One activity that is definitely a staple in my classroom is the use of math centers. We actually do math center rotations two to three days a week during math instruction and my students always love them. To mix things up a bit, I like to switch out my normal math activities and centers for Halloween activities during the month of October (or at least the two weeks before and of Halloween).
These math centers shown below are from my Halloween Math Centers resource that can be found in my store. There are centers for 4th and 5th grade skills which helps meet the needs of all of my students since it is still pretty early in the school year. Click here to see the Halloween Math Centers in my TeachersPayTeachers store.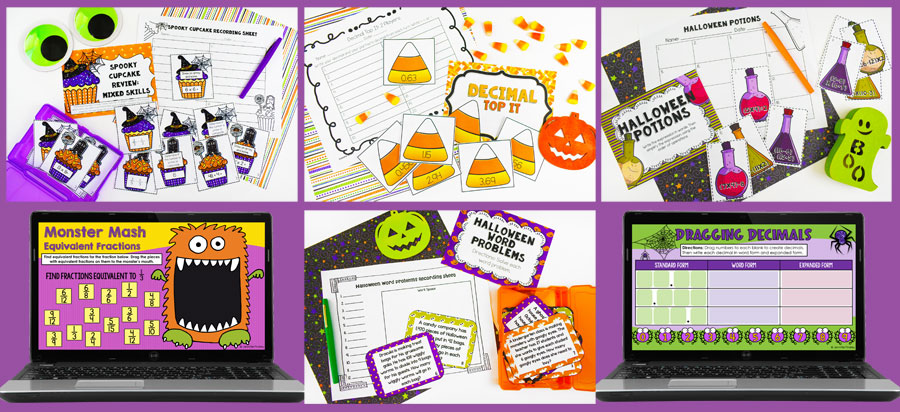 Halloween Math Printables
Another recent favorite resource of mine is my Differentiated Math Tasks. Once I created my non-seasonal set (with a chocolate theme!) for fractions, I knew I wanted more. I have started creating these tasks for each holiday.
Each task is available at two levels. Level 1 is the simpler level (perfect for 4th grade or struggling 5th graders) and level 2 is the more difficult level (perfect for 5th graders, advanced 4th graders, or struggling 6th graders). Another option is to use them both with your class. Sometimes I complete level 2 as a class and the students complete level 1 for independent work or homework. Click here to see the Halloween Differentiated Math Tasks in my TeachersPayTeachers store.
Halloween Math FREEBIE
For a FREE Halloween-themed math activity, I love this decimal place value review with "not-so-spooky" ghosts. Click here to grab the free math activity in my TpT store.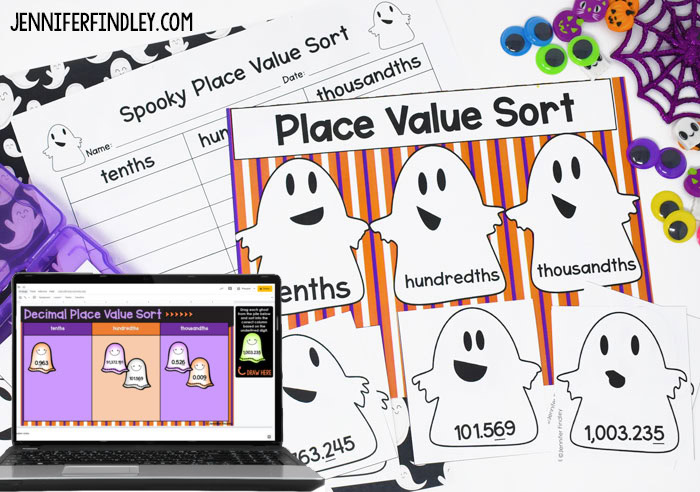 The Day After Halloween Math Task Cards – FREE
The day after Halloween can be just as crazy as the days leading up to the holiday. For free "Day After Halloween" math task cards for grades 4-5 that are perfect for the day after Halloween, click here or on the image shown.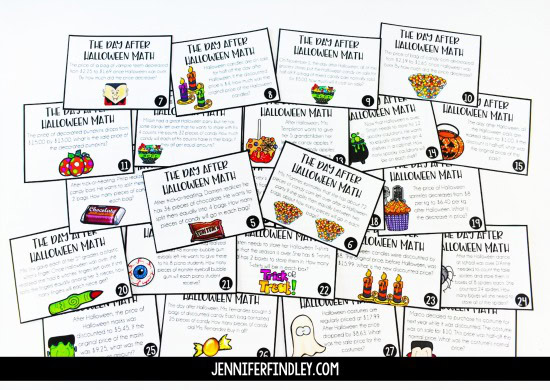 Halloween Science Activities
For science and stem activities, we love making candy corn catapults and then exploring the scientific method with dissolving pumpkins.
Candy Corn Catapults
My students love making catapults and testing them out. Click here or on the image below to read a few more details and grab free printables. There are also a few more candy corn freebies on this post so make sure you check them out!

Dissolving Candy Corn Pumpkins
Click here for more information on the dissolving pumpkins experiment and to download the free simple recording sheets that I use.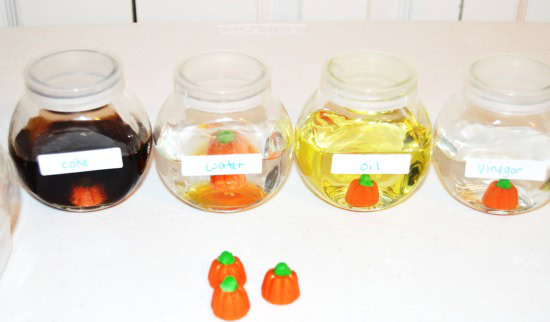 Halloween Writing Activities
Halloween Writing Prompts for ALL Genres
I use a Writing Workshop format for writing instruction, but I still like to use seasonal prompts. The students love them, too. I have seasonal writing prompts for each major holiday in all three writing genres. Sometimes I use all three and sometimes I pull out a specific genre that I want the students to practice.
My writing prompts are available in a few formats but my students love the task card format the best. They grab the card they want and a genre-specific themed planning sheet and they are ready to plan and write. When they finish and are ready to publish their writing, they grab a themed publishing paper (also included in this pack) and complete their final draft. Click here to see the Halloween Writing Prompts in my TeachersPayTeachers store.
Halloween Grammar Activities
Halloween Grammar Task Cards
Just as much as my students love math centers, they also love grammar centers. We only do grammar/language centers once a week due to time constraints. Typically, we do my non-seasonal task cards and my grammar roll and answer games, but I love to use seasonal task cards, too.  Click here to see the Halloween Grammar Task Cards in my TeachersPayTeachers store. The resource includes four sets of task cards that review figurative language, conjunctions, commas, and titles.
For the day of or before Halloween, I like to tape these task cards around the room and have the students move around the room, answering the questions. This type of activity helps channel their excitement and get it out of their system. 🙂
Halloween Themed FREE Grammar/Language Review Activity
Another engaging activity for Halloween is using Halloween themed graphics to review grammar skills such as parts of speech and figurative language. Click here to grab this engaging Halloween language freebie!
Halloween Reading Activities
Halloween Reading Comprehension Activities
Moving right on to reading, I love using seasonal/holiday themed reading activities to review skills AND engage my readers. The students love reading these high-interest stories. I typically use these for homework during the month of October. Click here to see the Halloween Reading Comprehension Activities in my TeachersPayTeachers store.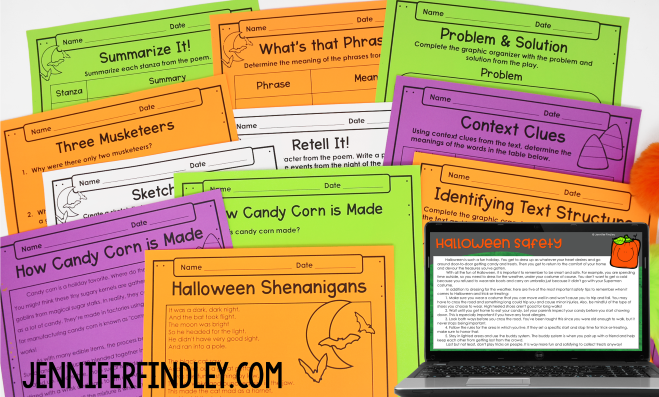 Halloween Paired Passages
I also love using Halloween Themed Paired Passages. This resource includes two themed and connected paired passages (four passages in all). Each set of passages comes in a traditional worksheet format and in an interactive notebook format. The students love the interactive notebook version. I typically use these sets for guided reading instruction the week before and during Halloween; one set a week. Click here to see the Halloween Paired Passages in my TeachersPayTeachers store.
Halloween Read Alouds with FREE Printables
Of course, I cannot forget about Halloween read-alouds. My students love read-alouds but they really love holiday-themed ones. Click here to see my favorite Halloween picture books and grab free printables to use with the books.
Halloween Figurative Language Sort
I have these super fun figurative language sorts in my store. The students will sort lollipops to the correct trick-or-treat bucket based on what figurative language (similes, metaphors, personification, and hyperbole) is being described or used in the sentence.
Halloween Party and Treat Ideas
Halloween Treats (Not Candy)
Now let's talk Halloween Treats that are NOT candy- because let's be real, our students definitely get enough candy!
Here are a few options for treats that I have given out over the years. The homework pass is a favorite every year. The popcorn is always popular, too. The "Here's a Treat" card is pretty generic so you can give candy if you want. A really fun idea is to give the students an orange or tangerine and let them decorate it with a pumpkin face. Click here to grab the Halloween Treat Cards for FREE!
In addition to the treats, I also love passing these Halloween bookmarks out at the beginning of the month. There are six different options so you have some choice, or you can let the students choose. I printed them on colored cardstock, but you could print them on white cardstock and let the students color them. Click here to grab the Halloween Bookmarks for FREE.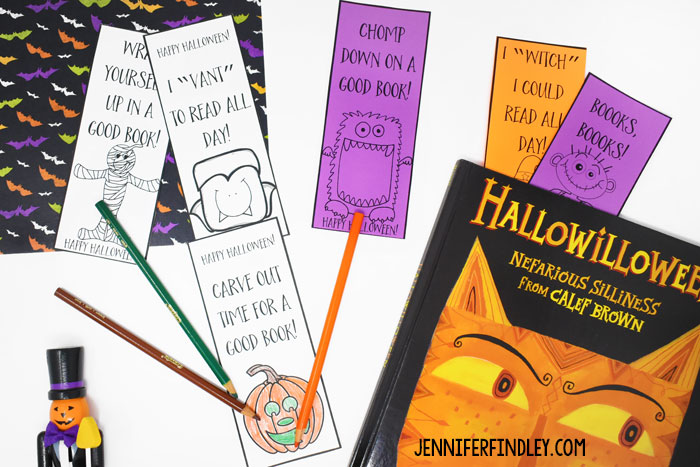 Halloween Classroom Party Ideas
For a fun party idea, I love this mystery bag activity! Click here or on the image below to read more about this fun Halloween activity!
Finally, I like to have my students calm down a bit at the end of the day or after a Halloween party with a Halloween coloring page. Click here or on the image to download a free Halloween coloring page for your students!
More FREE Halloween Activities: Exclusive Email Freebies
If you want even more Halloween activities for math and literacy (including a reading review mini-booklet, no prep printables, and math puzzles), make sure you join my email and get access to the freebie library. Click here or on the image to get all the details and sign up today!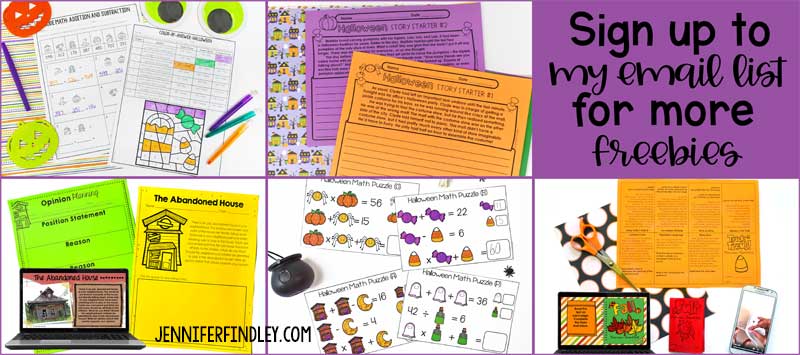 Want More Halloween Activities?
And there you have it: my go-to resources to have a Halloween-themed, but academic school month. What resources are your favorite? Let me know in the comments.