Mother's Day always seems to sneak up on us each year! On top of everything else you have on your plate at this time of year, you may be scrambling to think of a project your students can create as a gift for their moms or the special adults in their lives. It seems as if you could scroll for hours on Pinterest to try to find the perfect project-turned-keepsake moms will love. (Is there a filter to search for activities that don't require paint to dry or glitter to cover your classroom? Asking for a friend.)
Have you considered a digital Mother's Day gift this year? I have shared my Mother's Day Top Ten Lists before and they're always a big hit with students and mothers alike. This year, I have turned the project digital so your students can create custom slideshows to share with their moms or mother-figures. My students love creating digital projects and writing all about their moms, so this project is sure to be a homerun with yours as well!
About the Digital Mother's Day Gift
The digital version is Google Classroom ready in Slides format.
It includes the following four themes for your students to choose from when creating their Top Ten lists.
Top Ten Things I Love About You
Top Ten Greatest Moments with You
Top Ten Things You Do Best
Top Ten Reasons You Are the Best
In addition to the lists geared toward moms, alternative versions are included for Loving Parents, Loving Guardians, Celebrating You, and a Mom version en Espanol.
Student directions are included to make it easy for your students to select the themes they'd like to use for their digital lists. The rest of the slideshow includes numbered slides with editable text boxes in which your students can type their responses. The final page includes a special closing message for their moms and a place for them to sign their names.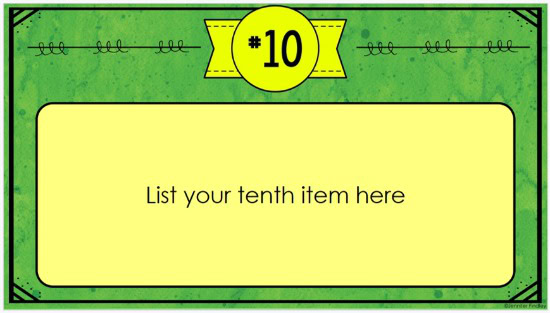 Encourage students to be thorough when they write and resize the text as needed to fill the space provided on each slide. The resource is ready to use without any formatting needed, but is also easy to customize if your students want to make it their own.
When your students are finished, they have a couple of options for sharing their digital gifts with their moms. They can email a link to the presentation straight to their mothers or watch it together in presentation mode on Mother's Day. The latter option works best if they have a device at home to access it (perhaps after Mom enjoys a relaxing breakfast in bed!).
Using the Digital Mother's Day Gift: Important Tips and Reminders
When assigning the digital Mother's Day gift project in Google Classroom, be sure to set it to make a copy for each student.
Give the students a due date so you can be certain their mother will have a gift on Mother's Day.
Provide students with their parents' email addresses if they are uncertain where to send their completed projects to.
If using Gmail, consider having your students schedule it to send on Mother's Day as a special surprise!
Get the Digital Mother's Day Freebie Here!
It will open in a PDF and you will click the links to copy the versions you need to your drive. From there, you can assign it to your students via Google Classroom.
Disclaimer: Digital activities take much longer to create and secure than printable ones. Because of this, I am unable to offer any alternatives or make any tweaks. I truly wish that I could but it is honestly not feasible for me to do so. I try to include as many versions as I can, so hopefully one of those will work. Thank for you understanding.
Need more detailed tips for assigning Google Slides in Google Classroom? Click here!