Keeping your students' assignments organized each week can be easier said than done. Using these FREE assignment checklists for Google Classroom (with spots for reminders and messages) will hopefully make your life (and your students' and parents' lives) a little easier while teaching in a digital classroom.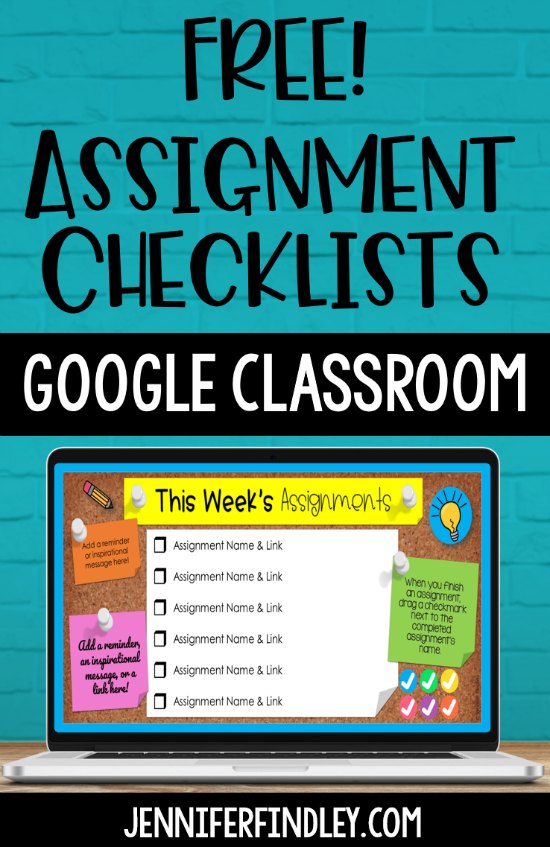 Using Assignment Checklists in Google Classroom™
Google Classroom™ is not super intuitive as a learning platform. When posting multiple assignments a day/week, it can be tricky for 8-10 year olds to stay organized and find what they need.
One solution that many teachers use is to have an assignment checklist slide to help students find the assignments and keep track of which tasks have been completed.
To help you implement this with your digital learning, I have some FREE assignment checklists for you (available for download in the section titled Download the FREE Assignment Checklists for Google Classroom™ Here).
There are several versions of the digital weekly assignments for you to choose from. Variations are included for different amounts of assignments, different subject areas, and even different color schemes. I recommend saving a master copy of all of the slides and then making copies of the ones you want to use.
Here are some of the versions:
Weekly Assignment Checklists
Daily Assignment Checklists (with Today and with Days of the Week)
Subject-Specific Assignment Checklists (Math, ELA, Reading, Writing, Science, Social Studies)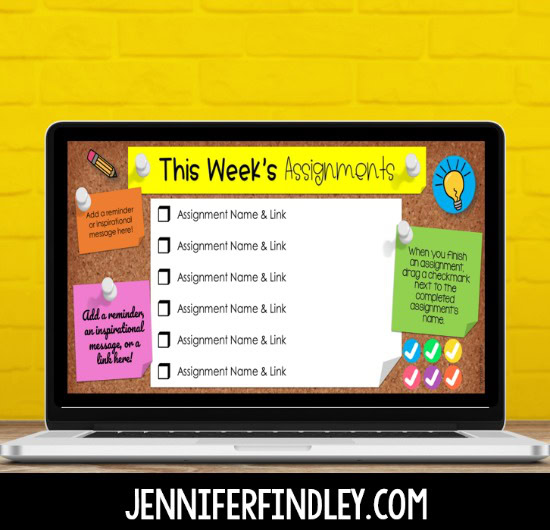 Each slide comes with editable spaces to list assignments and link to them right in your Google Drive or Classroom page. There are also sticky notes to add reminders, inspirational messages to your students, or additional links. This would be a great spot to post a fun challenge, extension, or early finisher activity.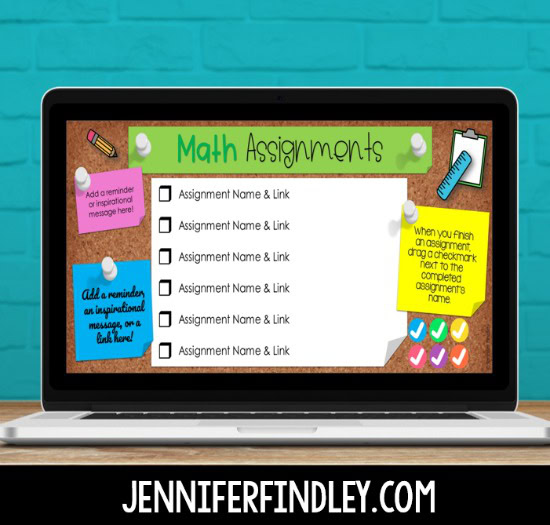 To keep your students even more organized, there are moveable checkmarks to keep track of which assignments they have completed as they make their way through the week.
Linking Classroom Assignments to Digital Assignment Checklists
After you have uploaded any necessary files to your Drive and posted all of your assignments and materials to your Classroom, you're ready to link everything to the checklist slide!
Choose the assignment you want to link to. Click on the three dots and select "Copy link" from the dropdown menu options.
Select the text you want to link the assignment to. You can change the name of the assignment and then click "Insert link." A window will pop up. Paste the link into the space provided.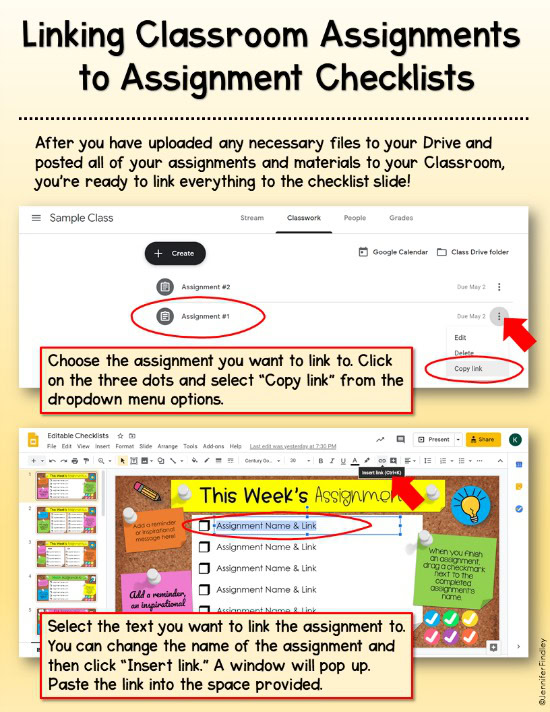 Assigning Weekly Checklists in Google Classroom™
When your Weekly Checklist is complete with assignments, links, and notes, you are ready to share it with your students in Classroom!
Step 1: Create a new assignment.
Step 2: Title it something like "Assignment Checklist for Week of April 27th" and add instructions as needed. (That way, you can create a new one each week and stay organized.)
Step 3: Add the file from Google Drive and choose "Make a copy for each student" (since they will be editing it by dragging checkmarks over to completed assignments).
Step 4: Add a due date. (I recommend the end of the week/day that the checklist is for.)
Step 5: Click "Assign" and you're all set!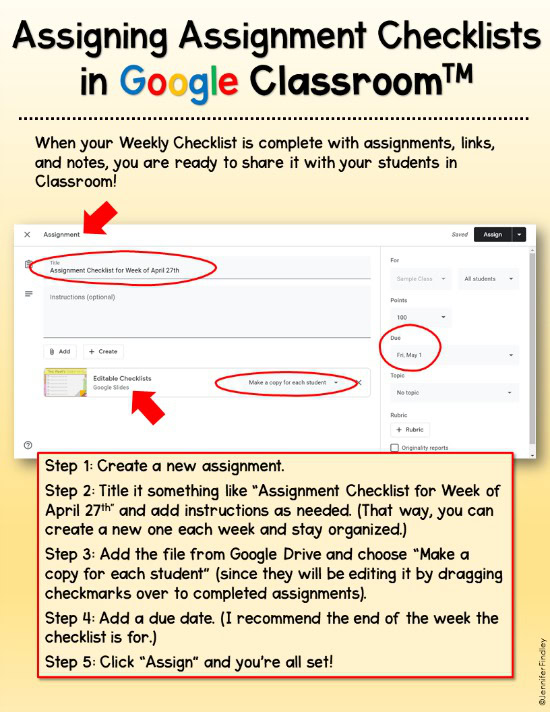 Quick Checklist for Posting to Google Classroom™
Upload any files needed for the week's assignments to Drive
Post assignments for the week to Google Classroom
Link to each assignment on the assignment checklist
Link to other important sites or pages from the sticky notes on the page
Upload the linked assignment checklist to your Google Classroom as an assignment (and make sure you make a copy for each student!) and set due date as the end of the week
Download the FREE Assignment Checklists for Google Classroom™ Here
Download the free assignment checklists AND a printable/downloadable guide to using them by clicking HERE or on the image shown.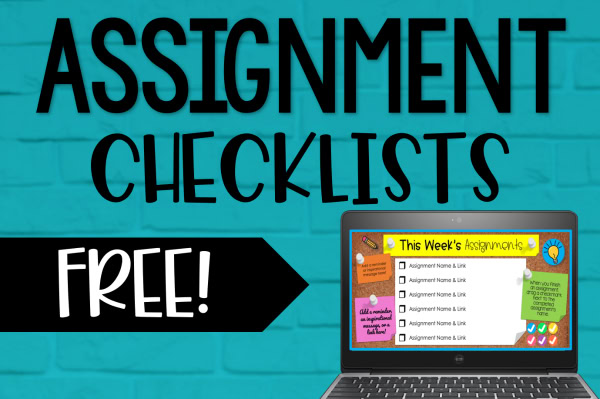 More Digital Learning Resources
Blog Posts and Free Guides
How to Create Google Form Assignments
Viewing and Analyzing Responses in Google Forms
How to Have Students Show Their Math Work Digitally – Free Student Google Slides Guide
Tips for Distance Learning Planning
Digital Learning Activities
Google Form – Reading Activities
Reading Review Activities – These include 8 forms and each form focuses on one specific skill.
Main Idea Differentiated Practice – These are perfect for assigning differentiated reading practice (texts at two levels to your students). 
Text Structure Differentiated Practice – Another option for differentiating your reading practice easily.
Reading Test Prep Task Cards –  This is perfect for reading review! It includes 8 Google Forms in all (with 8 mixed skill questions per form).
Google Slides – Math Activities
4th Grade Math Test Prep Review
5th Grade Math Test Prep Review
4th Grade Math Differentiated Skill Sheets
5th Grade Math Differentiated Skill Sheets
Math Choice Boards (Grades 3-5 Available)
5th Grade Math Journal Prompts
Find the Error Math Tasks (Grades 3-5 Available)
Google Slides – Literacy Activities
Color Coding Text Evidence Printables
Reading Intervention Passages with Read Aloud Audio
4th & 5th Grade Reading Flipbooks
Theme Activities – Printable and Digital Versions
Inference Activities – Printable and Digital Versions