Digital math activities can be so much more than just entering an answer in a text box. In fact, digital math activities can be "hands-on" just like math centers. This post will share one of my new favorite digital math activities: Mystery Pictures (with free basic multiplication practice ones to use right away)!
About the Digital Math Mystery Image Activities
To complete this digital math activity, the students will solve problems to reveal a mystery picture.
They will answer a math problem, find the answer, and then move the correct answer tile to cover the problem.
When they are finished, their tiles should reveal a complete picture. This will allow them to then confirm or fix their answers.
Note: The free ones I currently have ready are for practicing basic multiplication facts, but I hope to create more for other skills in the future.
There are two versions included in the free download:
Version 1 – no extra solution tiles. This is 100% self-checking.
Version 2 – includes 4 extra solution tiles. This version should still be self-checking because I manipulated the extra pieces by turning them. However, I can't test out every possible combination that a student might do, so be aware of that.
Use both versions (as a way to differentiate) by making two copies of the activity. For one copy, delete version 2 and name it Version 1. For the other, delete version 1, and name it Version 2. Then assign them as needed to your students.
Using the Digital Math Mystery Image Activities
These digital math mystery images can be used for the following activities:
Technology math centers
Homework
Early Finishers
Morning WarmUps
Digital Distance Learning
Download Free Digital Math Mystery Picture Activities Here
Click here or on the image shown to download the free digital math mystery pictures for basic multiplication (with a summer theme). I hope to create more in the future so stay tuned!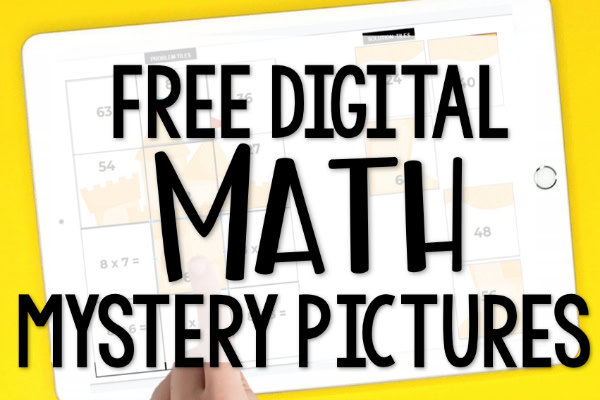 Assigning in Google Slides
To read a detailed post about how to assign these free digital math activities in Google Slides, click here.
Want More Digital Math Centers and Activities?