One topic I look forward to teaching during ELA each year is figurative language. It is such a fun concept that my students always seem to enjoy. Even though it is enjoyable, the different types of figurative language can be tricky for students to keep straight, especially students who are English Language Learners. This post will share a free set of figurative language posters that students (and you) can use as a reference tool when practicing types of figurative language.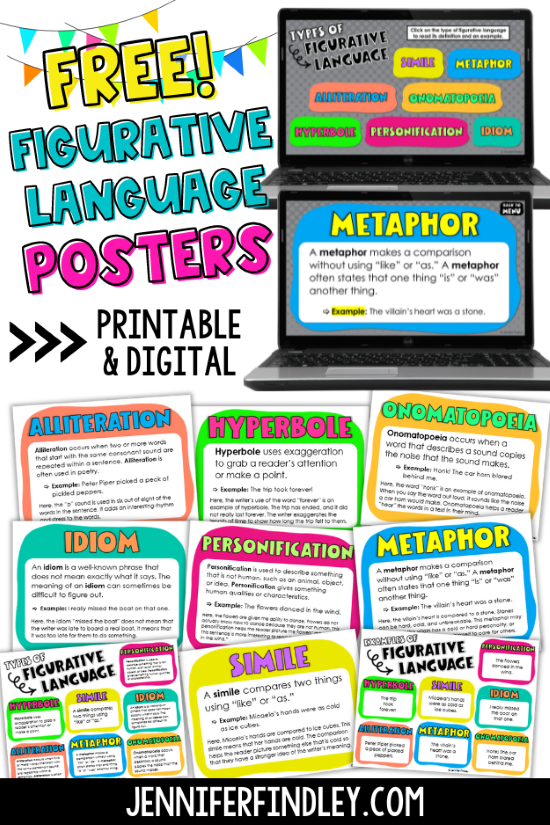 Teaching and Reviewing Types of Figurative Language
Use Videos to Introduce and Review
Whether you're introducing figurative language to your students or reviewing each of the types, songs and videos are engaging instructional tools to use in your lessons. Check out this post of videos to use for teaching and reviewing figurative language!
Use Read Alouds and Mentor Texts with Figurative Language
Including read alouds and mentor texts in your lessons can give students authentic examples of how authors use figurative language to enhance the story they're telling. Click here to read this post for some ideas of read alouds to use in your classroom.
About the Free Figurative Language Posters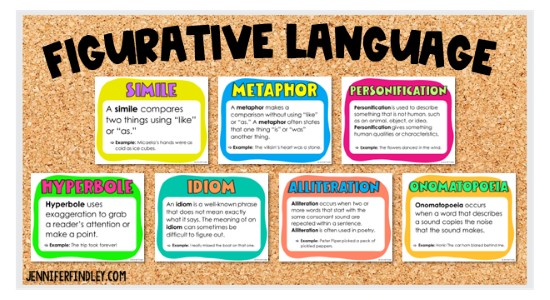 The types of figurative language included in this free poster set are:
simile
metaphor
personification
hyperbole
idiom
alliteration
onomatopoeia
About the Posters
There are several different posters included to use for displaying around your room or as a reference tool for your students.
1. There are two posters that review all seven types of figurative language. One poster includes definitions of each type and the other includes examples. These are great to laminate or place in page protectors and use as a reference during small group instruction or even reading centers.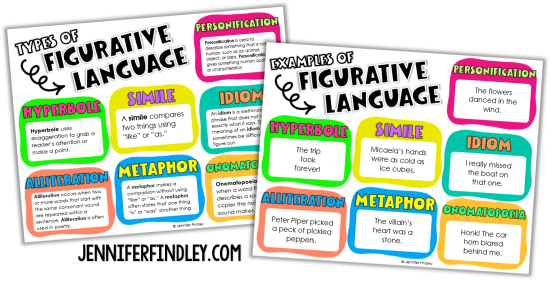 2. There are also posters that focus on each type of the 7 types of figurative language individually. Each type of figurative language has two versions: one with a definition, example, and explanation and another with a definition and example. These posters can be posted in the classroom as a reference or printed at a smaller size to fit in your students' notebooks.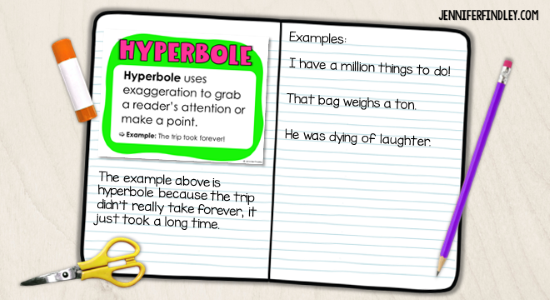 3. There are also headings included for each type of figurative language. These are great to use to create a display where you post student examples of each type of figurative language or examples found in read alouds.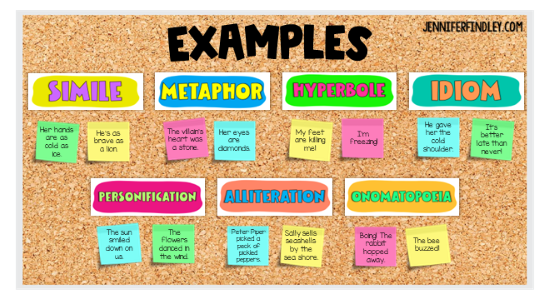 4. This set also has printable cheat sheets outlining the 7 types of figurative language with definitions, examples, and detailed explanations. There is also a second version of the cheat sheet without explanations included for students to complete. Either one can become a reference sheet for your students' ELA notebooks.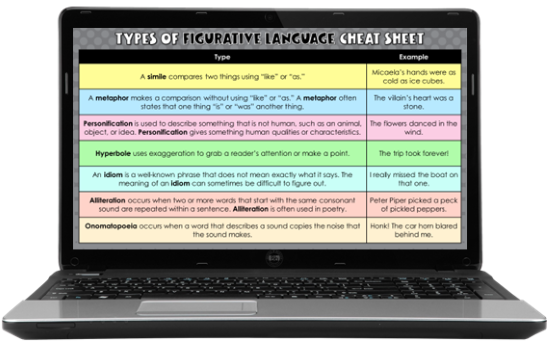 About the Digital Figurative Language Posters
Included in the PDF download are also digital versions of the posters and cheat sheet in Google Slides. The digital posters match the printables, but have been redesigned for Google Slides to use as an interactive reference tool with an interactive menu included for simple navigation to the different digital posters.
The slides can easily be shared through Google Classroom or projected on your board in your classroom so your whole class can see them easily.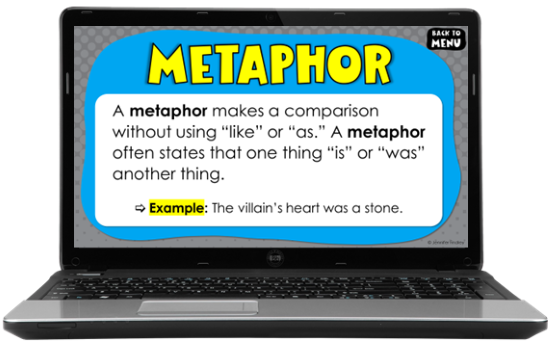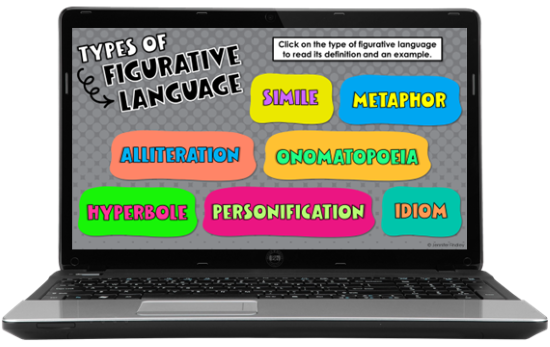 Ways to Use the Figurative Language Posters
Display the posters on a bulletin board as you are introducing each type (or reviewing them)
Post one specific type of figurative language on a focus board and have students add sticky notes of examples
Print the posters at a smaller size and add to students' notebooks or to create a smaller set of reference posters
Display headings on a bulletin board and have students add examples
Keep the posters at your small group instruction table to use as needed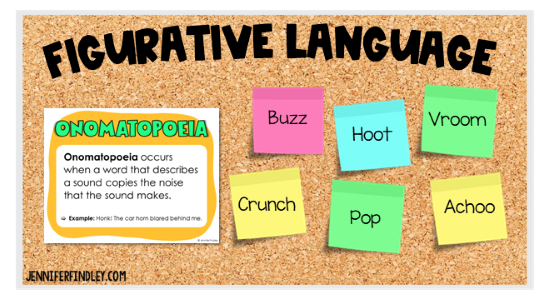 Get the FREE Figurative Language Posters!
To get these free figurative language posters, simply click here or on the image below. In the download, you will find a PDF containing the printable version. A digital access link is on page 4 of the PDF.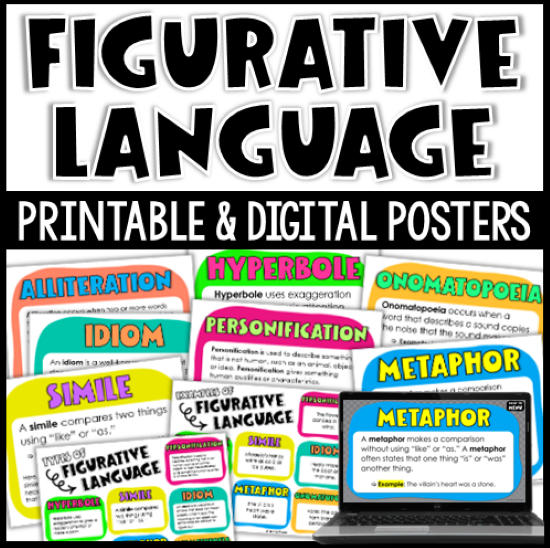 Need Resources and Activities for Teaching Figurative Language?