Organization is honestly not my strength as a teacher, but I still try every day to be better at it. One area that I do feel that I have pretty well-organized is my guided math binder. In the past, I have shared some of the forms that I use in my guided math binder on separate posts but I am finally compiling them (and a few others) into one post and one convenient (and free) download.
Amazon affiliate links included if you wish to purchase the binder tabs mentioned on this post.
Need a guided reading binder, too? Click here to check out that post.
About the Guided Math Binder
My guided math binder includes all of my plans, data tracking and so much more. I use the extended tabs (click here to see them on Amazon) so I can use page protectors as needed and easily still see the tabs.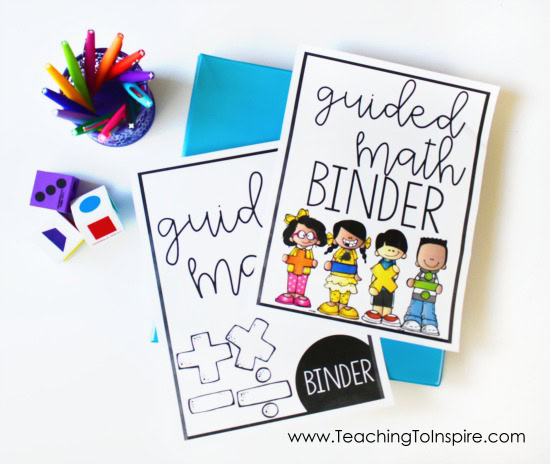 I use 8 tabs in my guided math binder, but you could definitely combine some of them or even do away with some of the sections to best fit your needs. My sections are:
Groups
Planning
Data Tracking
Conferences
Fact Fluency
Student Data
Resources
Blank Forms
Let's take a look at each section of my binder.
Guided Math Groups
The first section in my guided math binder is where I keep my grouping forms and the data that helps me group my students. Click here to read a detailed post about the different ways to group your students.
Planning
My second section includes all.the.planning forms for my groups and my centers. I have daily, weekly, monthly, and even yearly forms that I use. I keep the forms very simple, so I can easily handwrite my plans in the day before (while analyzing exit slips or anecdotal notes). Click here to see a detailed blog post about planning for small groups during guided math instruction.
Data Tracking
This section is for all of my data tracking. I keep track of data from pre-assessments, weekly assessments, small group instruction, exit slips, and quarterly assessments in this section. To read more about data tracking during guided math, click here.
Conferences
In this section, I keep my conference calendar. This is simply a printed out monthly calendar where I write the names of the students I plan to conference with that week. I write all of the names in the Sunday section and then write their name in the actual day after I conference. This allows me to carry over any students to the next week if I run out of time. I keep my actual conference forms in the student data section.
Fact Fluency
Fact fluency is still such a huge area of concern even in 5th grade, so I keep a separate section just to track my students' fact fluency. I give a pre-test at the beginning of the year and bi-weekly quizzes. I use a simple spreadsheet to keep track of which facts my students have mastered. This allows me to plan fluency centers for specific groups and teach specific small group lessons on facts.
Student Data
This section of my guided math binder is by far the largest section. Within this tab, I have numbered tabs, a tab for each student. I keep example work, specific conference forms, and anecdotal notes for each student in this section.
Resources and Blank Forms
The final sections are pretty self-explanatory. I keep masters of my go-to resources and posters that I use or refer to in groups when my students need a quick reminder. One of the resources that I pull from regularly for this section of my guided math binder are my 5th grade math posters. I have one poster per standard and they are perfect for a quick re-teach or review of a skill.
Click here to see the 5th Grade Math Posters.
And finally, the blank forms section houses a master for each of the forms I use on a regular basis.
Download All of the Guided Math Binder Printables
Click here to download the forms shown AND so many more to help you plan and organize your own guided math binder. I have included more forms than you will use to allow you to pick and choose what will work best for you and your students. **Due to fonts and graphics used, the forms are not editable.**
Need Guided Math Activities and Centers?
Want more tips for guided math instruction? Click here to see my collection of posts all about guided math and math centers.