Having ready-made I Can Statements can help speed up your lesson planning and prep-time. Grab FREE 4th Grade Math I Can Statements (based on the common core standards) to help enhance your math instruction and save you time.
Need 4th Grade Literacy I Can Statements? Click here!
About the Math I Can Statements
The Math I Can Statements are aligned to the 4th grade math common core standards. Each standard has at least one I Can Statement with many having more than one to meet all of the needs of the standard.
Each page contains:
A Title that is 1-3 Words/Phrases and Summarizes the Skill
The I Can Statement (In Kid-Friendly Language)
The Standard Number and Standard
Using the I Can Statements
Here are some ideas for using these math "I Can Statements" in your classroom.
1. Display the statements as part of your objective or learning board.
2. Use the statements to guide students as they self-assess. I like to refer back to the I Can Statement and have my students reflect on how they are doing with the skill.
3. Place the I Can Statements in math centers. This will help your students know exactly what math skill(s) they are practicing in each center.
4. Post during small group instruction to guide your re-teaching or extension of math skills.
Organizing and Storing the I Can Statements
The I Can Statements can be stored in file folders or binders. I prefer to store them in binders inside page protectors. This keeps them from getting wrinkled or lost and I can easily grab the statement I need (and then place it back in its spot when I am finished with it).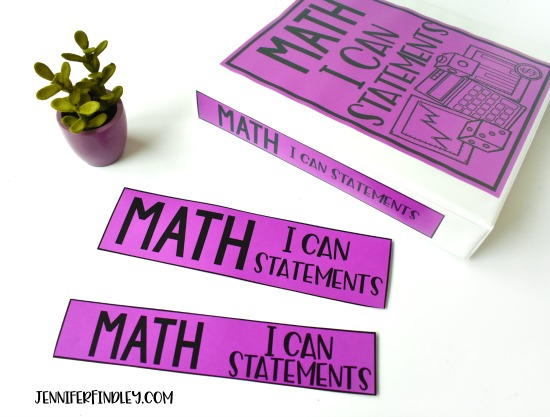 Click here to grab the FREE binder covers and spines shown.
Download the FREE 4th Grade I Can Statements for Math Here
Click here or on the image shown to grab the 4th Grade Math I Can Statements for FREE! You will find a link to access an editable digital version via Google Slides on page 2.
More Teaching Math Blog Posts
How I Teach Math in 5th Grade (Very Applicable to Teaching 4th Grade Math)
Complete Collection of Guided Math Blog Posts and Articles
Alternatives to Whole Group Math that Are Not Math Centers
Planning for Small Group Math Instruction –> This is actually the first post in a 4-part series all about teaching small group math.
Recommended Resources for 4th Grade Math