Text structure is one of those reading skills that is really powerful for helping students understand texts and even become stronger informational writers. But it is not always an easy skill for our students to master (and especially at the rigor required). This post will share a few free text structure activities and resources to help you teach this tricky but important reading skill to your 4th and 5th graders.
Free Text Structure Bookmark
Use this free bookmark to help your students remember the different nonfiction text structures and keep the definitions and purposes of each straight. Simply print the bookmarks on card stock, cut, and pass out. The students can use these during and after your text structure unit to help them remember the types of text structures.
The bookmark includes a quick definition of text structure, the five text structures and their definitions in a table format, and a quick and easy organizer that the students can reproduce on notebook paper or a sticky note to keep track of the text structures in books they read.
Click here or on the image below to download this free bookmark and the other text structure resources.
Free Text Structure Sort
This text structure activity is perfect for remediation for students who struggle or as an introductory activity to the skill. For this activity, the students sort cards based on which text structure the text on the cards is referring to.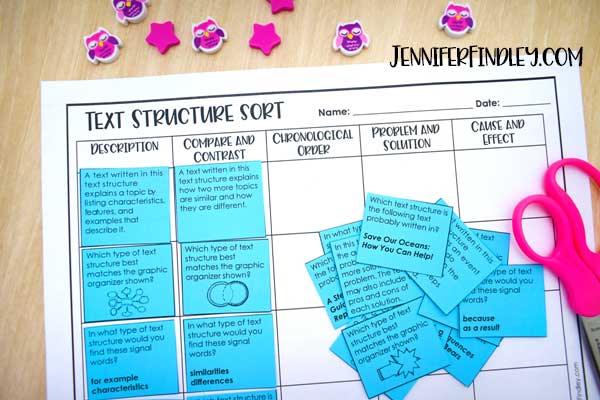 The cards include:
The definition of the text structure
An example graphic organizer that can be used to organize details from texts written in that text structure
A few key words often used in texts that are written in that text structure
Example titles that could be written in a specific text structure
This free text structure is also available with the other free downloads in the section titled "Download the Free Text Structure Activities Here".
Free Text Structure Puzzles
I love making reading practice hands-on and these text structure puzzles are a perfect way to do this.
To complete the activity, the students match puzzle pieces by:
Matching a given text with the text structure it is written in
Matching the text structure definition with the correct text structure name
These reading puzzles make excellent reading centers or even a small group instruction activity. For small group instruction, I like making two copies and splitting my small group up further into two groups. Then each smaller group works together to match their puzzles. This allows more students to participate and keeps students from "hiding out" and letting other students do all of the reading and work.
For more reading puzzles for text structures and other reading skills for 4th and 5th grade, click here!
Text Structure Graphic Organizers or Mats
Once students understand what text structure is and can identify the structure used by an author, it is time to dig deeper with the skill and increase the rigor.
Here are some ways to take the skill further (which skills you choose to go deeper with will depend on your students, your state standards, and any testing requirements):
Have students connect the main idea of a text with the text structure (exploring if and why that text structure is the best to organize and convey the main idea)
Have students use the text structure as a way to organize their summaries of the text details
Require students to identify the text structure and then defend it using two types of evidence (types of details shared and keywords used by the author)
Have students read multiple texts with the same overall topic but different text structures and compare and contrast the texts and the details (I use the texts in the my Text Structure Resource for this purpose.)
One easy way to explore these more rigorous skills is to pair graphic organizers with texts written using specific text structures. I use the texts from my text structures teaching resource – it includes paired texts and also texts of varying lengths to help me differentiate my instruction and assignments.
There are a few different graphic organizers included (link to download in the section titled "Download the Free Text Structure Activities Here"). Choose the ones that work best for your students, your standards, or use them all to differentiate or scaffold your instruction and practice.
The graphic organizers can be used with page protectors/dry-erase markers, as traditional graphic organizers, or with post-it-notes. I love printing them on colored cardstock, laminating them, and then using them over and over with expo markers or sticky notes. The organizers can be paired with your students' independent reading books, guided reading texts, read alouds, articles, sections from your social studies/science textbooks, or texts written specifically for practicing text structure.
Tracking the Text Structures Printable and Booklet
The next resource for text structure is simple but can be pretty powerful for student learning. Our goal as teachers is to teach our students skills and strategies that they can then apply to any book or text they read. These "tracking" printables help you do this easily by having the students track and record the text structure of the texts they read.
There are two versions included:
Printable Version
This is a simple one-page printable in a table format.
Booklet Version
The booklet version allows you to make a small booklet for your students. This makes it a bit more engaging. Just copy as many of the second page as you need (one page for each text you want the students to read). I love using the booklet with the texts in my Text Structure Resource. I make student copies of the booklet, small group sets of the passages, and I have an instant rigorous center that my students actually enjoy!
Either version can be used in reading centers or stations, in independent reading to track the text structure of books the students read, or during whole class or small group reading of books and articles. They can also be used to track the text structure found in textbooks and science and social studies content articles. 
Download the Free Text Structure Activities Here
Click here or on the image shown below to download the free text structure activities! These are perfect for 4th and 5th grade students.
Recommended Text Structures Resource
If you are tired of searching for activities, resources, and passages to teach text structure to your students, I highly recommend checking out my Text Structures Resource. It includes so many resources for teaching and practicing text structure that you likely won't even be able to use them all (which is not a bad problem to have!) There are teaching posters, graphic organizers, so many texts to use (individual and paired), and small group activities. It is truly a one-stop shop for text structure activities!
Shop This Post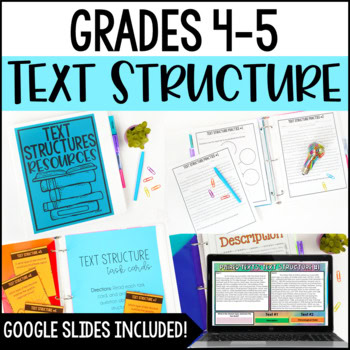 Text Structures Resources & Activities
Everything you need to teach text structures-- posters, graphic organizers, texts (short texts, long texts, paired texts), and small group activities, including task cards!
More Text Structure Blog Posts and Freebies
Read Alouds and Mentor Texts for Teaching Informational Text Structures
Reading Sorts – If you like the text structure sort shared on this page, make sure you check out these reading sorts as well. There is another text structure sort on this post, but this one requires the students to read and sort texts based on the text structure used.