Groundhog Day isn't the first holiday I generally think of when the month of February rolls around. However, I welcome any chance I can get to engage my students and spice up my classroom activities to give my students a break from our day-to-day routine (especially in the winter months). Whether or not Punxsutawney Phil sees his shadow, these free Groundhog Day activities are sure to add a bit of engagement to your classroom on the 2nd day of February.

This post contains an Amazon affiliate link if you would like to purchase the book mentioned in this post.
About the Free Groundhog Day Activities
Groundhog Day Writing Prompts
The Groundhog Day activities includes three writing prompts for your students.
What is Your Prediction? Students write a response predicting whether or not they think the groundhog will see their shadow.
Would you Rather? Students write an opinion piece supporting their reasoning for choosing if they would prefer the groundhog sees his shadow or not.
Groundhog Day – Students write a fictional narrative related to Groundhog Day.

Groundhog Day Math Activities
Of course, you can't do Groundhog Day activities without doing a class prediction chart. Make a class tally chart and then have your students represent the information from the class tally chart into the chart on the printable. You could up the rigor on this by having students draw conclusions based on the data and create questions to answer using the data.

Another math activity has students practicing fractions of a whole number. The students use the key at the bottom, do a little math, and then color in the groundhogs correctly. (Note: I have also included a primary version of this where the students color based on the specific number.)

Groundhog Day Digital Activities
There are also digital versions of the Groundhog Day activities. They can be assigned on Google Classroom for students to complete independently or in partners or it can be projected for a whole class activity.
For a step-by-step guide to assigning Google Slides in Google Classroom, click here.
Grab the Free Groundhog Day Activities Here
To get these free Groundhog Day activities, simply click here or on the "download here" button below. In the download, you will find a PDF containing the printable version. Digital access links are on page 3 of the PDF. 
Recommended Groundhog Day Read Aloud
The free Groundhog Day activities can be paired with the book Groundhog Day! by Gail Gibbons. This is my go-to read aloud for Groundhog Day because it mixes a history of the tradition with real facts and information about groundhogs. Just a warning that this book does spoil the fun and say that the celebration with Punxsutawney Phil is fake. However, I think fifth graders like getting that secret insight. Click below to check the book out on Amazon (affiliate link).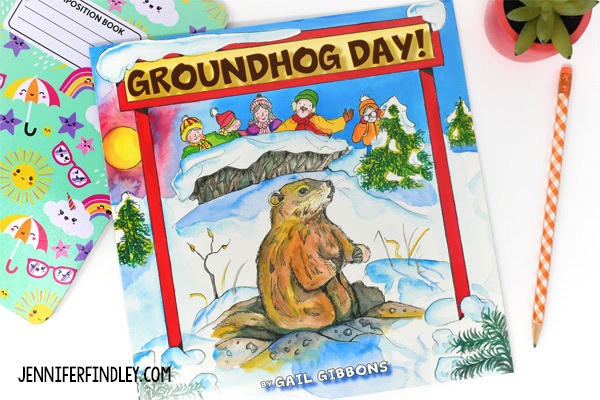 Another great thing about this book is that it works well with a writing prompt about whether or not the students would prefer the groundhog see his shadow or not. Students can pull the details from the read-aloud into their opinion essay. What a great way to sneak some evidence-based writing into your lesson!
Do you have any favorite Groundhog Day activities that you do with your students? If not, are you looking forward to doing any of these free activities with them?
Want More February Resources and Activities?
Click HERE to check out my favorite Valentine's Day activities and resources.