Each year, I  find that I have such a huge divide in my classroom as far as mastering 5th grade math skills: students who get it and could teach it, students who could get it from some quality (and sometimes additional) instruction, and students that need major intervention and cannot focus during whole group because of attention or because of gaps in knowledge and understanding. Doing small group instruction + guided math centers 2-3x a week has really helped me provide the kind of instruction that ALL of my students need. This post will share a peek into what my guided math rotations/centers look like in 5th grade with several free math centers. (Also, make sure you check out the huge lists of additional blog posts to check out at the end of this post).
Guided Math Mini-Lesson:
I start each Guided Math lesson with a 15-20 minute mini-lesson. This mini-lesson is typically reviewing or extending the skill(s) the students will be working on that day during all or some of their centers. After the mini-lesson, I quickly go over the center requirements for the day. I am able to quickly go over the requirements because I keep my math centers very consistent. I want the focus of our guided math time to be the math they are doing and not learning a new game or center each week.
Guided Math Centers:
1.) Teacher Time
For Teacher Time, the students come to my back table where I teach a very focused lesson on a new skill, reteach an old skill, or extend a skill. Here are some of the materials I use.
My Differentiated Math Skills Sheets allow me to focus on specific skills at different levels. I can work on the same skill with each of my groups but at their level. The best part about these sheet is that each level is 100% different from the previous and next level (three levels in all) so my lower group can progress through each level.
Click on your grade level to grab FREE samples of these guided math differentiated skills sheets to try out.
4th Grade Math Differentiated Skill Sheets
5th Grade Math Differentiated Skill Sheets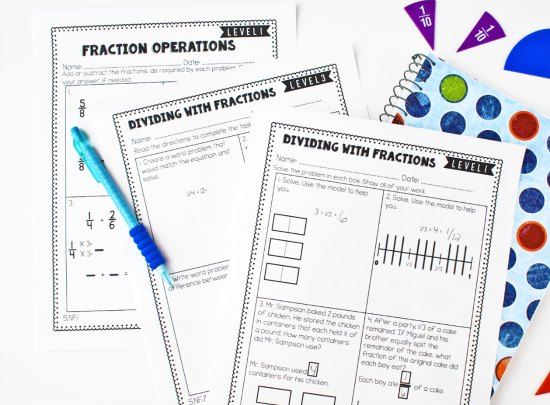 Teacher time is the perfect opportunity to focus on word problems and math tasks that are rigorous and on grade-level. You can provide the necessary scaffolding and support while the students are working with you. You can vary the support as needed, depending on your groups.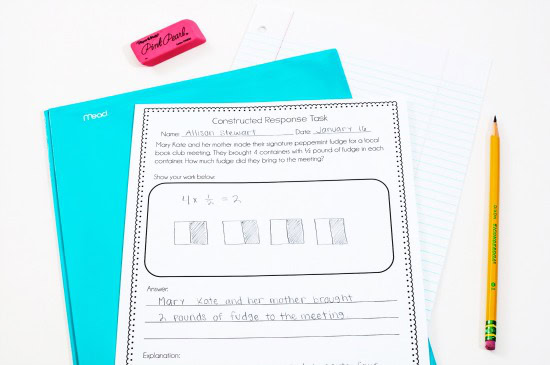 If you could like to purchase constructed response tasks aligned to the common core standards, click on your grade level below.
4th Grade Math Constructed Response Tasks
5th Grade Math Constructed Response Tasks
2.) Paper and Pencil Center
Just as the name of the center indicates, this center is all about putting that pencil to the paper and practicing math skills. I do try to make it more engaging than just regular worksheets by having my students complete Mini Math Review Booklets , Error Analysis Tasks or one of my "Of the Day Printables".
The mini-review booklets are a huge hit with my students. They love the novelty of them and I love how many skills they can review. Each page of the booklet focuses on a different skill and only has about 4-6 practice problems. This is the perfect amount to review without overdoing it. I can also use these math booklets to see who needs re-teaching on specific skills. The students bring their math booklets to the Teacher Time center as well. Sometimes I use the math booklets to complete individual math conferences with students during Teacher Time. Click here to see the Math Review Booklets in my TpT store.
Error analysis math tasks have always been a huge hit with my students. These are also perfect to place in a paper and pencil center. I usually place 2-3 printables in the center and that is plenty to keep them busy during our 20 minute rotations. Click here to grab NINE free math error analysis tasks for 3rd-5th grade.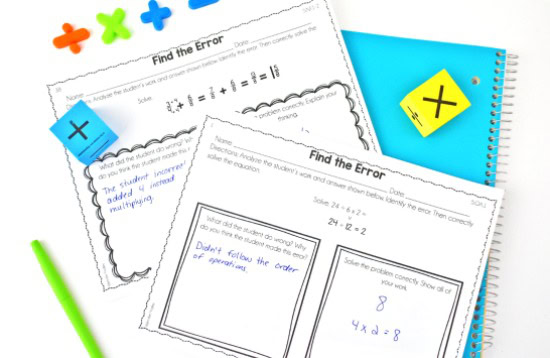 To purchase full sets of Error Analysis Math Tasks, click here to see them in my store.
My "Of the Day" Printables are perfect for guided math centers (or math warm-ups) because of the consistent format of the printables. Since guided math centers are so short (20 minutes each), the focus of the students' work time really needs to be on the math. The consistent format of these allow for that- and believe it or not, the students really enjoy completing these. The consistency provides a scaffold and confidence boost for struggling students.
3.) Game Center
This center is always one of my Roll and Answer Math Centers. The skill changes out weekly or even daily depending on the week. However, the directions are always the same. This allows the students to focus on the math involved and not learning a new game or trying to play a complicated game. To read moare about my roll and answer games click here. Because I have 3rd-5th grade games made, I can easily differentiate the games as needed. They are self checking, so the students are able to monitor their learning.
Click here to grab some FREE roll and answer games to try out!
4.) Task Card Center
This center is where the students work on the skill I taught at teacher time or a previously learned skill via Math Task Cards.  The task cards are also self checking, so the students can check their answers and correct them as needed. I have bundled sets available for 4th grade (click here) and 5th grade (click here) so you can have a task card set for each standard that you teach. This will allow you to keep your task card center consistent throughout the year.
5.) Technology Center:
For our technology center, we do one of the following:
Vmathlive (paid subscription from the school): The students work through math tasks I assign them and at their own pace.
Xtramth: The students practice their math facts, again at their own pace.
Ipad App: Splashmath (paid app): We have a few tablets also, so usually half of the students are at the desktop computers (we are not 1:1) and the others are on the tablets "playing" Splashmath, which they love!1.
6.) Wild Card Center
I do like to keep my centers very consistent but I like to add in a new engaging math center. I typically call this a wild card center but it could also be called Teacher Choice. For this math center, my students complete math centers that don't fit into the other math center types above. These typically come from my Standards Based Math Center Bundle.  These can be math puzzles, spinner centers, mad lib style word problems, etc.
What about Early Finishers?
I typically don't have to worry about this because the math centers and activities include more than enough work to keep them busy. However, I do use math choice boards for those occasional early finishers. The math choice boards allow the students to choose how they want to practice a skill/standard and they really respond well to that.
Click here to grab some FREE math choice boards to try out!
Click here to see the full sets of math choice boards (available for grades 3-5).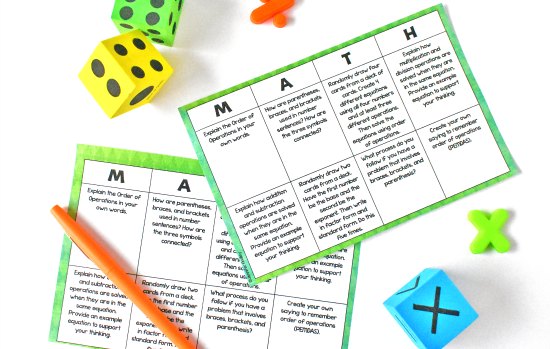 Random Guided Math Organization and Management:
Since I teach 5th grade, I don't use any kind of board or workstation chart. Instead, I organize the centers in clockwise fashion around the room to make it super easy to transition. The students learned the rotation after just two days.
We only do rotations twice a week (sometimes three – but that is usually choice centers), the students rotate through the six math centers in those two days. They do three one day and three the next.
I *always* meet with my two lower groups first, with my lowest group being the very first one I meet with. That way I can provide them immediate instruction before they begin working independently. Also, I sometimes will start the paper and pencil center with them to get them started. And I will 90% of the time give them a differentiated 4th grade roll and answer game. Click here to read more tips about how I support my students with math centers.
Other Helpful Guided Math Center Blog Posts
These posts are super helpful if you are just starting out and would like more detailed information. Just click on the title to be taken to the blog post:
Getting Started with Math Centers
How to Launch Guided Math Centers
FREE Math Center Starter Packs for Launching Guided Math Centers
Guided Math Procedures to Teach
Scheduling Your Math Block for Guided Math Centers
My Top Tip for Making Math Centers Work for Me
7 Ways to Support Students with Math Centers
Teaching Math with Small Groups
Higher Level Math Centers for Upper Elementary
I hope this gives you some useful information to help you plan your Guided Math Centers, and some new free math activities to try out! Click here if you want to grab even more FREE math centers!