Math centers are a huge part of my math instruction, and over the years I have had my students complete a lot of different math centers. However, in the past three years as I become more comfortable with math centers, I have begun incorporating at least one higher level math center as part of my normal math center rotations. To see what I typically have in my guided math centers, click here.
Today I want to share with you six of my favorite higher level math centers for fourth and fifth grade students. These math centers are all relatively low to no prep and really get your students thinking about the math they are completing.
1. Target Number Center
Having students create math equations for a target number is a perfect higher level thinking center that you can use from the very beginning of the year. I have a few variations of the target number mat that I like to use. I keep the directions generic enough so I can differentiate for my students or differentiate for the time of the year.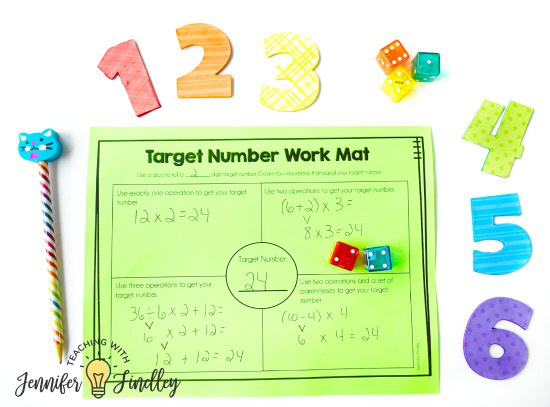 At the beginning of the year when the students are just getting used to the center and becoming proficient with it, I like to just have the target number be a one digit number (which the students roll a dice to create). However as the year progresses, I increase the target number to two digit, three digits, or even four digit numbers for the entire class and for specific students as needed.
I also have a few variations of the different equations the students have to create to equal the target number. Sometimes I do very open-ended equations and allow students to choose, sometimes I am more specific about having a required operation or operations, and sometimes I even require them to use parentheses and a variety of specific operations in their equations.
Click here to download the free math target number mats to use with your students.
2. Error Analysis Tasks
One of my go-to higher-level math centers for my students to complete is error analysis tasks. Last year, I created a set of error analysis task for each standard, with many of the standards having more than one task (You can see these in my TpT store by clicking here). After my students have become proficient in the standard or skill, I like to place an error analysis math task in their center the following week.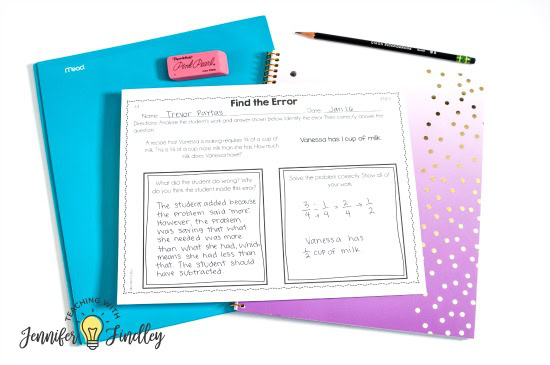 I do wait until the students have demonstrated mastery of the skills before requiring them to solve an error analysis task. I have found that they are much more successful with finding errors once they have achieved a level of mastery themselves with the skill. If the students have just been introduced to a skill or concept, they may not have as much success with identifying and correcting errors.
To read more about how you can implement math error tasks in your classroom and grab several free error analysis math tasks, click here.
3. Journal Prompts
Having your students write about math is also a great low prep higher-level thinking center to place in your math rotations. I like to use journal questions that require my students to really think in a different way than they normally have about math. I have a set (FREE if you join my email list) of mathematical practices journal prompts that I like to use throughout the year. I like these prompts because they require the students to think creatively and strategically about math and their thinking about math. These journal prompts I use are specially aligned to the Common Core Math Practices standards for grades 3-5.
You can grab the Math Practice Journal Prompts I use for FREE when you join my email list by entering your information below. The prompts will be emailed to you.
FREE Math Practice Standards Prompts
Join my email list to get the Mathematical Practice Journal Prompts for Grades 3-5 for FREE!
Click here if you would like grade-level specific Math Journal Prompts for 5th Grade.
4. Choice Boards
Choice boards are a perfect way to incorporate both higher level thinking and differentiation into your math centers. You could allow your students to have complete choice over the tasks they complete or you could require 1-2 tasks that are higher level and then allow the students to choose the rest. I prefer choice boards that incorporate both computational mastery and higher level thinking math skills.
Want to learn more about choice boards?
5. Create a Word Problem
This is definitely a favorite math center of mine because it is super easy to prep and differentiate. In this center, students choose equations and create word problems to match the equations. It takes another level of thinking for them to be able to create a word problem for an equation, especially word problems that require multiplying and dividing fractions.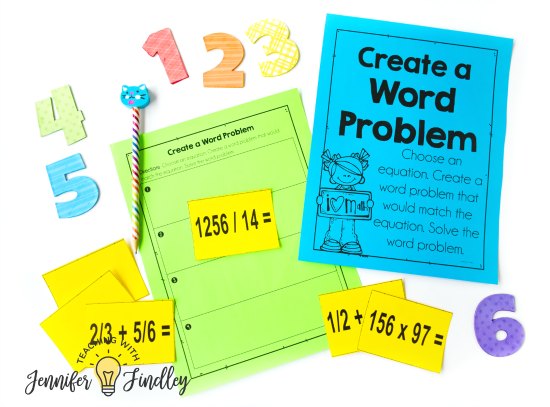 To prep this center, all you need are index cards with different equations that match whatever skills your students have been working on. Use this free recording sheet to have the students record their word problems on. I have also included a directions cover page and some cards for you to print on colored paper.
Click here to download the Create a Word Problem math center for free.
6. Constructed Response Tasks
Constructed response math tasks are a huge part of high states testing and a great go-to higher level math center that is very low prep. These tasks are also great for promoting higher level thinking as the students are often required to explain and justify their answers and their thinking.
Because of all this rigor that makes up these tasks, they are perfect for higher level thinking math centers. When I do use these in centers, I typically only require 1-2 tasks in the entire 20 minute center. This gives the students plenty of time to really do the math task justice and answer and explain it fully. Click here to see constructed response math tasks in my TpT store.
Need MORE Math Centers and Activities?
Save
Save