Setting expectations and norms for math instruction and math class time is so important to set your class up for success. This post will share my go-to math anchor charts to start the year. These are the math charts that I use to set the tone and introduce a lot of my procedures expectations in math. In fact, these charts are the basis for my math mini-lessons the first week of school. If you want your students to be successful with math instruction, you have to clearly lay out the expectations from the beginning of the year. These charts, hopefully, do just that. They also hang in the room, providing a written reminder all year long.
Math Anchor Chart 1: Create a chart that clearly lists your expectations for math centers or workstations.
The first math anchor chart I want to share with you is all about my math center expectations. We do math centers at least two times a week in my class. This is the time when I reteach and meet with struggling students. I also use this time to challenge and enrich.
Read more about my guided math instruction here
. I start the year off doing math centers after clearly going over the expectations with the students. The first week of math centers is all about ensuring the students meet the expectations and follow the procedures. When I meet with groups during this week, I assess the students on basic math facts, word problem understanding, and number sense.
For the math mini-lesson, we go over each math center expectation and talk about how to meet that expectation. We also discuss why each expectation is important. As the students participate in math centers, we refer back to the chart to make sure we have met those expectations. Depending on the group, we may do one center rotation then come back as a class to do a check up. During this check up, the students self assess and discuss whether or not they met the expectations.
We also talk about any roadblocks or problems with meeting these expectations during this checkup. If the group is doing well with the expectations, we do the checkup as a class after all the center rotations (typically 3-4).
Math Anchor Chart 2: Create a chart that helps your students see the importance of math notebooks and helps them take ownership of them.
The next math chart that I make helps the students take ownership of their
math notebooks
. This math chart is important because I want the students to understand what a great tool their
math notebooks
are and how using them will help them succeed in math. This allows them to have ownership of their notebook.
After generating a list of expectations with the students and finalizing them, I make an anchor chart like the one shown below to display in the classroom throughout the year.
Math Anchor Chart 3: Create a chart that explains how you expect the students to take care of and organize their math notebooks.
After helping the students realize the importance of their
math notebooks
, we move right into "Math Notebook Expectations". I keep the expectations simple but they are definitely important. As we read each expectation, we discuss why this is important and connect it back to the chart shown above.
Math Anchor Chart 4: Create a chart that helps your students become independent math problem solvers.
Finally, this last math anchor chart is one of my go-to charts that I refer to all year. From the beginning of the year, I like to set the expectation of working hard and get the students to buy in. I pose this question of the students: "What do mathematicians do when they are stuck on a math task?" Together, we brainstorm a list of possible responses. I have this list handy to help guide the students if they are stuck. This chart is a staple in my classroom after making it. When students are stuck on a math task, they are reminded to look at the chart to see what they should do next.
Again, I recommend making the chart with the students and then (if you wish) making a "prettier" version to display for the entire year.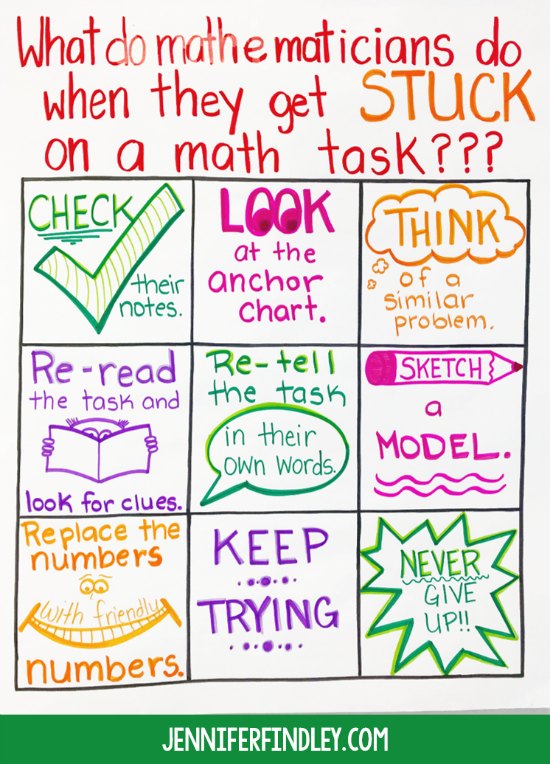 Those are my favorite math anchor charts to start the year on the right foot. What are your go-to math anchor charts that you make in those first weeks of school? Let me know in the comments!
Recommended Resources for Teaching 4th and 5th Grade Math