Math can be quite the polarizing subject for many students once they get in 4th and 5th grades. Some students love it and are confident, and some need a little (or a lot of) extra support and encouragement to engage with and enjoy math. It is so important that we get to know our students and their beliefs about math as soon as we can. These free digital math interest survey activities will help you get to know your students and their beliefs/opinions about math so you can use that to drive your instruction.
Note: A printable math interest survey can be found on this post.
These digital math surveys are available in Google Slides format. Click here to read more about assigning Google Slides through Google Classroom.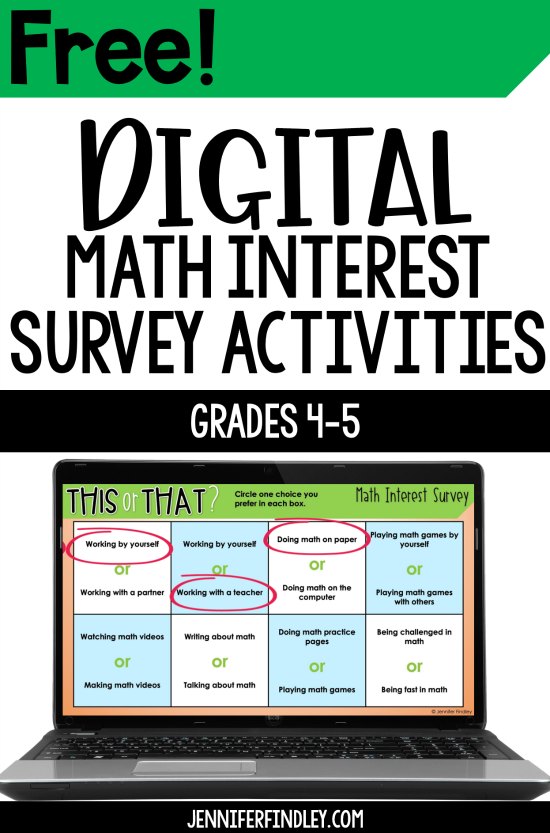 There are several different math survey activities included in this digital resource (which can be accessed using the link in the PDF found in the section titled Download the FREE Math Interest Survey and Activities Here).
You may choose to use one activity a day for the first week or so of school. Or you may pick and choose the activities that work best for your students and your specific needs. You will find there may be a slight overlap in some of the questions if you were to use all of the activities.
Agree or Disagree? Math Interest Sort
This math interest survey is one of my favorites. To complete this activity, the students sort statements about math based on whether they agree or disagree with them.
Example Statements:
I am a good math student.
I prefer working alone at math.
I like to practice math on paper.
I enjoy math class.
This or That? Reading Interest Activity
To complete this math interest activity, students use a digital "circle" to circle which they prefer from two choices.
Here are some examples:
Doing Math on Paper OR Doing Math on the Computer
Playing Math Games by Yourself OR Playing Math Games with Others
Math Goals
Get your students thinking about goals they have with this quick 3-question activity that gets the students reflecting on how they want to improve in math.
Math Habits
Learn a bit more about your students and their attitudes and habits with math with this quick 4-question slide.
Math Choices
This math interest survey is a bit more advanced because there are no choices. Keep that in mind when assigning to your students. It requires the students to reflect on math areas they enjoy and don't enjoy and why. Some students may struggle to generate areas without options or choices available.
Math Quick Responses
Get some quick data from your students with this non-threatening "Quick Responses" math survey activity. The students answer easy and quick questions to let you know even more details about their math preferences such as their favorite math topic, their favorite hands-on math tool, etc.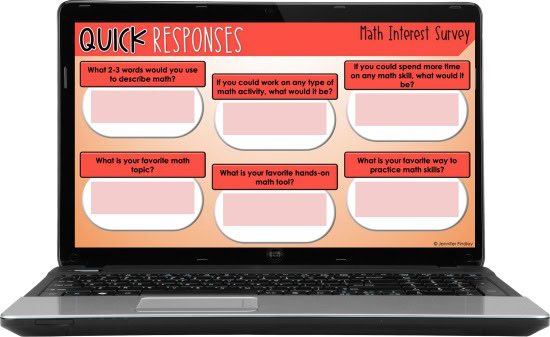 Finish the Sentence…Math Interest Activity
This math interest activity is similar to a quick write but with a math focus. The students finish math sentences such as "The most fun math activity I've ever done in math was…" and "A good math student…". This is another great way to get some insight into your students' mathematical thinking.
Ranking Math Skills
This math interest activity is definitely the most advanced but your students who like a challenge may enjoy this. To complete the activity, the students move the digital pieces to rank them in order of least interested to most interested. This is not an activity I would recommend sending all students independently unless you can teach them how to complete it.
Download the FREE Digital Math Interest Surveys & Activities Here
Click here or on the image shown to download a PDF with the link to copy the digital math surveys and activities to your Google Drive.
From there you can assign them to your students (Click here for a step-by-step guide for assigning in Google Classroom.)
Reading Interest Survey Activities
Click here to download digital reading interest survey activities similar to the math ones shown on this post.
Need More Back to School Digital Activities?
Need More Digital Math Activities?