Word work is an effective way to help students practice and work with words in engaging ways. But it can be difficult to find engaging and rigorous word work activities for 4th and 5th graders. Rainbow words and writing words in sentences are not the most exciting (or rigorous) ways to work with words. This post will share more details about what word work is, why it is important, and different word work activities that you can use to engage your students and help them build their spelling and vocabulary skills.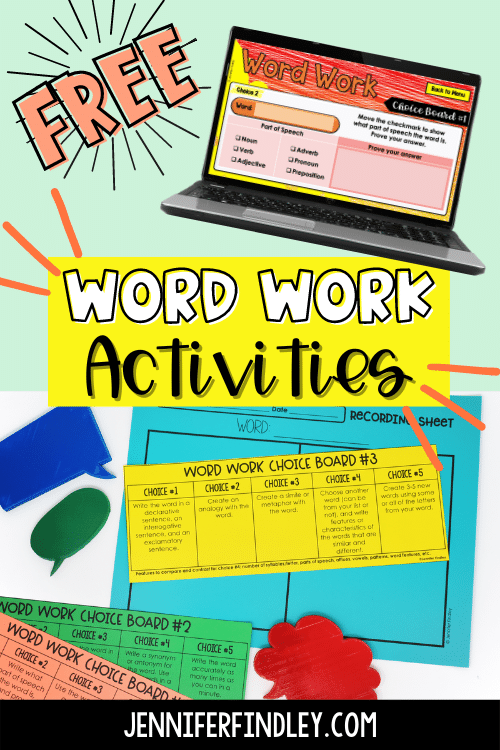 What is Word Work?
Word work is just like it sounds…. working with words. Word work is any activity that helps students learn, practice, and manipulate words.
During word work, students can work on a variety of skills involving words. Don't limit yourself to just spelling rules and patterns. Here are some example skills that move beyond just spelling:
Finding synonyms and antonyms
Finding connections between or among words
Building new words by adding, deleting, or changing parts of existing words
Determining the meaning of a word using context clues or word parts
Organizing words by categories
Identifying the root word or base word
Identifying prefixes or suffixes and how they impact words
Exploring homophones and their usage
Making sense of grammar rules that impact spelling or usage of words (plural rules, past tense rules, possessives)
Exploring specific phonic rules (blends, silent letters, etc.)
Why is Word Work Important?
There are so many reasons why word work is important to fit into your instruction. Here are just a few:
Word work helps students learn and remember new words, which increases their vocabulary.
It can help students understand how words function in sentences which can increase grammar and writing skills.
Students learn to read and spell words correctly (and in ways that are not just memorization).
It provides students with a chance to be creative and have fun with words.
Word Work Activities
Here are some word work activities that work with any word list or group of words that your students are learning.
1. Word Sorts
Word sorts are a great way to help students explore and categorize words. Students can sort words by their parts of speech, spelling patterns, or other connections.
There are two types of sorts: closed and open.
Closed Sorts- The teacher provides categories for students to use to sort the words.
Open Sorts – The students create the categories to sort the words. This allows them to think creatively and more critically about the words.
Sorts can be done independently or with partners. Students can also sort their words independently and then compare with partners after sorting.
2. Making Connections
Students can choose a target word from their word list and make connections to other words. To read more about this word work activity and see example connections students can make, click here.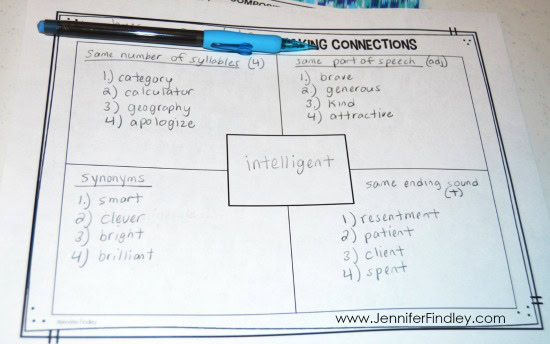 3. Put the Words to Use
Students can create unique sentences and stories that include their words. Make this more engaging by allowing students to use specific writing utensils or work with partners.
4. Creating New Words
Students can challenge themselves to make as many words as possible using only the letters of a target word from their word lists.
5. Building Words
Building words is a typical word work activity. Students can use physical or digital manipulatives to build their words and is a great word work activity for students who are below grade level readers.
6. Word Work Choice Boards
Word work choice boards are another great word work activity that allow students choice and ownership of the tasks they complete with their words.
Want a free set of word work choice boards?
These free word work choice boards (printable and digital) work with any list of words assigned to your students. There are also three boards which include differentiated word work activities and tasks. You can decide which level best meets the needs of your students or you can allow your students to choose the level they feel most comfortable with.
Here are some examples of the options on leveled choice boards:
Level 1:
Write what part of speech the word is, and prove your answer
Use the word in a unique sentence
Write a synonym or an antonym for the word
Level 2:
Does the word have multiple possible meanings? Write all of the possible meanings
Write another word that is the same part of speech as the word. Explain how both words are that part of speech.
Write the word accurately as many times as you can in a minute.
Level 3:
Write the word in a declarative sentence, an interrogative sentence, and an exclamatory sentence.
Create an analogy with the word.
Create 3-5 new words using some or all of the letters from your word.
Download the word work choice boards by clicking here or on the image below.
These word work choice boards can be used in literacy centers (using the printable or digital version) or you can project the digital choice board for a whole class activity.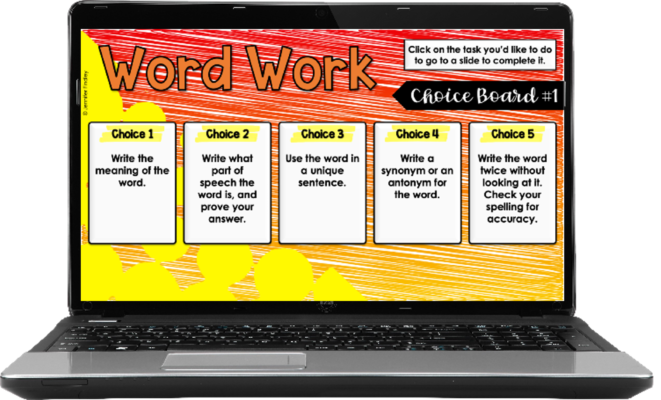 7. Word Work Jenga
Want to get really engaging with your word work activities? Try the Jenga version of the activities on the choice board. Read more and grab the directions for this activity here.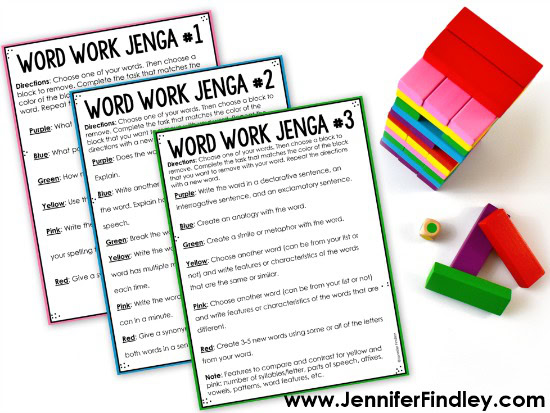 Want MORE Word Work Activities?
Word work stations or centers are a great opportunity to explore words and their usage to improve grammar and writing skills. Check out these Grammar of the Day resources and Grammar Sorts to incorporate grammar into your word work activities.