Fall is my favorite season! I love the cooler weather, the changing leaves, and even football season, well maybe just all the snacks. I really love incorporating fall activities into the classroom and especially fall science experiments.  This post shares a quick fall science experiment that is perfect for exploring and reviewing the scientific method.
Dissolving Pumpkins Fall Science Experiment: Supplies
Here are the supplies you will need. Note: The printables I used are labeled as "coke" versus "diet coke" but diet coke was all I had at the time.
Oil
Vinegar
Coke
Water
Candy corn pumpkins
Same size containers
Measuring cup
Labels for the containers
Dissolving Pumpkins Fall Science Experiment: Directions
We started off by measuring 1/2 of cup of liquid into each labeled container. While doing so we talked about the importance of having the same measurement of liquid in each container.
We placed lids on our containers but this is really not necessary. The whole experiment takes only about 5 minutes.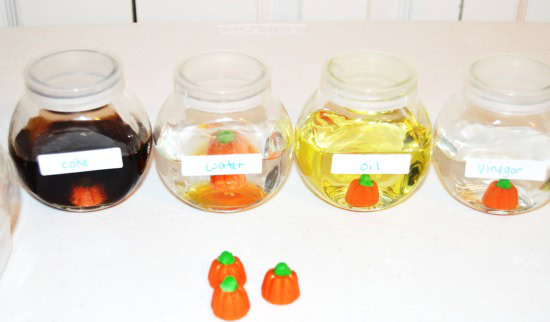 Almost immediately, the coke started dissolving the pumpkin. The pumpkin in the oil appeared untouched! I used a printable mat to place the pumpkins on while examining them. We removed the pumpkins after about five minutes, but you could also leave the pumpkins in the liquids until one of them was completely dissolved.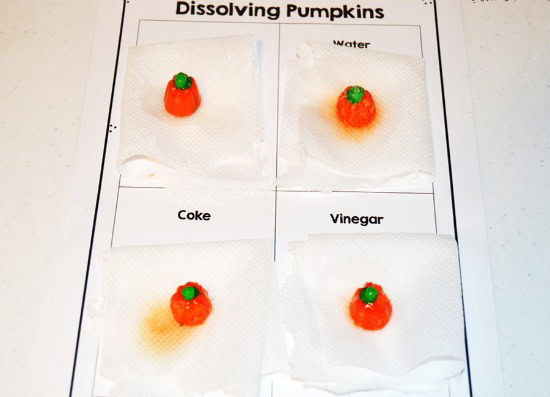 Free Dissolving Pumpkins Printables
In addition to the printable mat shown above, I also put together some recording sheets to help walk you and your students through the scientific method. Click here or on the image shown to grab the free printables for this fall science experiment.
This science experiment would work well in small groups or even in science centers at the teacher's table. Do you have a favorite fall science experiment that you use in your classroom?
MORE Fall and Halloween Activities
Fall Activities for Grades 4-5
Halloween Activities for Grades 4-5