As teachers, we know the importance of getting to know our students, their interests, learning styles, preferences, and families. Getting to know your students is important for building relationships, which leads to stronger classroom management and higher levels of engagement. Knowing your students also helps you create learning opportunities that even your most reluctant students will enjoy. However, starting a new school year with digital remote teaching makes this difficult. This post will share some digital activities to help you get to know your students.
Note: I created these with the intention of using them to get to know students from a teacher's perspective. However, you will find that some of these activities are great to collaborate and allow for peer-to-peer interaction if you wish.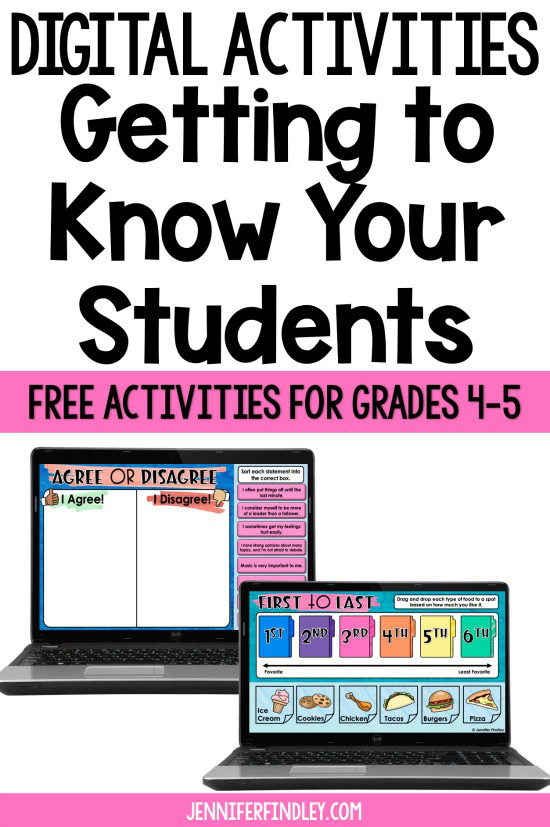 Getting to Know Your Students – First to Last Digital Activities
The first set of activities is called "First to Last". These activities present the students with a few choices, four to six, in a specific category.
The students are asked to rank the choices from least favorite to most favorite. The categories include types of food, activities/hobbies, school subjects, types of drinks, sports, and more.
You can use what you learn about your students to create learning opportunities that bring in common interests. For example, if you find that you have a group of students who chooses soccer as their most favorite sport, you can design a learning opportunity where they read about soccer and answer comprehension questions about soccer.
If you find that the majority of your class enjoys working with partners, this might be something that you try to include in your digital instruction.
If you find your students really enjoy art, you can try to incorporate some self-directed drawing.
Analyzing the results and looking for common trends will really allow you to create learning experiences to engage your students and also show them that you are interested in them, which will help build stronger relationships.
You can also use what you learn about your students to serve as incentives or motivation.
For example, you may have a student who really loves math, but they put reading as their least favorite (and as a result, they struggle with accountability in reading). You can use math to engage them in reading. You can have them read situations about math or read about mathematicians. You can even have a bonus activity that they can complete that has to do with math after they complete their reading activities.
Getting to Know Your Students – Agree or Disagree Digital Sorts
The next activity are "Agree or Disagree" sorts. These activities present the students with statements that they sort depending on whether they agree with them or whether they disagree with them.
This is another opportunity for you to get to know your students and their interests in a different format.
There are two sorts included. Use them both or pick the one that works best for grade level and students.
Some of the statements included are:
I enjoy being in busy crowded places.
I enjoy being in nature.
I like playing sports.
I have read a book for fun on more than one occasion.
I like it when my teacher calls on me during class.
I consider myself to be an organized person.
Music is very important to me.
I sometimes get my feelings hurt easily.
By sneaking in some of those really important questions such as, "I sometimes get my feelings hurt easily," with other questions like, "Music is important to me," you're making them feel safe to be honest. This will allow them to feel comfortable telling you more about their personality and interests. This will help you learn how to relate and connect to them in a digital environment.
Getting to Know Your Students – Discussion Questions
The next activity is pretty simple but another great way to get to know your students. This activity includes back to school reflection questions in two formats: Google Slides and Google Forms.
One format is a Google Slides version where the students type their answers on the slide with the question. This version is ideal if you want to send just a couple of questions out a day to your students. Or you could use the questions in a way to foster student interaction by posting a question on a discussion board (such as a Question type in Google Classroom). You could even use a video tool such as Flipgrid and have the students video their responses to you.
Another option for this activity is Google Forms. Google Forms will allow you to send the questions out to your students to complete in a way that will generate a spreadsheet. This will allow you to see their responses, sort them, and look for commonalities or trends among the students.
There are some limitations with using Google Forms. You won't be able to just send one question a day, but you also don't want to send them out all at once. To help, I have broken the questions into three sets, so you can send out just a few a day. The sets are labeled Set A, B, and C.
The format that you choose really depends on your students and their stamina, and what you feel they are able to do independently in one setting.
Some of the questions included in this activity are
What kind of activities would you do on your perfect day?
Do you spend a lot of time thinking about the future?
Tell me about your favorite teacher. Why was he or she your favorite?
What accomplishment in your life are you most proud of?
What is one challenge you faced in your life so far?"
Download the Free Digital Activities Here
Click here or on the image below to download the PDF to access these activities. You will find the links to COPY these activities to your drive on page 2.
Need Tech Help?
Click here to see how to assign Google Slides to our students via Google Classroom.
Click here to see how to assign Google Forms through any platform.
Need More Digital Back to School Activities?
Free Math Interest Inventory Digital Activities
Free Reading Interest Inventory Digital Activities
Free Back to School Math Digital Activities
Want More Back to School Activities and Resources?
If you are interested in more back-to-school activities for grades 4-5, check out these resources from my TpT store.